Spot and futures prices fell for the second straight week, as generally mild temperatures continued to prevail in most major market areas and storage injections exceeded 100 Bcf for a third straight week. At the Henry Hub, the spot price fell by 52 cents per MMBtu on the week (Wednesday to Wednesday, June 11-19), or almost 9 percent, to $5.54 per MMBtu. The settlement price for the NYMEX futures contract for July delivery declined by $0.632 on the week, closing yesterday (June 18) at $5.581 per MMBtu—a decline of 10 percent. The Energy Information Administration (EIA) reported that working gas in storage was 1,438 Bcf as of Friday, June 13, which is about 22 percent below the previous 5-year (1998-2002) average for the week. The spot price for West Texas Intermediate (WTI) crude oil fell in 4 of 5 trading days, ending the week down by almost $2 per barrel, at $30.28, or $5.22 per MMBtu.
<![if !supportEmptyParas]> <![endif]>
<![if !vml]>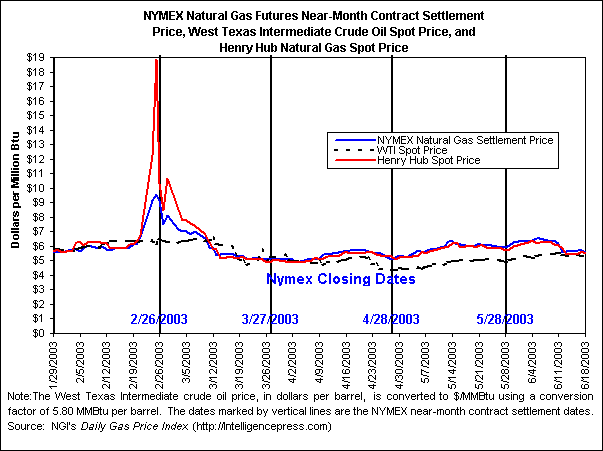 <![endif]>
<![if !supportEmptyParas]> <![endif]>
Despite a post-weekend uptick on Monday (June 16) and a brief price rally on Tuesday, spot prices declined for the second week in a row, with decreases at nearly all market locations ranging from 30 to 60 cents per MMBtu. Declines were smaller in the Rocky Mountains region, as production problems in the Jonah field and pending maintenance on the Opal gas processing plant in Wyoming, coupled with an Unauthorized Overpull Penalty on El Paso's system imposed on Tuesday, led to price gains in that region the past 3 days. The El Paso Bondad and non-Bondad price points in the San Juan Basin posted the only week-to-week price increases in the nation, albeit less than a dime each, to end the week at $5.06 and $5.09 per MMBtu, respectively—the only Rockies locations with over-$5 prices. California prices have also risen in the last 3 days, driven by increasing Rockies prices as well as by increasing demand from the return of higher-than-normal temperatures beginning on Sunday in southern and central California as well as in east-of-California markets in Nevada and Arizona. Monday's price increases were the largest, as prices got an additional boost when increasing demand allowed both SOCAL and PG&E to lift high-linepack OFOs that had been in effect for the weekend. The increases of the last 3 days held the week-to-week drop of the Southern California Border Average and PG&E citygate average prices to 6 and 18 cents per MMBtu, respectively, to $5.29 and $5.45 per MMBtu, respectively. Outside of California, the Rockies, and West Texas, average prices for other regional markets fell by 40 to 51 cents per MMBtu. Yesterday, there were no over-$6 gas spot prices; the highest priced gas was for delivery to New York citygates, at $5.95 per MMBtu. Last Wednesday, more than half of all market locations showed prices of more than $6 per MMBtu.
<![if !supportEmptyParas]> <![endif]>
Spot Prices ($ per MMBtu)

Thur.

Fri.

Mon.

Tues.

Wed.

12-Jun

13-Jun

16-Jun

17-Jun

18-Jun

Henry Hub

5.86

5.44

5.44

5.66

5.54

New York

6.31

5.79

5.79

6.07

5.95

Chicago

5.88

5.39

5.42

5.69

5.56

Cal. Comp. Avg,*

5.27

4.55

4.91

5.19

5.21

Futures ($/MMBtu)

Jul delivery

5.606

5.675

5.706

5.712

5.581

Aug delivery

5.716

5.766

5.803

5.794

5.665

*Avg. of NGI's reported avg. prices for: Malin, PG&E citygate,

and Southern California Border Avg.

Source: NGI's Daily Gas Price Index (http://intelligencepress.com).
<![if !supportEmptyParas]> <![endif]>
In the NYMEX futures market, price decreases for the near-month and second month contracts (for July and August delivery) were four times the decreases of the previous week. A likely contributing factor to these price declines was last Thursday's EIA report of a second record-high weekly stock increase. On that day, the July contract fell $0.603 per MMBtu to settle at $5.606, the first sub-$6 settlement price since May 9. Continuing mild temperatures, coupled with forecasts for more of the same in many high air-conditioning load markets, kept futures price changes in a fairly narrow range until yesterday, when the near month contract fell by over 13 cents, reportedly on the market's expectation of another unusually large storage injection. As of the end of trading yesterday, the July contract stood at $5.581 per MMBtu, down $.632 from last Wednesday's price, and down 94 cents from its highest settlement as the near-month contract of $6.521 on Thursday, June 5.
Estimated Average Wellhead Prices

Dec-02

Jan-03

Feb-03

Mar-03

Apr-03

May-03

Price ($ per Mcf)

3.84

4.47

5.45

6.69

4.71

4.97

Price ($ per MMBtu)

3.74

4.36

5.31

6.53

4.59

4.85

Note: The price data in this table are a pre-release of the average wellhead price that will be published in forthcoming issues of the Natural Gas Monthly. Prices were converted from $ per Mcf to $ per MMBtu using an average heat content of 1,025 Btu per cubic foot as published in Table A2 of the Annual Energy Review 2001.

Source: Energy Information Administration, Office of Oil and Gas.
Working gas in storage increased to 1,438 Bcf as of Friday, June 13, which is just over 22 percent below the previous 5-year (1998-2002) average, according to EIA's Weekly Natural Gas Storage Report. The implied net change of 114 Bcf matched the record-setting volume of two weeks prior, and was itself also a record for this week. (See Storage Figure) East region storage operators attained their highest net stock change thus far in the refill season, with implied net injections of 72 Bcf. The East region's stock build was 44 percent greater than the 5-year average, exceeding the average for the ninth week in a row. Implied net injections for the other two regions and for the nation as a whole also exceeded their respective 5-year averages for the week, ranging from 30 percent greater in the West to nearly 53 percent greater in the Producing region. Injection activity in the East was facilitated by unusually mild weather in the normally high gas-consuming Census Divisions of New England, Middle Atlantic, and East North Central, where both cooling degree days (CDD) and gas-customer weighted heating degree days (HDD) were well below normal for the week. (See Temperature Map) (See Deviation Map). According to the latest data from the National Weather Service, HDDs were below normal for eight of the nine Census Divisions; for the United States as a whole, they were 50 percent less than normal.
<![if !supportEmptyParas]> <![endif]>
All Volumes in Bcf

Current Stocks 6/13/03

Estimated Prior 5-Year (1998-2002) Average

Percent Difference from 5 Year Average

Implied Net Change from Last Week

One-Week Prior Stocks 6/6/03

<![if !supportMisalignedRows]>
<![endif]>

East Region

769

998

-22.9%

72

697

<![if !supportMisalignedRows]>
<![endif]>

West Region

254

256

-0.8%

13

241

<![if !supportMisalignedRows]>
<![endif]>

Producing Region

415

596

-30.4%

29

386

<![if !supportMisalignedRows]>
<![endif]>

Total Lower 48

1,438

1,850

-22.3%

114

1,324

<![if !supportMisalignedRows]>
<![endif]>

Source: Energy Information Administration: Form EIA-912, "Weekly Underground Natural Gas Storage Report," and the Historical Weekly Storage Estimates Database. Row and column sums may not equal totals due to independent rounding.

<![if !supportMisalignedRows]>
<![endif]> <![if !supportMisalignedRows]>
<![endif]> <![if !supportMisalignedRows]>
<![endif]>
<![if !supportEmptyParas]> <![endif]>
Natural Gas Rig Counts: The number of rigs drilling for natural gas climbed by 18 to 910 for the week ended June 13, according to Baker-Hughes Incorporated. This is the highest rig count since the week ended October 12, 2001. The number of natural gas rigs is over 28 percent greater than last year at this time, and nearly 34 percent above the 5-year average for the report week. The rig count has climbed by nearly 26 percent in 2003, contrasting with last year's decline of more than 5 percent for the same 24-week period. The share of rigs drilling for natural gas was 85 percent for the report week, remaining consistently above 80 percent since May 2001. This is the longest period in the 15 years that Baker-Hughes has separately reported gas and oil drilling rigs that rigs drilling for natural gas have comprised more than 80 percent of total rigs drilling. Moreover, this is the highest share of rigs drilling for natural gas since September 2002. The emphasis on gas prospects reflects a relative advantage in the economics of natural gas prospects compared with domestic crude oil prospects.
<![if !supportEmptyParas]> <![endif]>
Summary:
Spot and futures prices declined significantly, marking the second straight week of falling prices, as lower-than-normal heating and cooling degree days in most major market areas kept weather-driven swing demand to a minimum. Working gas storage inventories increased by more than 100 Bcf for the third week in a row.
<![if !supportEmptyParas]> <![endif]>