Spot and futures prices trended down for the second consecutive week, as cool, rainy weather continued to dominate much of the nation, with the few pockets of summer-like temperatures generating swing demand and higher prices only in limited areas. At the Henry Hub, prices declined by nearly 6 percent for the week (Wednesday to Wednesday, May 22-29), falling 36 cents to $5.71 per MMBtu. The NYMEX futures contract for June delivery declined by $0.253 per MMBtu on the week, expiring yesterday (Wednesday, May 28) at the closing price of $5.945 per MMBtu. The Energy Information Administration (EIA) reported that natural gas inventories reached 1,085 Bcf as of Friday, May 23, which is 31.9 percent below the 5-year average. The spot price for West Texas Intermediate crude oil declined by just over $1 from the previous Wednesday (May 21), falling $1.05 per barrel to $28.46, or $4.91 per MMBtu.
<![if !supportEmptyParas]> <![endif]>
<![if !vml]>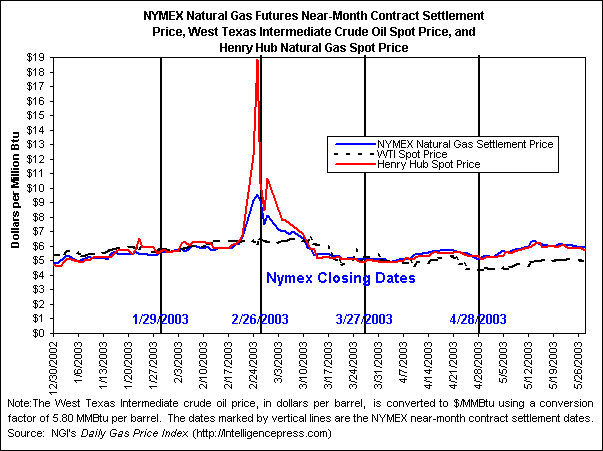 <![endif]>
<![if !supportEmptyParas]> <![endif]>
<![if !supportEmptyParas]> <![endif]>
The holiday-shortened trading week with little in the way of weather-driven swing demand prompted acceleration in the decline of cash prices from the week before. Cash price declines were largest on Friday and Wednesday. Prices fell by the largest amounts on Friday, when decreases occurred across the board, mostly in a 15 to 30-cent range, as markets anticipated the inevitable slackening of demand for the impending holiday weekend. Even the resumption of the normal workweek on Tuesday brought only isolated, and mostly small, price increases in some regions, while Wednesday's trading saw another drop in the range of 10 to 20 cents per MMBtu at most locations. Exceptions were seen at isolated points in the Rockies, where much larger price declines on Friday and large increases on Tuesday were driven by maintenance-related transportation constraints that were removed over the weekend. For the week, price declines averaged around 35 cents or a few pennies more in most regional markets. Only in the Northeast did the regional average price in yesterday's trading exceed $6, at $6.10 per MMBtu. The Midwest average fell 35 cents from the previous Friday, to $5.91 per MMBtu, while the average of California locations fell 20 cents, to $5.47.
<![if !supportEmptyParas]> <![endif]>
Spot Prices ($ per MMBtu)

Thur.

Fri.

Mon.

Tues.

Wed.

22-May

23-May

26-May

27-May

28-May

Henry Hub

6.09

5.91

5.91

5.84

5.71

New York

6.55

6.33

6.33

6.31

6.13

Chicago

6.06

5.87

5.87

5.86

5.72

Cal. Comp. Avg,*

5.71

5.43

5.43

5.52

5.47

Futures ($/MMBtu)

Jun delivery

6.035

6.119

holiday

5.900

5.945

Jul delivery

6.143

6.226

holiday

6.011

6.016

*Avg. of NGI's reported avg. prices for: Malin, PG&E citygate,

and Southern California Border Avg.

Source: NGI's Daily Gas Price Index (http://intelligencepress.com).
<![if !supportEmptyParas]> <![endif]>
On the NYMEX, the expiring near-month contract (June delivery) closed out trading at $5.945 per MMBtu, managing a modest increase of $0.045 per MMBtu after dropping by nearly 22 cents in the previous day's trading. The large price drops of last Thursday (May 22) and this Tuesday—with Tuesday's decline likely driven in part by forecasts by both the National Weather Service and a private weather service for a continuation of the unseasonably cool weather over much of the nation—sent the June contract price below $6 for good. Nonetheless, since becoming the near-month contract on April 29, the June contract gained nearly 14 percent. For the week, in addition to the June contract's cumulative decline of $0.253 per MMBtu, out-month contracts for delivery through March 2004 also showed declines, ranging from 9 to more than 28 cents per MMBtu. Nevertheless, as of yesterday, the first future month with sub-$6 gas was March 2004, at a price of $5.970 per MMBtu.
Estimated Average Wellhead Prices

Nov-02

Dec-02

Jan-03

Feb-03

Mar-03

Apr-03

Price ($ per Mcf)

3.59

3.84

4.47

5.45

6.69

4.71

Price ($ per MMBtu)

3.50

3.74

4.36

5.31

6.53

4.59

Note: The price data in this table are a pre-release of the average wellhead price that will be published in forthcoming issues of the Natural Gas Monthly. Prices were converted from $ per Mcf to $ per MMBtu using an average heat content of 1,025 Btu per cubic foot as published in Table A2 of the Annual Energy Review 2001.

Source: Energy Information Administration, Office of Oil and Gas.
Working gas in storage rose above 1,000 Bcf for the first time since late February, reaching 1,085 Bcf as of May 23, according to EIA's Weekly Natural Gas Storage Report, standing at just under 32 percent below the 5-year average. (See Storage Figure) The implied net injection of 95 Bcf was the largest thus far in the 8-week old refill season, surpassing the 90 Bcf injection of the prior week. The regional net inventory changes for the report week ranged from 25 to 37.5 percent greater than the preceding 5-year (1998-2002) average for the comparable week, with the stock build at the national level exceeding the 5-year average of 73 Bcf by 30 percent. Moderate temperatures were prevalent for much of the nation during the report week, keeping natural gas demand for either space heating or cooling in check (See Temperature Map). While cooler-than-average temperatures prevailed over most of the nation west of the Rockies and north of the Gulf coast (See Deviation Map), gas customer-weighted heating degree-days for the region were lower than normal except in the New England and Middle Atlantic Census Divisions. And even though high temperatures reached into the 90s and beyond in Florida, Texas, and parts of the Mountain and Pacific Census Divisions on some days, cooling degree-days for the week in these areas, while higher than normal, were only about one-quarter to one-half of the level for a typical mid-summer week.
<![if !supportEmptyParas]> <![endif]>
All Volumes in Bcf

Current Stocks 5/23/03

Estimated Prior 5-Year (1998-2002) Average

Percent Difference from 5 Year Average

Implied Net Change from Last Week

One-Week Prior Stocks 5/16/03

<![if !supportMisalignedRows]>
<![endif]>

East Region

559

833

-32.9%

63

496

<![if !supportMisalignedRows]>
<![endif]>

West Region

216

223

-3.1%

10

206

<![if !supportMisalignedRows]>
<![endif]>

Producing Region

310

537

-42.3%

22

288

<![if !supportMisalignedRows]>
<![endif]>

Total Lower 48

1,085

1,593

-31.9%

95

990

<![if !supportMisalignedRows]>
<![endif]>

Source: Energy Information Administration: Form EIA-912, "Weekly Underground Natural Gas Storage Report," and the Historical Weekly Storage Estimates Database. Row and column sums may not equal totals due to independent rounding.

<![if !supportMisalignedRows]>
<![endif]> <![if !supportMisalignedRows]>
<![endif]> <![if !supportMisalignedRows]>
<![endif]>
<![if !supportEmptyParas]> <![endif]>
Natural Gas Rig Counts: The number of rigs drilling for natural gas climbed by 14 to 882 for the week ending May 23, according to Baker-Hughes Incorporated. This is the highest rig count since the week ended October 19, 2001. The number of natural gas rigs is over 21 percent greater than last year at this time, and nearly 31 percent above the 5-year average for the report week. The rig count has climbed nearly 25 percent in 2003, contrasting with last year's decline of nearly 3 percent for the same 21-week period. The share of rigs drilling for natural gas was 84 percent for the report week, remaining consistently above 80 percent since May 2001. This is the longest period of time in the 15 years that Baker-Hughes has separately reported gas and oil drilling rigs that rigs drilling for natural gas have comprised more than 80 percent of total rigs drilling. The emphasis on gas prospects reflects a relative advantage in the economics of natural gas prospects compared with domestic crude oil prospects.
<![if !supportEmptyParas]> <![endif]>
Summary:
Spot and futures prices declined for a second consecutive week as moderate temperatures continued in most areas outside of Florida, Texas, and the desert Southwest, limiting demand for both space heating and cooling requirements. A larger-than-average net stock change brought natural gas storage levels to 1,085 Bcf as of May 23.
<![if !supportEmptyParas]> <![endif]>
<![if !supportEmptyParas]> <![endif]>