Spot and futures prices seesawed throughout the week (Wednesday to Wednesday, April 30-May 7) with no clear underlying trend, however prices ended trading yesterday at uniformly higher levels than one week ago. The weather's influence on gas demand was muted, as temperatures in most areas of the country were generally comfortably spring-like, except for some parts of the Southeast and Southwest, where summer-like temperatures prompted some early air conditioning load. The Henry Hub average spot price increased 23 cents from the previous Wednesday (April 30) to $5.48 per MMBtu. The daily settlement price of the NYMEX futures contract for June delivery rose $0.275 on the week, ending at $5.660 per MMBtu in yesterday's trading. The EIA reported that 821 Bcf of gas was held in storage as of Friday, May 2, which is 39.9 percent less than the 5-year average. The average spot price for West Texas Intermediate crude oil traded in a narrow range of less than $1 per barrel during the week, and ended trading yesterday with a small increase of 15 cents on the week, at $26.24 per barrel, or $4.52 per MMBtu.
<![if !supportEmptyParas]> <![endif]>
<![if !supportEmptyParas]> <![endif]>
<![if !vml]>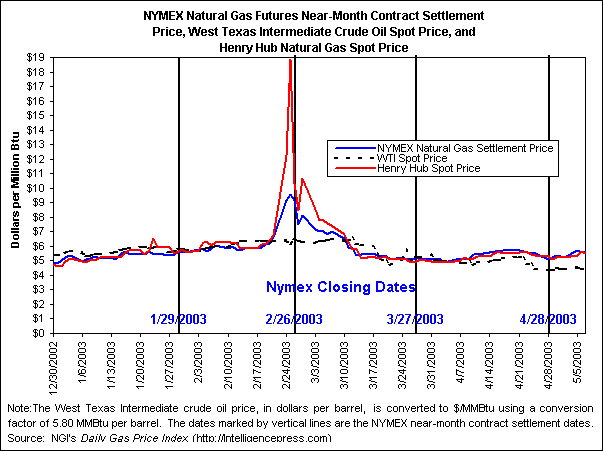 <![endif]>
<![if !supportEmptyParas]> <![endif]>
Spot prices displayed a good deal of variability during the week. On the strength of a price rally on Monday and even more sharply rising prices on Tuesday (May 6), spot prices ended the week higher than the previous Wednesday at all price locations, with gains mostly in the range of 15 to just over 30 cents per MMBtu. For the week, regional average prices ranged from 12 cents higher in California (to $5.00 per MMBtu) to 33 cents higher in West Texas ($5.25 per MMBtu). Spot prices in the producing areas of Texas and the Gulf Coast also got upward pressure from budding air conditioning demand in parts of the Southeast and Southwest. After threatening for several days to impose an Overage Alert Day on its system in response to rising air-conditioning related demand, Florida Gas Transmission (FGT) finally did so on Tuesday. The citygate price on FGT at $6.05 per MMBtu on Wednesday (May 7) eclipsed the New York citygate price as the highest in the nation in yesterday's trading. Prices in the Rocky Mountains bucked the rising trend of Monday, as a transportation constraint on a key pipeline for eastward deliveries backed up gas in the region and caused sharp price drops. For example, the Cheyenne Hub spot price fell $2.33 to $1.50 per MMBtu. The maintenance-related constraint was removed by Tuesday, and Rockies prices exhibited large increases to levels generally higher than on Friday (May 2) before the outage.
<![if !supportEmptyParas]> <![endif]>
Spot Prices ($ per MMBtu)

Thur.

Fri.

Mon.

Tues.

Wed.

1-May

2-May

5-May

6-May

7-May

Henry Hub

5.32

5.24

5.37

5.64

5.48

New York

5.72

5.66

5.82

6.12

5.96

Chicago

5.40

5.28

5.42

5.63

5.51

Cal. Comp. Avg,*

4.98

4.77

4.88

5.10

5.02

Futures ($/MMBtu)

Jun delivery

5.267

5.255

5.689

5.568

5.660

Jul delivery

5.347

5.325

5.734

5.633

5.735

*Avg. of NGI's reported avg. prices for: Malin, PG&E citygate,

and Southern California Border Avg.

Source: NGI's Daily Gas Price Index (http://intelligencepress.com).
<![if !supportEmptyParas]> <![endif]>
Trading on the NYMEX was dominated by Monday's session, in which the near-month contract (June delivery) spiked upward by over 43 cents, with gains in the out-month contracts through the beginning of the next heating season slightly less. The sharp increases, reflecting continuing concern about supply adequacy, reportedly were influenced by news of several nuclear electricity generating plant outages in Texas and the Southeast. There are indications that one or more of the outages could last well into the summer, and gas-fired plants are the most likely to replace the lost generating capacity. After profit-taking on Tuesday sent futures prices somewhat lower, the release of a summer outlook from a respected industry forecaster that called for warmer than normal temperatures helped push futures prices up again yesterday. As of the end of trading yesterday, the June contract was up by $0.275 on the week, to $5.660 per MMBtu. Week-to-week settlement price increases in out-month contracts through the beginning of the next heating season ranged from nearly 19 up to 27 cents per MMBtu, with the highest priced gas in this period being for November delivery, at $5.808 per MMBtu.
Estimated Average Wellhead Prices

Nov-02

Dec-02

Jan-03

Feb-03

Mar-03

Apr-03

Price ($ per Mcf)

3.59

3.84

4.47

5.45

6.69

4.71

Price ($ per MMBtu)

3.50

3.74

4.36

5.31

6.53

4.59

Note: The price data in this table are a pre-release of the average wellhead price that will be published in forthcoming issues of the Natural Gas Monthly. Prices were converted from $ per Mcf to $ per MMBtu using an average heat content of 1,025 Btu per cubic foot as published in Table A2 of the Annual Energy Review 2001.

Source: Energy Information Administration, Office of Oil and Gas.
Working gas in storage was 821 Bcf as of May 2, according to EIA's Weekly Natural Gas Storage Report, resulting in implied net injections totaling 80 Bcf. Total implied net injections were 29 percent greater than the 5-year average of 62 Bcf and were the second largest for this week in the 9-year span of EIA weekly storage data. (See Storage Figure). Over half of the net injections occurred in the East Consuming region, where implied net injections exceeded the 5-year (1998-2002) average for the week by just over 32 percent and were the largest recorded for this week. The unseasonably warm temperatures (relative to normal) experienced in much of the nation during the report week sharply curtailed space heating demand in the high gas-consuming Midwest and Northeast regions of the nation, allowing more gas for storage refill (See Temperature Map) (See Deviation Map). While air-conditioning weighted cooling degree days in excess of normal were experienced in the South Atlantic and East and West South Central Census divisions of the country, only in west Texas, parts of Florida, and isolated spots in the desert Southwest was there any significant swing demand for electricity generation for air conditioning load. Despite cooler than normal temperatures in many parts of the West Consuming region, its net injections of 12 Bcf are also a record for the week.
All Volumes in Bcf

Current Stocks 5/02/03

Estimated Prior 5-Year (1998-2002) Average

Percent Difference from 5 Year Average

Implied Net Change from Last Week

One-Week Prior Stocks 4/25/03

<![if !supportMisalignedRows]>
<![endif]>

East Region

378

687

-45.0%

45

333

<![if !supportMisalignedRows]>
<![endif]>

West Region

192

200

-4.0%

12

180

<![if !supportMisalignedRows]>
<![endif]>

Producing Region

251

480

-47.7%

23

228

<![if !supportMisalignedRows]>
<![endif]>

Total Lower 48

821

1366

-39.9%

80

741

<![if !supportMisalignedRows]>
<![endif]>

Source: Energy Information Administration: Form EIA-912, "Weekly Underground Natural Gas Storage Report," and the Historical Weekly Storage Estimates Database. Row and column sums may not equal totals due to independent rounding.

<![if !supportMisalignedRows]>
<![endif]> <![if !supportMisalignedRows]>
<![endif]> <![if !supportMisalignedRows]>
<![endif]>
<![if !supportEmptyParas]> <![endif]>
Other Industry/Market Trends:
EIA Releases Report on Recent Natural Gas Pipeline Expansion Activities in the United States. The report, Expansion and Change on the U.S. Natural Gas Pipeline Network — 2002, was prepared by the Office of Oil and Gas's Natural Gas Division and is an analysis of new capacity added to the national natural gas pipeline network in 2002 and the current capability of that network to transport supplies from production areas to U.S. markets. It also includes an examination of the amount of additional pipeline capacity proposed for development during the next several years and to what degree various proposed projects will improve the deliverability of natural gas in key market areas. During 2002, projects involving more than 3,571 miles of pipeline and 12.8 billion cubic feet per day (Bcf/d) of natural gas pipeline capacity were added to the national pipeline network at an estimated cost of $4.4 billion. Of the more than 50 large-scale natural gas pipeline projects completed during the year, 9 were new gas pipeline systems (5 of which were major new interstates), 34 were expansions of existing pipeline systems or segments, 3 were new gathering (header) systems, and 8 were new large laterals that were extensions of existing pipeline systems. Expansions to existing systems totaled 6.9 Bcf/d of overall capacity, while capacity of new pipelines/laterals was 5.9 Bcf/d.
<![if !supportEmptyParas]> <![endif]>
Summary:
Spot and futures prices moved higher as concerns surfaced once again regarding supply adequacy through the summer months and beyond. Implied net injections into storage for the week ended Friday, May 2 were 80 Bcf, which is the second-largest stock change for that week in the 9-year span of EIA weekly storage data.
<![if !supportEmptyParas]> <![endif]>
Natural Gas Summary from the Short-Term Energy Outlook
<![if !supportEmptyParas]> <![endif]>
<![if !supportEmptyParas]> <![endif]>
<![if !supportEmptyParas]> <![endif]>