Overview:  Thursday, May 1, 2003 (next release 2:00 p.m. on May 8)
Spot natural gas prices at most trading locations in the Lower 48 States dropped $0.25-$0.50 per MMBtu this week (Wednesday, April 23-Wednesday, April 30) as springtime temperatures prevailed in most areas. The Henry Hub spot price decreased 33 cents per MMBtu to $5.25, while spot price declines in the Northeast were generally greater at between $0.36 and $0.50. The price of the NYMEX futures contract for June delivery, which became the near-month contract on Tuesday, April 29, has declined 29 cents since last Wednesday. The June contract settled at $5.385 yesterday (April 30). Natural gas in storage increased to 741 Bcf as of Friday, April 25, which is about 43.2 percent below the 5-year average. The spot price for West Texas Intermediate (WTI) crude oil decreased $1.95 per barrel or about 7 percent since last Wednesday to trade yesterday at $26.09 per barrel or $4.50 per MMBtu.
<![if !supportEmptyParas]> <![endif]>
<![if !vml]>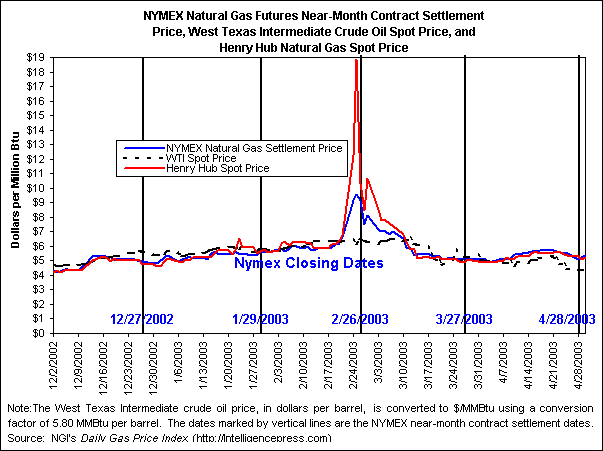 <![endif]>
<![if !supportEmptyParas]> <![endif]>
With price declines in four consecutive sessions this week (Wednesday-Wednesday), the Henry Hub spot price fell to $5.11 per MMBtu on Tuesday before recovering to $5.25 yesterday (April 30), which is slightly less than 6 percent lower than last Wednesday. Price movements this week were similar at most producing-region trading locations, including the Midcontinent and East Texas, where slight price increases of yesterday helped offset net declines. Prices in the Rockies proved an exception as traders anticipated Kern River Gas Transmission's expansion coming on-line today. The expansion increases the capacity of the pipeline – and deliverability out of the region (and into California) – by 900 million cubic feet per day. The Opal Hub in Wyoming yesterday gained $1.18 per MMBtu to $4.28, a net gain for the week of 74 cents. As the shoulder month of April came to a close this week, reduced weather-related demand brought Northeast prices back below the $6 mark at most locations. For the week, the price for gas delivered at New York citygates off of Transcontinental Gas Pipe Line dropped $0.50 per MMBtu to $5.71.
<![if !supportEmptyParas]> <![endif]>
Spot Prices ($ per MMBtu)

Thur.

Fri.

Mon.

Tues.

Wed.

24-Apr

25-Apr

28-Apr

29-Apr

30-Apr

Henry Hub

5.47

5.38

5.28

5.11

5.25

New York

5.99

5.97

5.81

5.64

5.71

Chicago

5.52

5.38

5.23

5.04

5.22

Cal. Comp. Avg,*

5.19

5.05

5.02

4.75

4.90

Futures ($/MMBtu)

May delivery

5.474

5.477

5.123

expired

expired

Jun delivery

5.553

5.541

5.190

5.236

5.385

Jul delivery

5.630

5.606

5.265

5.306

5.465

*Avg. of NGI's reported avg. prices for:  Malin, PG&E citygate,

and Southern California Border Avg.

Source: NGI's Daily Gas Price Index (http://intelligencepress.com).
<![if !supportEmptyParas]> <![endif]>
The expiration of the futures contract for delivery to the Henry Hub in May coincided with a sharp sell-off on Monday (April 28) at the NYMEX. The May contract price dropped 35 cents per MMBtu on the day to $5.123. This final settlement price for the May contract was 54 percent higher than its settlement last year at $3.319 per MMBtu, but 10 percent lower than its high of $5.71 per MMBtu as the near-month contract on April 18. Although Monday's sell-off also resulted in the June contract dropping $0.286 per MMBtu on the week, the contract has gained $0.20 per MMBtu in its first two trading sessions as the near month contract, including a 15-cent increase yesterday to a daily settlement of $5.385.
Estimated Average Wellhead Prices

Oct-02

Nov-02

Dec-02

Jan-03

Feb-03

Mar-03

Price ($ per Mcf)

3.35

3.59

3.84

4.47

5.45

6.69

Price ($ per MMBtu)

3.44

3.67

3.93

4.58

5.58

6.86

Note:  The price data in this table are a pre-release of the average wellhead price that will be published in forthcoming issues of the Natural Gas Monthly.  Prices were converted from $ per Mcf to $ per MMBtu using an average heat content of 1,025 Btu per cubic foot as published in Table A2 of the Annual Energy Review 2001.

Source:  Energy Information Administration, Office of Oil and Gas. 
Working gas in storage as of April 25 totaled 741 Bcf, which is 43.2 percent below the 5-year average for the week, according to EIA's Weekly Natural Gas Storage Report. (See Storage Figure).  With weather extremes lacking for a second consecutive week, the implied net injection was 57 Bcf, or about 84 percent more than the 31 Bcf injected during last year's comparable reporting week. The 5-year average injection for the week is 47 Bcf. This week marks the latest in the refill season that inventories have climbed back above 700 Bcf in the 10-years of EIA's weekly storage database. However, injection activity has been relatively robust in the past two weeks with total net injections of 118 Bcf. The accelerated injection pace was most noticeable in the Consuming Region East this week, as net injections were 40 percent higher than the 5-year average of 25 Bcf for the week. After a long winter, much of the Northeast has warmed and temperatures during the report week were only slightly cooler than normal, as measured by heating degree days (HDDs), according to the National Weather Service. In New England and the Middle Atlantic, HDDs were, respectively, 2 percent and 5 percent greater than normal. (See Temperature Map) (See Deviation Map). Cooling Degree Days (CDDs) have not accumulated substantially so far this spring.
<![if !supportEmptyParas]> <![endif]>
All Volumes in Bcf

Current Stocks 4/25/03

Estimated Prior 5-Year (1998-2002) Average

Percent Difference from 5 Year Average

Implied Net Change from Last Week

One-Week Prior Stocks 4/18/03

<![if !supportMisalignedRows]>
<![endif]>

East Region

333

653

-49.0%

35

298

<![if !supportMisalignedRows]>
<![endif]>

West Region

180

192

-6.3%

6

174

<![if !supportMisalignedRows]>
<![endif]>

Producing Region

228

459

-50.3%

16

212

<![if !supportMisalignedRows]>
<![endif]>

Total Lower 48

741

1,304

-43.2%

57

684

<![if !supportMisalignedRows]>
<![endif]>

Source:  Energy Information Administration:  Form EIA-912, "Weekly Underground Natural Gas Storage Report," and the Historical Weekly Storage Estimates Database.  Row and column sums may not equal totals due to independent rounding.

<![if !supportMisalignedRows]>
<![endif]> <![if !supportMisalignedRows]>
<![endif]> <![if !supportMisalignedRows]>
<![endif]>
<![if !supportEmptyParas]> <![endif]>
Other Industry/Market Trends:
FERC Holds Technical Conference on Natural Gas Price Reporting:  The Federal Energy Regulatory Commission (FERC) held a conference on Thursday, April 24 to discuss the issues of collection and publication of natural gas price information.  The conference, organized and run by FERC's Office of Market Oversight and Investigations, heard from a broad spectrum of natural gas industry participants, officials of two large commercial exchanges, commissioners from both FERC and the Commodity Futures Trading Commission, and a number of FERC staff.  Nearly all participants agreed that, in the wake of revelations of deceptive trading practices and the indictment of a number of traders for false price reporting, something must be done to restore confidence in the accuracy, reliability, and integrity of reported natural gas prices.  Presentations by private sector price reporting organizations and those favoring a "third-party" option for price reporting were followed by the reactions and responses from key natural gas industry groups, a large financial organization, and representatives of two academic organizations.  While no consensus was reached about a specific course of action, most participants expressed a preference for a private-industry driven solution, but were willing to consider some form of third-party involvement.  One possibility that attracted a good deal of interest was the idea of creating or commissioning a "self-regulating organization" (SRO) (the New York Mercantile Exchange was cited as one example of an SRO) to collect, process, and publish price information.  This SRO would be overseen by FERC.  Most participants responded favorably to recommendations originally put forth by the recently formed industry Committee of Chief Risk Officers that, at a minimum, price reporting must consist of transaction-level detail, must come from "back-office" sources (not traders), and must include counterparty information. The requirement for counterparty information was the most controversial element owing to confidentiality concerns.
<![if !supportEmptyParas]> <![endif]>
Summary:
Natural gas prices at most market locations softened between $0.25-$0.50 per MMBtu amid expectations that the pace of storage injections would continue to accelerate as most of the country experiences more moderate temperatures. However, prices remained over the $5 mark at the NYMEX and at most spot trading location as market tightness is expected through the refill season. As of April 25, natural gas in underground storage was 741 Bcf, or 43.2 percent below the 5-year average for the report week.
<![if !supportEmptyParas]> <![endif]>
Natural Gas Summary from the Short-Term Energy Outlook
<![if !supportEmptyParas]> <![endif]>
<![if !supportEmptyParas]> <![endif]>
<![if !supportEmptyParas]> <![endif]>