Overview:  Thursday, April 17, 2003 (next release 2:00 p.m. on April 24)
Spot and futures prices moved up for the second week in a row.  Price increases for the week (Wednesday, April 9 to Wednesday, April 16) were generally around a half dollar in both the spot and futures markets—about twice the increase in spot prices (in most markets) the previous week, and three times the increase in the near-month (May delivery) futures contract price.  At the Henry Hub, the average spot price rose 51 cents on the week, to $5.62 per MMBtu, an increase of nearly 10 percent.  The settlement price for the May contract increased by just over 9 percent for the week, gaining a cumulative $0.482 to settle yesterday (Wednesday, April 16) at $5.677 per MMBtu.  These price increases occurred despite a gradual warming trend since last Wednesday in every region of the country except in the West.  Working gas in storage was 623 Bcf as of April 11, which was 49 percent below the previous 5-year (1998-2002) average, and a new record low level over the 9 years of EIA data. The spot price for West Texas Intermediate crude oil rose for the week by 23 cents per barrel, to $29.16 per barrel ($5.03 per MMBtu) in yesterday's trading.
<![if !supportEmptyParas]> <![endif]>
<![if !vml]>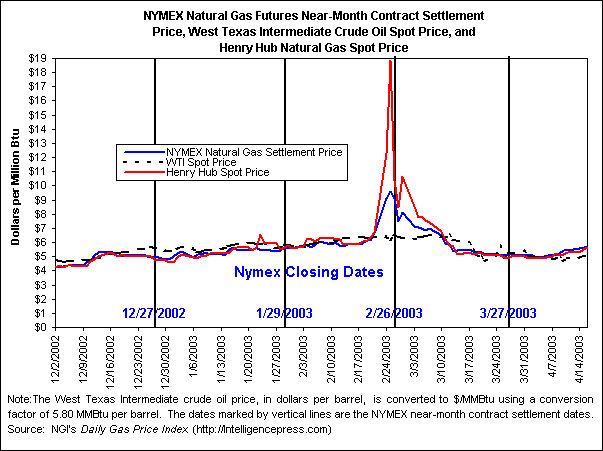 <![endif]>
<![if !supportEmptyParas]> <![endif]>
Spot prices moved higher at most market locations last week, despite a gradual warm-up from the unusually cold weather of the previous week, bringing daily average temperatures up to or slightly above normal in most regions of the country by the end of this past weekend.  The one market area that bucked the trend was the Rocky Mountains, where most market locations saw prices fall from 9 to 25 cents per MMBtu, as demand evaporated with the increasingly spring-like temperatures, although a few locations saw significant price increases, mostly due to short-term maintenance actions that curtailed competing supply from other locations.  Overall, spot prices in the Rockies averaged $4.04 per MMBtu yesterday (Wednesday, April 16), down a penny from the previous Wednesday.  For a change, Northeast prices generally experienced the smallest increases, averaging 25 cents per MMBtu for the week.  For the week, the New York citygate price increased $0.22 per MMBtu, to $6.64.  Elsewhere, average weekly price increases in other regional markets ranged from $0.43 in West Texas to $0.59 at Alabama/Mississippi points.  The Chicago citygate price moved up 52 cents per MMBtu to $5.69, while the PG&E citygate price gained 54 cents to $5.57 per MMBtu.
<![if !supportEmptyParas]> <![endif]>
On the NYMEX, futures prices experienced strong gains, as settlement-price increases for contracts for delivery through the end of the next heating season ranged from $0.391 per MMBtu (March 2004 delivery) to $0.529 per MMBtu (July 2003 delivery).  The May contract settlement price rose on 4 out of the 5 trading days in the week, as it gained $0.481 per MMBtu on the week, settling yesterday at $5.677.  This is the highest settlement price for the May contract since becoming the near-month contract on March 28.  Futures prices surged higher last Thursday (April 10) as the market reacted to the report of net withdrawals from storage for the week ended April 4.  Much of the gain in futures prices may be attributable to concerns about storage stocks and the need for refill volumes.  
<![if !supportEmptyParas]> <![endif]>
Spot Prices ($ per MMBtu)

Thur.

Fri.

Mon.

Tues.

Wed.

10-Apr

11-Apr

14-Apr

15-Apr

16-Apr

Henry Hub

5.18

5.28

5.28

5.53

5.62

New York

6.07

5.89

5.70

6.12

6.64

Chicago

5.21

5.26

5.22

5.48

5.69

Cal. Comp. Avg,*

4.88

4.97

4.97

5.20

5.35

Futures ($/MMBtu)

May delivery

5.419

5.411

5.552

5.653

5.677

Jun delivery

5.491

5.500

5.627

5.739

5.760

*Avg. of NGI's reported avg. prices for:  Malin, PG&E citygate,

and Southern California Border Avg.

Source: NGI's Daily Gas Price Index (http://intelligencepress.com).
<![if !supportEmptyParas]> <![endif]>
Working gas in storage was 623 Bcf as of April 11, according to EIA's Weekly Natural Gas Storage Report. This establishes a new record-low weekly inventory level, dipping 13 Bcf below the previous record low, set just 4 weeks ago (stocks as of March 14, 2003) (See Storage Figure).  A new record low was also set in the East Consuming Region, where the bulk of net withdrawals occurred.  The implied total net withdrawal of 48 Bcf for the Lower 48 States also set the record for the largest withdrawal for this week in the 9-year span of EIA data, and contrasts sharply with the 5-year average stock change, which is a net injection of 21 Bcf.  The second largest withdrawal for this week was 36 Bcf in 1996.  Typically, storage activity tends to be quite variable at the end of March and beginning of April.  Prior to this year, national inventory levels for this week showed an even split of 4 years of net injections and 4 years of net withdrawals.  However, 4 of the previous 5 years (1998-2002) have recorded net injections.  The net withdrawals in the East and Producing regions likely resulted from unseasonably cold temperatures in those regions.  According to the latest National Weather Service data, gas-customer weighted heating degree days (HDD) along the Atlantic coast and in the West South Central division were well above normal for the week (See Temperature Map) (See Deviation Map).
<![if !supportEmptyParas]> <![endif]>
All Volumes in Bcf

Current Stocks 4/11/03

Estimated Prior 5-Year (1998-2002) Average

Percent Difference from 5 Year Average

Implied Net Change from Last Week

One-Week Prior Stocks 4/4/03

<![if !supportMisalignedRows]>
<![endif]>

East Region

264

610

-56.7%

-34

298

<![if !supportMisalignedRows]>
<![endif]>

West Region

167

183

-8.7%

0

167

<![if !supportMisalignedRows]>
<![endif]>

Producing Region

192

428

-55.1%

-14

206

<![if !supportMisalignedRows]>
<![endif]>

Total Lower 48

623

1,221

-49.0%

-48

671

<![if !supportMisalignedRows]>
<![endif]>

Source:  Energy Information Administration:  Form EIA-912, "Weekly Underground Natural Gas Storage Report," and the Historical Weekly Storage Estimates Database.  Row and column sums may not equal totals due to independent rounding.

<![if !supportMisalignedRows]>
<![endif]> <![if !supportMisalignedRows]>
<![endif]> <![if !supportMisalignedRows]>
<![endif]>
<![if !supportEmptyParas]> <![endif]>
Other Industry/Market Trends:
FERC and the Coast Guard Take Actions on Pending LNG Projects.  On April 10, 2003, the Federal Energy Regulatory Commission (FERC) gave final approval for an expansion project at the Elba Island liquefied natural gas (LNG) facility that would nearly double its storage and firm sendout capacities to 7.7 Bcf and 806 MMcf/day, respectively.  The Commission also granted a preliminary determination for AES Ocean Express, LLC to construct, own, operate, and maintain approximately 54.3 miles of 24-inch pipe to bring natural gas from an offshore receipt point at the boundary between the Exclusive Economic Zone (EEZ) of the United States and the Commonwealth of the Bahamas to onshore delivery points in Broward County, Florida. This preliminary determination allows the project to move towards the pending environmental review process.  FERC also sent letters to the Secretary of Defense and the Secretary of State requesting a Presidential Permit that would authorize Tractebel Calypso Pipeline, LLC to construct, install, own, operate, and maintain certain natural gas pipeline and related facilities at the boundary of the United States EEZ and the Bahamas EEZ.  In a Federal Register notice dated April 7, 2003, the U.S. Coast Guard and the Maritime Administration (MARAD) announced their intent to prepare an environmental impact statement for the Port Pelican LLC Deepwater project, which if approved, would allow the construction of an LNG deepwater port and associated anchorage in the Gulf of Mexico, approximately 36 miles south-southwest of Fresh Water City, Louisiana. Port Pelican would deliver natural gas to the U.S. Gulf Coast using existing gas supply and gathering systems in the Gulf of Mexico and southern Louisiana.  This would be the first terminal to fall under the new federal guidelines that cede regulatory oversight authority for offshore facilities to the Coast Guard instead of FERC.
<![if !supportEmptyParas]> <![endif]>
Summary:
Spot and futures prices increased for a second consecutive week, despite a gradual warming trend across much of the country.  Demand for gas to refill storage volumes likely supported spot prices and concerns about storage levels and the progress of inventory refill combined to put upward pressure on prices for future delivery.  Storage volumes fell to a new record low of 623 Bcf for the week ended April 11.
<![if !supportEmptyParas]> <![endif]>