Overview:  Thursday, January 23, 2003 (next release 2:00 p.m. on January 30)
Spot prices have surged upward since Wednesday, January 15, particularly in the Northeast where prices increased by more than a dollar each of the past 3 days.  At the Henry Hub, the average spot price rose 46 cents during this holiday-shortened period, reaching $5.68 per MMBtu on Wednesday, January 22 as bitterly cold weather continued to blanket the nation east of the Rocky Mountains.  Futures prices also increased for the week.  The settlement price of the NYMEX futures contract for February delivery rose nearly a quarter, ending yesterday's (January 22) trading at $5.673 per MMBtu.  The effects of the continuing unusually cold temperatures also showed up in storage activity during the week ended Friday, January 17, as implied net injections were 210 Bcf, leaving storage inventories at 1,985 Bcf, which is 3.7 percent below the 5-year average.  The spot price for West Texas Intermediate (WTI) crude oil has increased $1.09 per barrel since last Wednesday, ending trading yesterday at $34.32 or $5.92 per MMBtu.
<![if !vml]>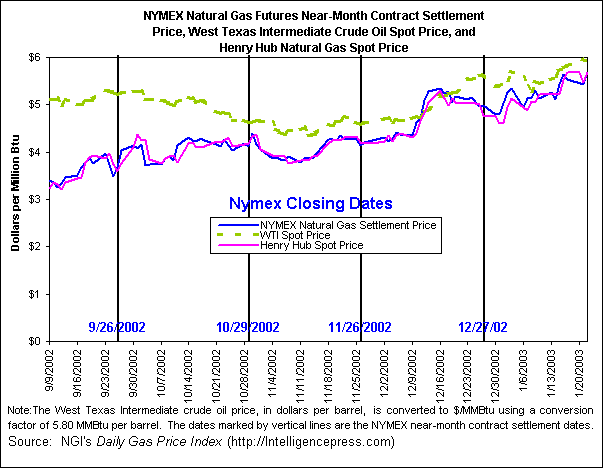 <![endif]>
<![if !supportEmptyParas]> <![endif]>
With the exception of Tuesday's (January 21) trading session coming out of the 3-day Martin Luther King, Jr. holiday weekend, spot prices rose robustly at most market locations with double-digit increases on the other 3 trading days of the period.  Spot prices were reacting to the intensely cold temperatures that continued into a second week virtually throughout the nation east of the Rockies, keeping demand very strong.   In high gas-consuming areas of the Midwest, Northeast, and Central regions, daily average high temperatures have been consistently below freezing since last Wednesday.  Daily average temperatures during this period have been further below normal in the Northeast than in any other region, by up to 17 degrees. The average price for Northeast market locations increased $7.13 per MMBtu from Wednesday, January 15 to Wednesday, January 22.  The Midwest showed the next largest average increase at $0.88 per MMBtu to an average of $5.80.  Elsewhere price increases were not as large:  the Henry Hub increased 46 cents to $5.68 per MMBtu; and the Southern California Border Average price rose 40 cents, to $5.06 per MMBtu.  As of yesterday, average spot prices were generally in the $5-$6 range, except in the Northeast, Florida, and the Rockies.  While prices in the Northeast and Florida exceeded $6 per MMBtu, prices at most locations in the Rockies were around $3.50 per MMBtu.
<![if !supportEmptyParas]> <![endif]>
On the NYMEX, futures prices fluctuated in the past week, although prices settled yesterday higher than last week.  The market's two-day downward trend on Friday and Tuesday seemed to have been influenced by longer-range weather forecasts calling for moderating temperatures after the end of January.  Price increases resumed yesterday, as a new mass of polar air began streaming in from Canada to reinforce the current cold snap.  The settlement price of the near-month contract (for February delivery) rose $0.243 per MMBtu since last Wednesday to settle yesterday at $5.673.  The contract for March delivery gained $0.253, settling yesterday at $5.608 per MMBtu.  Contracts for delivery during the upcoming storage refill months (April-October) had gains ranging from a little over 8 cents to nearly 17 cents per MMBtu.  As of yesterday, the lowest-priced gas during the refill season was for October delivery, at $4.895 per MMBtu. 
<![if !supportLineBreakNewLine]>
<![endif]>
Spot Prices ($ per MMBtu)

Thur.

Fri.

Mon.

Tues.

Wed.

16-Jan

17-Jan

20-Jan

21-Jan

22-Jan

Henry Hub

5.51

5.68

Holiday

5.47

5.68

New York

7.97

9.55

Holiday

13.63

19.05

Chicago

5.52

5.70

Holiday

5.56

5.90

Cal. Comp. Avg,*

5.03

5.11

Holiday

4.99

5.14

Futures ($/MMBtu)

Feb delivery

5.645

5.536

Holiday

5.433

5.673

Mar delivery

5.603

5.503

Holiday

5.432

5.608

*Avg. of NGI's reported avg. prices for:  Malin, PG&E citygate,

and Southern California Border Avg.

Source: NGI's Daily Gas Price Index (http://intelligencepress.com).
<![if !supportEmptyParas]> <![endif]>
Working gas in storage was 1,985 Bcf for the week ended January 17, according to EIA's Weekly Natural Gas Storage Report, leaving inventories nearly 4 percent below the previous 5-year (1998-2002) average for the week (See Storage Figure).  Implied net withdrawals were 210 Bcf, or about 38 percent greater than the previous 5-year average.  The large net withdrawal reflects the frigid temperatures that gripped most of the nation east of the Rocky Mountains during that week (See Temperature Map) (See Deviation Map).  In most regions, gas customer-weighted heating degree days (HDD) exceeded normal, which results in an even stronger difference from last year when temperatures were warmer than normal.  HDD in the high-gas-consuming New England and Middle Atlantic Census Divisions were 13 and 18 percent above normal, respectively, but 39 and 50 percent greater than last year, according to the latest data from the National Weather Service.  HDD exceeded normal by the largest amounts in the East South Central (28 percent greater) and South Atlantic (24 percent greater) Census Divisions.  Conversely, HDD in the Rockies and westward averaged well below normal, easing demand and resulting in a storage draw from West region storage facilities that was more than 6 percent below the 5-year average.   
<![if !supportEmptyParas]> <![endif]>
All Volumes in Bcf

Current Stocks 1/17/03

Estimated Prior 5-Year (1998-2002) Average

Percent Difference from 5 Year Average

Implied Net Change from Last Week

One-Week Prior Stocks 1/10/03

<![if !supportMisalignedRows]>
<![endif]>

East Region

1,111

1,233

-9.9%

-137

1,248

<![if !supportMisalignedRows]>
<![endif]>

West Region

314

264

18.9%

-15

329

<![if !supportMisalignedRows]>
<![endif]>

Producing Region

560

564

-0.7%

-58

618

<![if !supportMisalignedRows]>
<![endif]>

Total Lower 48

1,985

2,061

-3.7%

-210

2,195

<![if !supportMisalignedRows]>
<![endif]>

Source:  Energy Information Administration:  Form EIA-912, "Weekly Underground Natural Gas Storage Report," and the Historical Weekly Storage Estimates Database.  Row and column sums may not equal totals due to independent rounding.

<![if !supportMisalignedRows]>
<![endif]> <![if !supportMisalignedRows]>
<![endif]> <![if !supportMisalignedRows]>
<![endif]>
<![if !supportEmptyParas]> <![endif]>
FERC Proposes Rapid Rebuild Procedures for Deliberately Damaged Pipelines:  The Federal Energy Regulatory Commission (FERC) proposed a rule on Wednesday, January 15, that would allow interstate natural gas pipelines to rebuild facilities quickly that were deliberately damaged or destroyed.  The Notice of Proposed Rulemaking (NOPR) would broaden pipelines' construction activities under the Part 157 blanket certificate authority in the case of intentional damage to: (1) waive the 45-day notification requirement prior to the start of construction, and (2) remove cost limitations for the types of projects authorized under the blanket certificate authority.  Aimed primarily at situations in which a pipeline mainline has suffered damage, the NOPR would also authorize a pipeline to depart from an existing right-of-way, making it possible for the pipeline to skirt a damaged site to reconnect with its mainline to restore service.  The revised regulations address concerns raised last April at a joint FERC-Department of Transportation meeting in which pipeline executives noted that current FERC regulations could inhibit rapid restoration of service in the case of sudden disruptions caused by deliberate attacks or other unexpected emergencies.  While the NOPR would facilitate service restoration, it still would require that pipelines comply with existing environmental, safety, and land acquisition rules.
<![if !supportEmptyParas]> <![endif]>
Summary:
Unusually cold temperatures that have persisted east of the Rockies for a second week pushed spot gas prices significantly higher, with average prices at some Northeast market locations approaching $20 per MMBtu.  Future prices also increased, but more modestly.  Implied net storage withdrawals of 210 Bcf were the third largest for this week in the 9-year span of EIA data. 
<![if !supportEmptyParas]> <![endif]>
<![if !supportEmptyParas]> <![endif]>
Natural Gas Summary from the Short-Term Energy Outlook
<![if !supportEmptyParas]> <![endif]>
<![if !supportEmptyParas]> <![endif]>