Both spot and futures prices recorded significant gains over the past week (Wednesday, November 13 to Wednesday, November 20), as temperatures in many regions of the country headed below normal and the National Weather Service (NWS) predicted more of the same through the end of the month for at least the eastern two-thirds of the nation.  Most of the gains came in large one-day price increases on Monday.  At the Henry Hub, the average spot price increased 5 days in a row, and ended trading yesterday (November 20) at $4.27 per MMBtu, 44 cents higher than last Wednesday, 27 cents of which was gained on Monday.  The NYMEX futures contract for December delivery at the Henry Hub ended trading yesterday at $4.254 per MMBtu, up $0.377 for the week.  Nearly 75 percent of this increase ($0.282) came in Monday's trading.  Natural gas in storage as of Friday, November 15 decreased by 1 Bcf to 3,096 Bcf, which exceeds the 5-year average by 3.3 percent.  The spot price of West Texas Intermediate (WTI) crude oil, after reaching a 5-month low last Wednesday, at $25.28 per barrel ($4.36 per MMBtu), increased $1.72, settling at $27.00 per barrel, ($4.66 per MMBtu) in trading yesterday (Wednesday, November 20).
<![if !supportEmptyParas]> <![endif]>
<![if !vml]>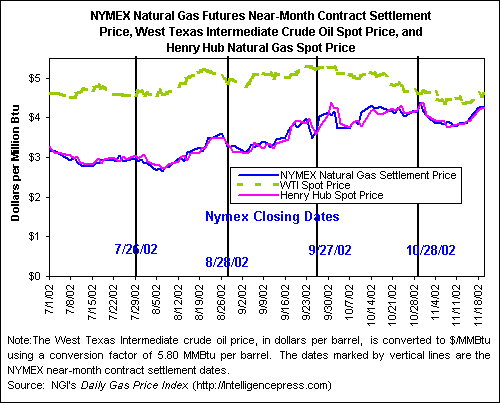 <![endif]>
<![if !supportEmptyParas]> <![endif]>
<![if !supportEmptyParas]> <![endif]>
Natural gas prices moved up at virtually all market locations this past week (Wednesday-Wednesday). Spot prices shot upward on Monday, November 18.  Gains were seen at all market locations tracked by Intelligence Press, Inc. with increases ranging from a dime to nearly 40 cents per MMBtu at the majority of pricing points.  Colder-than-normal temperatures beginning Friday or Saturday in all regions of the nation except the West spurred gas demand for space heating to begin the week.  This, coupled with the normal resumption of workweek industrial demand, put upward pressure on spot prices.  Continued cold weather, particularly in the Midwest, Northeast, and Southeast, kept prices on an upward track through Wednesday, although gains were much smaller on succeeding days.  By Wednesday, November 20, cumulative price increases for the week were generally uniform at 38-40 cents for nearly all market areas.  Spot prices at Chicago and New York citygates reached $4.26 and $4.61 per MMBtu, respectively-the highest spot prices seen at these locations since the end of last month.  Price increases in the Rockies were slightly less, at an average of 33 cents per MMBtu, bringing prices at locations there back above $3 per MMBtu.
Settlement prices on the futures market increased only two days out of five.  In trading on Friday, November 15, the near-month contract (December delivery) rose $0.112 per MMBtu, to settle at $3.981.  This increase likely reflected the NWS's updated 6-10 day temperature forecast of Friday, containing the first signs of significantly cold weather in the offing.  However, the updated forecast issued on Sunday, November 17, for the first time this heating season showed projected below normal temperatures for the entire eastern two-thirds of the nation.  The December contract jumped $0.282 per MMBtu on Monday to settle at $4.263, its highest settlement price since its first day as the near-month contract on October 30, when it reached $4.389 per MMBtu.  Price increases for the other heating-season delivery months ranged from 19 to over 26 cents per MMBtu.  Since then, futures prices have been mostly flat to just slightly down, as the December contract settled yesterday at $4.254 per MMBtu.  The NWS is scheduled to release updated 30- and 90-day forecasts today (Thursday, November 21), which could have important implications for futures prices.
<![if !supportEmptyParas]> <![endif]>
Spot Prices ($ per MMBtu)

Thur.

Fri.

Mon.

Tues.

Wed.

14-Nov

15-Nov

18-Nov

19-Nov

20-Nov

Henry Hub

3.90

3.91

4.18

4.25

4.27

New York

4.25

4.30

4.60

4.56

4.61

Chicago

3.96

3.92

4.20

4.25

4.26

Cal. Comp. Avg,*

3.74

3.63

3.87

3.93

3.92

Futures ($/MMBtu)

Dec delivery

3.869

3.981

4.263

4.261

4.254

Jan delivery

3.984

4.093

4.356

4.352

4.352

*Avg. of NGI's reported avg. prices for:  Malin, PG&E citygate,

and Southern California Border Avg.

Source: NGI's Daily Gas Price Index (http://intelligencepress.com).
<![if !supportEmptyParas]> <![endif]>
Working gas in storage for the week ended Friday, November 15 was 3,096 Bcf, according to EIA's Weekly Natural Gas Storage Report, which is 3.3 percent above the 5-year (1997-2001) average (See Storage Figure).  This is just 1 Bcf down from the level of the previous week. Storage activity for the report week differs markedly from that of the two prior weeks, which saw implied total net withdrawals of 27 and 48 Bcf, and implied net withdrawals in all regions.  At least two factors likely helped to limit gas demand during the report week, easing pressure on inventories.  One was the Veteran's Day holiday (Monday, November 11), keeping some industrial demand off-line for an extra weekend day.  The other, perhaps more important, was the unusually warm weather experienced in most regions of the country that week. (See Temperature Map) (See Deviation Map).)  According to the NWS's most recent gas-customer weighted heating degree-day (HDD) data, HDDs averaged below normal–and thus temperatures averaged above normal–for the week in all but one of the nine Census divisions of the lower 48 states.  HDDs for the week were 16 percent below normal for the Middle Atlantic, 25 percent below normal for New England, and 40 percent below normal for the Pacific.  For the nation as a whole, HDDs were 12 percent below normal.
<![if !supportEmptyParas]> <![endif]>
<![if !supportEmptyParas]> <![endif]>
All Volumes in Bcf

Current Stocks 11/15/02

Estimated Prior 5-Year (1997-2001) Average

Percent Difference from 5 Year Average

Implied Net Change from Last Week

One-Week Prior Stocks 11/08/02

<![if !supportMisalignedRows]>
<![endif]>

East Region

1,840

1,839

0.1%

5

1,835

<![if !supportMisalignedRows]>
<![endif]>

West Region

413

360

14.7%

3

410

<![if !supportMisalignedRows]>
<![endif]>

Producing Region

843

798

5.6%

-9

852

<![if !supportMisalignedRows]>
<![endif]>

Total Lower 48

3,096

2,998

3.3%

-1

3,097

<![if !supportMisalignedRows]>
<![endif]>

Source:  Energy Information Administration:  Form EIA-912, "Weekly Underground Natural Gas Storage Report," and the Historical Weekly Storage Estimates Database.  Row and column sums may not equal totals due to independent rounding.

<![if !supportMisalignedRows]>
<![endif]> <![if !supportMisalignedRows]>
<![endif]> <![if !supportMisalignedRows]>
<![endif]>
<![if !supportEmptyParas]> <![endif]>
EIA Releases Annual Energy Outlook 2003, With Gas Projections Through 2025:  On Wednesday, November 20, EIA released the reference case from its soon-to-be published Annual Energy Outlook 2003, projecting a growth of 54 percent in gas demand by the year 2025.  Growing at an average annual rate of 1.8 percent, total consumption is projected to increase from 22.7 Tcf in 2001 to 34.9 Tcf in 2025, with most of the increase going to supply expanding gas-fired electricity generation.  EIA foresees the need for major new domestic supply projects, such as from deepwater offshore wells and an Alaskan pipeline, and increased imported supplies, including new and expanded LNG facilities and the Mackenzie Delta Pipeline in Canada, in order to be able to meet the growth in demand.  Total natural gas imports are projected to satisfy 22 percent of total U.S. demand in 2025, up from 16 percent in 2001.  EIA also predicts higher prices by 2025, as increased demand will outstrip the ability of technology improvements and new supply sources to offset resource depletion.  EIA projects that the average wellhead price will be about $3.90 per Mcf, or about $3.80 per MMBtu, in 2025, which is equivalent to more than $7 per Mcf ($6.83 per MMBtu) in nominal dollars.
<![if !supportEmptyParas]> <![endif]>
MMS Announces New World Records For Deepwater Pipelines And Production: New production from the Camden Hills field about 150 miles southeast of New Orleans has set a world water-depth record, according to the Minerals Management Service (MMS). The MMS announced on November 18 that Marathon Oil Company set the world record with production from the Camden Hills field at a water depth of 7,209 feet, which exceeds by about 100 feet the previous record set in the nearby Aconcagua field. Marathon Oil Company, which discovered the Camden Hills field in 1999, is the operator of the production facilities. The MMS stated that production is currently 100 million cubic feet per day. TotalFinaElf has also set a world record in the vicinity for laying a pipeline to the production site at the same water-depth. The pipeline is part of the Canyon Express gas gathering system, which is a collaboration among several operators that connects the Camden Hills, Aconcagua, and Kings Peak natural gas fields. MMS said that peak flow on the Canyon Express line will be 500 million cubic feet per day.   
<![if !supportEmptyParas]> <![endif]>
Summary:
Spot and futures prices recorded significant gains as colder-than-normal temperatures prevailed in many important gas-consuming areas, and were forecast to continue at least through the end of the month.  Unusually warm temperatures during the week ended Friday, November 15 suppressed storage withdrawals, leaving inventories nearly unchanged from the previous week.
<![if !supportEmptyParas]> <![endif]>
<![if !supportEmptyParas]> <![endif]>
<![if !supportEmptyParas]> <![endif]>
Natural Gas Summary from the Short-Term Energy Outlook
<![if !supportEmptyParas]> <![endif]>