A second early season cold front caused heating demand that increased prices at key market centers in the Northeast and West Coast up to 42 cents per MMBtu since October 16.  The higher aggregate demand lifted natural gas spot prices 10 to 25 cents at most production-area trading locations. For the week (Wednesday-Wednesday), the average Henry Hub price climbed $0.14 per MMBtu to $4.24. At the NYMEX, the futures contract for November delivery at the Henry Hub increased a more moderate $0.033 per MMBtu to a $4.260 settlement yesterday (October 23). Natural gas in storage increased to 3,161 Bcf for the week ending October 18, which exceeds the 5-year average by 7.4 percent. The spot price for West Texas Intermediate (WTI) crude oil dropped $1.09 per barrel to $28.19, or $4.86 per MMBtu.
<![if !supportEmptyParas]> <![endif]>
<![if !vml]>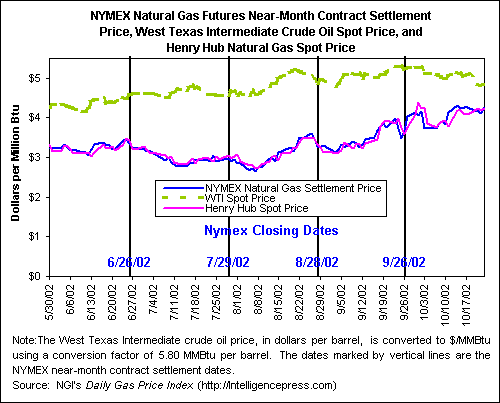 <![endif]>
<![if !supportEmptyParas]> <![endif]>
<![if !supportEmptyParas]> <![endif]>
Spot prices this week (Wednesday-Wednesday) continued an upward trend that began in September, spurred by two tropical storm systems and two early winter cold fronts. With the exception of prices on the day of Hurricane Lili's landfall in Louisiana earlier this month, the Henry Hub's average spot price of $4.24 per MMBtu yesterday (Wednesday, October 23) was a 16-month high for the hub. Spot prices generally declined late last week after the season's first cold front moved through the Rockies and parts of the Midwest. However, by last weekend and early this week, a second front had moved into the Midwest extending into the Northeast. In trading on Tuesday and Wednesday, strong demand in the cash markets drove production-region prices to levels comparable to the futures contract for November delivery at the Henry Hub. Indicating strong heating demand, gas has been selling at the Chicago citygate at a dime or more above the Henry Hub price for much of the week. Chicago prices ended the week averaging $4.38 per MMBtu yesterday, or 20 cents per MMBtu over last week and 12 cents over the Henry Hub price. With snow and colder temperatures moving into the Northeast, prices on several of the pipelines into the region also surged to recent highs. Prices on Tennessee Gas Pipeline Zone 6 climbed to $4.86 per MMBtu, an increase of 42 cents since last Wednesday. Prices on Tennessee Gas Pipeline became the highest prices in the region, owing in part to supply cuts at the pipeline's Dracut, MA, receipt point, where it receives gas from eastern Canada. California prices also surged to just over $4.00 per MMBtu. In Northern California, the PG&E citygate price rose $0.39 per MMBtu to $4.05 owing to the outage of the Diablo Canyon nuclear plant.
<![if !supportEmptyParas]> <![endif]>
At the NYMEX, the November contract for delivery at the Henry Hub closed on Wednesday, October 23, at $4.260 per MMBtu, an increase of just over 3 cents on the week. The near-month contract closed at a high for the week of $4.299 per MMBtu on Thursday, October 17, then registered losses in the following three sessions. But with news yesterday of expected cold weather through the end of October, the contract rebounded 15 cents per MMBtu. Strong cash market prices are also likely supporting the near-month contract as its expiration next week draws closer. The November contract has gained 32 cents per MMBtu or about 8 percent from its open as the near-month contract at $3.94 on September 27. At yesterday's close, the 12-month strip was $4.143 per MMBtu. The futures contract for January 2003 settled at $4.51 per MMBtu, the highest contract price in the 12-month strip.
<![if !supportEmptyParas]> <![endif]>
<![if !supportEmptyParas]> <![endif]>
Spot Prices ($ per MMBtu)

Thur.

Fri.

Mon.

Tues.

Wed.

17-Oct

18-Oct

21-Oct

22-Oct

23-Oct

Henry Hub

4.09

4.11

4.23

4.20

4.24

New York

4.39

4.41

4.59

4.69

4.81

Chicago

4.19

4.25

4.33

4.34

4.38

Cal. Comp. Avg,*

3.68

3.72

3.93

4.00

4.04

Futures ($/MMBtu)

Nov delivery

4.299

4.239

4.157

4.110

4.260

Dec delivery

4.507

4.462

4.378

4.315

4.440

*Avg. of NGI's reported avg. prices for:  Malin, PG&E citygate,

and Southern California Border Avg.

Source: NGI's Daily Gas Price Index (http://intelligencepress.com).
<![if !supportEmptyParas]> <![endif]>
Working gas in storage was 3,161 Bcf or 7.4 percent above the 5-year average for the week ending October 18, according to EIA's Weekly Natural Gas Storage Report. (See Storage Figure)  The implied net injection for the week was 33 Bcf, or about 25 Bcf below the 5-year average and 1 Bcf higher than last year. The relatively low injection came during a week when the first cold front of the season moved across the Lower 48, increasing demand in several key markets such as the Twin cities and Chicago. Across the country, temperatures were 35 percent colder than normal as measured by heating degree days (HDDs), according to the Natural Weather Service. (See Temperature Map) (See Deviation Map)  In the East Central and West Central regions, HDDs were between 44 and 58 percent higher than normal. The cold weather followed on the heels of at least two weeks of relatively low injections into storage owing to Gulf of Mexico supply shut-ins during recent tropical storms. As a result, October injections have slowed to about 5.8 Bcf a day, a pace that would result in storage inventories finishing the month (the unofficial end of the storage season) at 3,237 Bcf. However, net storage injections often continue into November. Last year, storage activity resulted in net injections throughout the month, adding another 110 Bcf to stocks. With last week's injection of 33 Bcf, working gas storage levels are 219 Bcf higher than the 5-year average. 
<![if !supportEmptyParas]> <![endif]>
All Volumes in Bcf

Current Stocks 10/18/02

Estimated Prior 5-Year (1997-2001) Average

Percent Difference from 5 Year Average

Implied Net Change from Last Week

One-Week Prior Stocks 10/11/02

<![if !supportMisalignedRows]>
<![endif]>

East Region

1,859

1,807

2.9%

20

1,839

<![if !supportMisalignedRows]>
<![endif]>

West Region

415

357

16.2%

3

412

<![if !supportMisalignedRows]>
<![endif]>

Producing Region

887

779

13.9%

10

877

<![if !supportMisalignedRows]>
<![endif]>

Total Lower 48

3,161

2,942

7.4%

33

3,128

<![if !supportMisalignedRows]>
<![endif]>

Source:  Energy Information Administration:  Form EIA-912, "Weekly Underground Natural Gas Storage Report," and the Historical Weekly Storage Estimates Database.  Row and column sums may not equal totals due to independent rounding.

<![if !supportMisalignedRows]>
<![endif]> <![if !supportMisalignedRows]>
<![endif]> <![if !supportMisalignedRows]>
<![endif]>
<![if !supportEmptyParas]> <![endif]>
Other Market Trends:
 Minerals Management Service Issues Final Assessment of Storms' Production Impacts. On Friday, October 18, the U.S. Department of the Interior's Minerals Management Service (MMS) announced the effects of Hurricane Lili and Tropical Storm Isidore on offshore oil and gas production in the Gulf of Mexico (GOM). From September 23, 2002, through October 18, 2002, more than 88.9 billion cubic feet (Bcf) of natural gas and 14.4 million barrels of oil were unavailable for U.S. consumption because of the shutdown of oil and gas operations on the GOM Outer Continental Shelf.  Using September 29, 2002, as the end date for Tropical Storm Isidore, the MMS reports that this storm caused about 27.5 Bcf of gas and 4.5 million barrels of oil to be shut-in (Monday, September 23 through Saturday, September 29). Hurricane Lili, a much more intense storm, led to production shut-ins of more than 61.5 Bcf of natural gas and 9.9 million barrels of oil from September 30 through October 18. These numbers are based on operator reports to MMS and reflect corrections to previous daily reports.  As of October 18, production operations in the Gulf of Mexico had almost returned to pre-storm levels, with only 670 million cubic feet of natural gas and 105 thousand barrels of oil production still shut down. Total U.S. natural gas production is roughly 50 to 53 Bcf per day, so the shut-in total of almost 89 Bcf is the equivalent of less than 2 days of national production, or about 5 to 6 percent of total production in a month.
<![if !supportEmptyParas]> <![endif]>
Summary:
Spot prices climbed during the week since October 16 with increases of over 40 cents per MMBtu at key market centers. The futures contract price for November delivery increased just over 3 cents, settling at $4.260 per MMBtu. As of October 18, working gas storage stocks were 3,161 Bcf, a level well above the maximum for this week during the past 5 years. Despite the relatively high level of storage, cash and futures prices have risen as winter weather begins to arrive to the Lower 48 and space heating demand increases.
<![if !supportEmptyParas]> <![endif]>
Natural Gas Summary from the Short-Term Energy Outlook
<![if !supportEmptyParas]> <![endif]>