Spot and futures prices moved up strongly for the week (Wednesday, September 25 through Wednesday, October 2) as Tropical Storm Isidore and then Hurricane Lili caused significant production curtailments in the Gulf of Mexico and onshore Texas and Louisiana.  The average spot price at the Henry Hub yesterday (Wednesday, October 2), at $4.24 per MMBtu, was 49 cents higher than a week ago.  However, the amount of gas actually delivered at October 2 prices is likely to be small, as operations at the Henry Hub near Erath, LA, were essentially shut down for at least 48 hours because of Lili's impending arrival.  On the NYMEX, the expiring near-month contract for October delivery ended trading on Thursday, September 26 with a sizeable gain of over 19 cents per MMBtu, closing at $3.686.   Taking over as the near-month contract, the futures contract for November delivery promptly gained $0.152 per MMBtu to settle at $4.041 on Friday.  Natural gas in storage reached 3,038 Bcf on September 27, which exceeds the average of the past 5 years by 10 percent.  With continuing turmoil in the Middle East and uncertainty surrounding the conflict with Iraq over weapons inspections keeping oil prices high, the spot price of West Texas Intermediate (WTI) crude oil hovered above $30 per barrel throughout the week.  WTI ended trading Wednesday (October 2) at an average of $30.59 per barrel, or about $5.27 per MMBtu, down a dime per barrel from the previous Wednesday.
<![if !supportEmptyParas]> <![endif]>
<![if !vml]>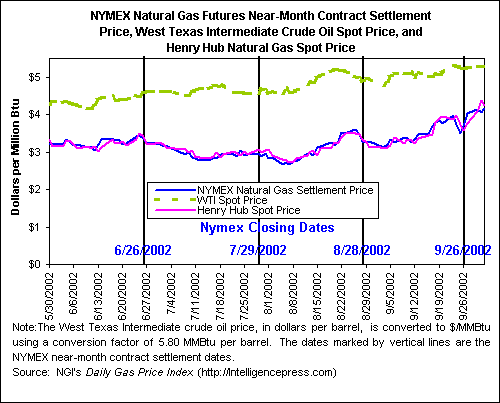 <![endif]>
<![if !supportEmptyParas]> <![endif]>
Spot prices at many locations moved steadily upward beginning last Friday, as a rejuvenated Tropical Storm Lili made its way into the Gulf of Mexico with a predicted track very similar to Isidore, which had caused peak production shut-ins of about 8.5 Bcf per day by last Wednesday, according to the Minerals Management Service of the Department of the Interior.  No sooner had curtailments dropped to just over 1 Bcf per day by Monday, September 30, than producers were again evacuating platforms and drilling rigs in response to Lili's approach.  Prices surged at most locations on Monday and Tuesday, with increases each day ranging from 15 to over 50 cents per MMBtu, as Lili gained strength, reaching hurricane status.  However, spot prices fell yesterday (October 2), just as Lili was becoming a major storm and transitioning from category 3 to 4 with wind speeds of 135 mph, causing production shut-ins to increase to 8.6 Bcf per day.  Despite Wednesday's drops, spot prices increased at virtually every location for the week, with increases generally ranging from 18 to as much as 84 cents per MMBtu, except for the Rocky Mountain region where the average increase for all points was $0.98 per MMBtu, to a regional average price of only $2.87.
<![if !supportEmptyParas]> <![endif]>
On the NYMEX, the contract for October delivery–the outgoing near-month contract–countered a near-25 cent decline in last Wednesday's (September 25) trading with a gain of $0.191 per MMBtu on its final trading day (Thursday, September 26) to close out at $3.686.  On its first day of trading as the near-month contract, the November contract settled at $4.041 per MMBtu, becoming the first near-month contract to settle above $4 per MMBtu since June 2001.  It settled for $4.160 per MMBtu yesterday (Wednesday, October 2) for a cumulative gain of $0.271 since becoming the prompt month contract.
<![if !supportEmptyParas]> <![endif]>
Spot Prices ($ per MMBtu)

Thur.

Fri.

Mon.

Tues.

Wed.

26-Sep

27-Sep

30-Sep

1-Oct

2-Oct

Henry Hub

3.59

3.76

4.09

4.38

4.24

New York

3.95

4.02

4.48

4.94

5.00

Chicago

3.46

3.57

4.04

4.24

4.00

Cal. Comp. Avg,*

3.28

3.26

3.59

3.75

3.55

Futures ($/MMBtu)

Oct delivery

3.686

expired

expired

expired

expired

Nov delivery

3.889

4.041

4.138

4.067

4.160

Dec delivery

4.114

4.245

4.323

4.240

4.315

*Avg. of NGI's reported avg. prices for:  Malin, PG&E citygate,

and Southern California Border Avg.

Source: NGI's Daily Gas Price Index (http://intelligencepress.com).
<![if !supportEmptyParas]> <![endif]>
Working gas in underground storage was 3,038 Bcf for the week ended Friday, September 27, according to the EIA Weekly Natural Gas Storage Report.  This is the earliest in the refill season that inventories have topped 3 Tcf in 10 years.  Stocks are also 10 percent greater than the previous 5-year (1997-2001) average for this date, and just under 4 percent greater than last year at this time.(See Storage Figure)  At this level, the nation's storage facilities are close to 76 percent full, based on EIA's estimate of working gas capacity (see the report, The Basics of Underground Natural Gas Storage, for a discussion of various storage measures).   The week's implied net injection of 47 Bcf was about 32 percent less than the 5-year average of 68 Bcf.  While tropical storm news dominated the weather picture for most of the industry, above-normal temperatures prevailed along both coasts, while below-normal temperatures covered most of the country's midsection.  (See Temperature Map) (See Deviation Map) Despite the deviations from normal temperatures, the relatively moderate temperatures across much of the country would have limited the amount of weather-related demand. 
<![if !supportEmptyParas]> <![endif]>
In the 2 weeks before the latest storage report, the net change in inventory levels averaged close to 10 percent less than the 5-year average.  Even if this below-average level of net injections were to be sustained through the end of October, total stocks would reach almost 3,260 Bcf, which would be 81 percent of working gas capacity.  This would be the largest beginning-of-heating-season inventory level since 1991, well before the advent of FERC Order 636 open access storage.
All Volumes in Bcf

Current Stocks 9/27/2002

Estimated Prior 5-Year (1997-2001) Average

Percent Difference from 5 Year Average

Implied Net Change from Last Week

One-Week Prior Stocks 9/20/02

<![if !supportMisalignedRows]>
<![endif]>

East Region

1,771

1,691

4.7%

39

1,732

<![if !supportMisalignedRows]>
<![endif]>

West Region

400

343

16.6%

1

399

<![if !supportMisalignedRows]>
<![endif]>

Producing Region

867

726

19.4%

7

860

<![if !supportMisalignedRows]>
<![endif]>

Total Lower 48

3,038

2,761

10.0%

47

2,991

<![if !supportMisalignedRows]>
<![endif]>

Source:  Energy Information Administration:  Form EIA-912, "Weekly Underground Natural Gas Storage Report," and the Historical Weekly Storage Estimates Database.

<![if !supportMisalignedRows]>
<![endif]> <![if !supportMisalignedRows]>
<![endif]> <![if !supportMisalignedRows]>
<![endif]>
<![if !supportEmptyParas]> <![endif]>
<![if !supportEmptyParas]> <![endif]>
EIA Releases New Report on the Fundamentals of Natural Gas Storage:  EIA prepared a new report to provide general background information about underground natural gas storage titled The Basics of Underground Natural Gas Storage. The report, which was released on October 2, 2002, describes the different types of underground storage facilities, defines and clarifies key storage measurement terminology, summarizes categories of storage ownership and operation, and briefly discusses changing patterns of storage utilization.  A key element of the report is its discussion of relative measures of gas inventories, which attempts to clarify the notion of "percent full" as applied to storage facilities.     
<![if !supportEmptyParas]> <![endif]>
Summary:
Prices on both spot and futures markets moved up sharply, as first Tropical Storm Isidore, then Hurricane Lili, caused significant production outages for much of the week in the Gulf region.  Natural gas stocks rose above 3 Tcf with 5 weeks still remaining in the refill season.
<![if !supportEmptyParas]> <![endif]>
<![if !supportEmptyParas]> <![endif]>