Since Wednesday, September 18, natural gas spot prices have declined at most locations in the Lower 48 States. However, prices climbed at some market locations,  with a few locations reporting gains of as much as 60 cents during the same period.  For the week (Wednesday-Wednesday), prices at the Henry Hub fell 4 cents or roughly 1 percent to $3.75 per MMBtu.  The price of the NYMEX futures contract for October delivery at the Henry Hub decreased 29 cents since last Wednesday to settle at $3.494 per MMBtu yesterday.  Natural gas in storage increased to 2,991 Bcf, which exceeds the 5-year average by slightly more than 11 percent.  The spot price for West Texas Intermediate (WTI) crude oil increased $1.12 per barrel or almost 4 percent since last Wednesday, climbing past the $30 per barrel mark to trade at $30.69 per barrel or $5.29 per MMBtu as fears of a looming war with Iraq intensified.
<![if !supportEmptyParas]> <![endif]>
<![if !vml]>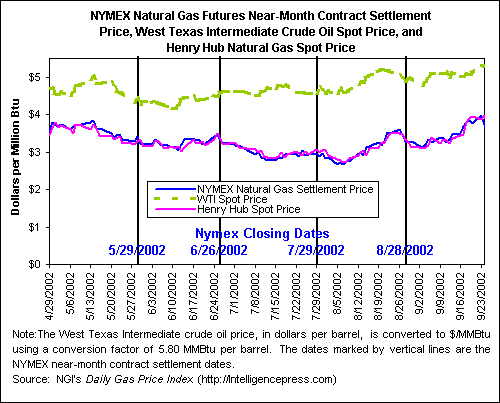 <![endif]>
<![if !supportEmptyParas]> <![endif]>
Hurricane Isidore made headlines in the trade press each day of a tumultuous week of trading, which was marked by considerable day-to-day  price variability.  However, by Wednesday, September 25, prices had fallen up to 35 cents at most market locations since last Wednesday as fears that Isidore might have a strong impact on production in the Gulf of Mexico dissipated.  Daily gains or declines in excess of a dime were not unusual during the week as Isidore meandered erratically through the Gulf of Mexico:  first as a tropical storm, then as a hurricane, and again as a tropical storm.  Prices climbed on Monday and Tuesday, as Isidore was poised to re-enter the Gulf of Mexico after stalling near the Yucatan Peninsula in Mexico, and was expected to regain hurricane-force winds.  However, the storm moved briskly up the Gulf at about 7 miles per hour, and was unable to strengthen before making landfall early this morning at Grand Isle, Louisiana.  Production shut-ins of more than 4 Bcf per day, according to some sources, contributed to some of the price increases as well as concerns that  Hurricane Isidore might wreak havoc on production facilities in the Gulf region.  On Wednesday, September 25, prices tumbled between 10 and 38 cents as it became apparent that the storm would not pose a significant threat to production.  For the week,  the largest declines occurred in Florida, where prices fell 97 cents.  In the MidContinent, Midwest, and California regions, price declines ranged between 22 and 35 cents.  Prices have increased since last Wednesday at some points in the Northeast and Louisiana, climbing about a nickel, and in the Rocky Mountains region, climbing up to 60 cents per MMBtu.
<![if !supportEmptyParas]> <![endif]>
At the NYMEX, the price of the futures contract for October delivery at the Henry Hub has decreased 29 cents since Wednesday, September 18, to settle at $3.494 per MMBtu on Wednesday, September 25.  Factors contributing to the decline in futures prices likely include the unusually high volumes of natural gas in storage and falling spot prices. Prices of the futures contracts for delivery during the remaining months in 2002 and through the heating season have fallen by 22 to 25 cents per MMBtu since last Wednesday, September 18, with the larger decreases occurring for the more immediate months' contracts.  Prices of the contracts for the peak winter months of December through February are more than 27 cents above the current Henry Hub spot price.  This price differential provides an incentive for continued additions of natural gas to storage for the winter heating season.
<![if !supportEmptyParas]> <![endif]>
Spot Prices ($ per MMBtu)

Thur.

Fri.

Mon.

Tues.

Wed.

19-Sep

20-Sep

23-Sep

24-Sep

25-Sep

Henry Hub

3.89

3.94

3.87

3.98

3.75

New York

4.19

4.27

4.19

4.42

4.21

Chicago

3.90

3.85

3.80

3.86

3.56

Cal. Comp. Avg,*

3.65

3.51

3.64

3.63

3.32

Futures ($/MMBtu)

Oct delivery

3.856

3.758

3.978

3.742

3.494

Nov delivery

4.106

3.992

4.175

3.929

3.793

*Avg. of NGI's reported avg. prices for:  Malin, PG&E citygate,

and Southern California Border Avg.

Source: NGI's Daily Gas Price Index (http://intelligencepress.com).
<![if !supportEmptyParas]> <![endif]>
<![if !supportEmptyParas]> <![endif]>
Working gas in storage was 2,991 Bcf for the week ended Friday, September 20, 2002, according to the EIA Weekly Natural Gas Storage Report.  This is 11.1 percent above the 5-year average for the report week, and almost 5 percent above the level last year for the same week.(See Storage Figure)  Moreover, this already is 258 Bcf or more than 9 percent above the level entering the heating season at the end of October 2001.  The implied net injections for last week were 67 Bcf, which is roughly 8 percent below the 5-year average of 73 Bcf for the report week.  Implied net injections were less than the 5-year average in the East and West consuming regions, being 3 Bcf and 2 Bcf below the average build for the report week, respectively.  Meanwhile, in the Producing region, injections were equal to the 5-year average.  If net injections continue to approximate the 5-year average, then working gas in storage will be close to 3,300 Bcf by the end of October when the refill season ends.  This exceeds last year's working gas stocks at the beginning of  the heating season by about 5 percent. (See Temperature Map) (See Deviation Map)
All Volumes in Bcf

Current Stocks 9/20/2002

Estimated Prior 5-Year (1997-2001) Average

Percent Difference from 5 Year Average

Implied Net Change from Last Week

One-Week Prior Stocks 9/13/02

<![if !supportMisalignedRows]>
<![endif]>

East Region

1,732

1,646

5.2%

45

1,687

<![if !supportMisalignedRows]>
<![endif]>

West Region

399

338

18.0%

5

394

<![if !supportMisalignedRows]>
<![endif]>

Producing Region

860

709

21.3%

17

843

<![if !supportMisalignedRows]>
<![endif]>

Total Lower 48

2,991

2,692

11.1%

67

2,924

<![if !supportMisalignedRows]>
<![endif]>

Source:  Energy Information Administration:  Form EIA-912, "Weekly Underground Natural Gas Storage Report," and the Historical Weekly Storage Estimates Database.

<![if !supportMisalignedRows]>
<![endif]> <![if !supportMisalignedRows]>
<![endif]> <![if !supportMisalignedRows]>
<![endif]>
<![if !supportEmptyParas]> <![endif]>
<![if !supportEmptyParas]> <![endif]>
FERC Chief Judge Finds El Paso Corporation Exercised Market Power During California Energy Crisis:  In an initial decision issued on Monday, September 23, Chief Administrative Law Judge Curtis L. Wagner, Jr. found that El Paso Corporation withheld "extremely large amounts of capacity" on its pipeline system for delivery of natural gas to the southern California border in the period November 2000-March 2001, during which natural gas and electric power prices in California reached unprecedented levels.  Average daily spot gas prices on both the Southern California Gas Company (SOCAL) and Pacific Gas and Electric Company systems spiked to more than $59 and $50 per MMBtu, respectively.  Wagner concluded that El Paso withheld up to 696 MMcf per day of pipeline capacity for California delivery by various means, including not operating the pipeline at the maximum allowable operating pressure, conducting unnecessary maintenance, and simply choosing not to use available capacity to flow gas to at least one California receipt point.  Stating that El Paso's operations constituted a clear and unlawful exercise of market power, Wagner recommended that the full Commission begin proceedings to penalize El Paso. 
FERC Approves U.S. Leg Of Millennium Pipeline Project:  Last Wednesday (September 18), the FERC issued a pipeline certificate for the U.S. segment of the much-delayed Millennium Pipeline, which is intended to bring gas from Canada to the New York City market area.  Originally proposed in December 1997, the pipeline would stretch about 442 miles from Dawn, Ontario, near Lake Erie to the New York City area, providing up to 700 MMcf per day of additional capacity.  U.S. sponsors of the pipeline include Columbia Gas Transmission (which has the majority interest and will develop and operate the pipeline), MCN Energy Group, and Westcoast Energy (a subsidiary of Duke Energy).  One of the major causes of delay for project approval had been resistance of the city of Mount Vernon, NY, to the original route that had the pipeline passing directly through the city.  The developers and the city were able to find a mutually agreeable compromise, clearing the way for FERC approval.  However, the Canadian leg of the project has yet to be approved by Canada's National Energy Board (NEB).  The Canadian sponsors, TransCanada PipeLines and Saint Clair Pipeline, Ltd., who had applications pending before the NEB, withdrew them last August when the U.S. approval process dragged on and on. 
<![if !supportEmptyParas]> <![endif]>
Summary:
Spot prices movements were mixed during the week since September 18 with decreases at most market locations.  The futures contract price for October delivery fell by 29 cents, settling at $3.494 per MMBtu.  As of September 20, working gas storage stocks were 2,991 Bcf, a level well above the maximum for this week during the past 5 years. 
<![if !supportEmptyParas]> <![endif]>