Natural gas prices continued their upward trend for a second consecutive week with most market locations in the Lower 48 States registering gains of up to 25 cents per MMBtu since Wednesday, August 14. Continued hot temperatures across the country and an increase in oil prices resulted in prices generally ranging between $3.15 and $3.25 per MMBtu along the Gulf Coast, representing new 8-week highs. At the NYMEX, the price for the futures contract for September delivery closed on Wednesday, August 21, at $3.274 per MMBtu, an increase of just over 36 cents, or about 12.5 percent, on the week. Working gas in storage for the week ended Friday, August 16 was 2,657 Bcf, which exceeds the average for the previous 5 years by 13.1 percent. On the week (Wednesday-Wednesday), the spot price for West Texas Intermediate (WTI) crude oil gained $2.18 to end trading yesterday at $30.37 per barrel, or $5.24 per MMBtu
<![if !supportEmptyParas]> <![endif]>
<![if !vml]>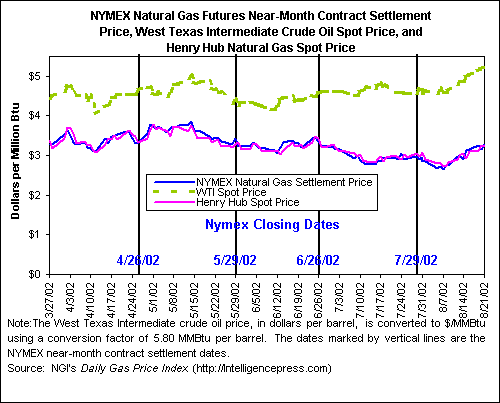 <![endif]>
<![if !supportEmptyParas]> <![endif]>
Natural gas spot prices at many trading locations advanced to 8-week highs as hot temperatures continued in many regions and a surge in the price of crude oil to over $30 per barrel boosted prices for many energy commodities. The Henry Hub spot price on Tuesday, August 20, rose to $3.26 per MMBtu, the highest spot price at this market since July 1. On the week (Wednesday-Wednesday), the Henry Hub price increased 19 cents to $3.22 per MMBtu. Elsewhere along the Gulf Coast, as well as in Southwest producing regions, gains ranged mostly from 15 to 20 cents over last week's prices. Price increases in the West were more modest. California spot prices registered gains of between 7 and 12 cents as temperatures moderated in the past couple of days. Without the hot temperatures in key demand centers in California and the Northwest, Rockies prices once again dropped well below prices in other regions of the country. The spot price on Questar's system in the Rockies fell 44 cents for the week to $1.22 per MMBtu on Wednesday, August 21, the lowest price in the country, and exactly $2 below the average spot price at the Henry Hub. In contrast, the spot price in Florida on Florida Gas Transmission was the highest in the country, advancing to $3.81 per MMBtu during a week of pipeline restrictions and heavy electric power demand.
<![if !supportEmptyParas]> <![endif]>
At the NYMEX, natural gas futures prices also climbed to their highest levels in over 8 weeks. The futures contract for September delivery closed on Wednesday, August 21, at $3.274 per MMBtu, an increase of $0.364 on the week, with significant settlement-price increases on 3 of the 5 trading days. First, the price of the near-month contract jumped nearly 22 cents last Thursday with the release of new storage inventory estimates. Then, along with a surge in crude oil prices likely owing in part to tensions in the Middle East, natural gas futures registered gains of more than a dime on Monday and Wednesday of this week. The September contract has gained just over 61 cents, or 23 percent, from its lowest settlement price as the near-month contract of $2.660 per MMBtu, recorded on August 7. The futures contract for January 2003 almost breached the $4-mark this week before dropping to $3.974 per MMBtu at yesterday's close. The 12-month strip settled at $3.726 per MMBtu.
<![if !supportEmptyParas]> <![endif]>
Spot Prices ($ per MMBtu)

Thur.

Fri.

Mon.

Tues.

Wed.

15-Aug

16-Aug

19-Aug

20-Aug

21-Aug

Henry Hub

2.92

3.10

3.10

3.26

3.22

New York

4.07

3.64

3.49

3.66

3.67

Chicago

2.86

3.02

3.00

3.16

3.11

Cal. Comp. Avg,*

2.65

2.76

2.77

2.90

2.84

Futures ($/MMBtu)

Sept delivery

3.127

3.149

3.267

3.166

3.274

Oct delivery

3.172

3.208

3.327

3.226

3.339

*Avg. of NGI's reported avg. prices for:  Malin, PG&E citygate,

and Southern California Border Avg.

Source: NGI's Daily Gas Price Index (http://intelligencepress.com).
<![if !supportEmptyParas]> <![endif]>
Working gas in storage was 2,657 Bcf for the week ending August 16, according to EIA's Weekly Natural Gas Storage Report, which is 13.1 percent above the 5-year average (See Storage Figure). The implied net injection for the week was 37 Bcf, which represents a 41 percent decline from the 5-year average injection of 63 Bcf for the week. The decreased level of injections came during a week in which temperatures across the country were 18 percent higher than normal as measured by cooling degree days (CDDs). (See Temperature Map) (See Deviation Map)   The Mid-Atlantic and New England regions of the country registered the greatest variation of CDDs from normal weather, with each region posting close to or more than double the average CDDs for the week. Although the difference in stock levels between this year and last declined to 231 Bcf, the current inventory level is 530 Bcf greater than inventory for the comparable week two years ago. The implied net injection was the second time this summer that injections dropped below 40 Bcf. The lowest injection during the summer weeks of 2001 was 46 Bcf.
All Volumes in Bcf

Current Stocks 8/16//2002

Estimated Prior 5-Year (1997-2001) Average

Percent Difference from 5 Year Average

Implied Net Change from Last Week

One-Week Prior Stocks 8/9/02

<![if !supportMisalignedRows]>
<![endif]>

East Region

1,494

1,402

6.6%

35

1,459

<![if !supportMisalignedRows]>
<![endif]>

West Region

368

310

18.7%

1

367

<![if !supportMisalignedRows]>
<![endif]>

Producing Region

795

638

24.6%

1

794

<![if !supportMisalignedRows]>
<![endif]>

Total Lower 48

2,657

2,350

13.1%

37

2,620

<![if !supportMisalignedRows]>
<![endif]>

Source:  Energy Information Administration:  Form EIA-912, "Weekly Underground Natural Gas Storage Report," and the Historical Weekly Storage Estimates Database.

<![if !supportMisalignedRows]>
<![endif]> <![if !supportMisalignedRows]>
<![endif]> <![if !supportMisalignedRows]>
<![endif]>
<![if !supportEmptyParas]> <![endif]>
Comments Received on Proposed Weekly Natural Gas Storage Report Revision Policy

:
The Energy Information Administration (EIA) solicited public comments on a proposed new revision policy for the Weekly Natural Gas Storage Report (WNGSR) in a Federal Register notice published July 11, 2002.  The current policy calls for reporting a revision when the effect of changes is at least 7 billion cubic feet at either a regional or national level.  Revisions are released as part of the next scheduled WNGSR on the EIA web site.  Comments were solicited by EIA regarding a new policy that would allow larger scale revisions to be reported in an unscheduled release on the EIA web site.  It was proposed that volume revisions below a specified threshold will be released according to the established official schedule and that larger volume changes will trigger a release outside the official schedule.  Special topics for public comment included the appropriateness of the overall plan, volume thresholds that trigger a separate report, timing of unscheduled releases, and methods to notify the public in the case of an unscheduled report. The comment period closed on August 12, 2002.  EIA received comments from 26 companies or individuals, and these comments will be considered during the formulation of a potential new policy for revisions of the WNGSR.
<![if !supportEmptyParas]> <![endif]>
Natural Gas Summary from the Short-Term Energy Outlook:
EIA projects that natural gas wellhead prices will range between $2.63 and $2.72 per MMBtu during the months through October without the wide variations that occurred over the spring and early summer months (Short-Term Energy Outlook, August 2002). Prices are expected to be less variable unless unusually hot weather in late summer results in gas being diverted from storage to meet the added cooling demand, or colder-than-normal weather for October results in an unexpected drawdown of storage stocks. Overall in 2002, wellhead prices are expected to average about $2.73 per MMBtu compared with $4.00 in 2001. Prices during the upcoming heating season (November through March), assuming normal weather, are expected to average close to $3.12 per MMBtu, which is about $0.75 higher than last winter's price but only about 10-15 percent higher than current prices.
<![if !supportEmptyParas]> <![endif]>
Domestic dry natural gas production is projected to fall by about 2.3 percent in 2002 compared with the 2001 growth rate of 2.4 percent. Lower natural gas prices have reduced production and resource development incentives from their highs of last summer. Still, current supplies, including natural gas in storage, appear to be at very comfortable levels. Working gas in storage is estimated to have reached almost 2,600 Bcf by the end of July, which is about 15 percent above the 5-year average and almost 300 Bcf higher than a year ago. Furthermore, gas-directed drilling, while down sharply from the record levels of summer 2001, is still quite strong by a longer historical perspective. The gas rig count as of August 2, 2002, was 729, which is 23 percent above the recent low of 591 for the week of April 5, 2002.
<![if !supportEmptyParas]> <![endif]>
Natural gas demand this summer is projected to be 4.6 percent higher than last summer's level, rather than the 3.6 percent increase projected in the July Outlook. Growth is due partly to the fall in natural gas prices since a year ago and the slowly reviving economy, as well as an expected increase in the amount of natural gas required for power generation this summer. Natural gas demand for the entire year 2002 is projected to increase by 3.0 percent over 2001 levels, an upward revision of projected demand in the last Outlook. The revision is due to expected higher demand figures for the electric power sector. This growth shows up in the industrial sector because of the inclusion of nonutility generation in that category. In 2003, natural gas demand growth is expected to increase by 2.8 percent as the economy continues to recover. In 2003, natural gas demand growth is expected across all sectors.
<![if !supportEmptyParas]> <![endif]>
<![if !supportEmptyParas]> <![endif]>
<![if !vml]> <![endif]>
<![if !supportEmptyParas]> <![endif]>
<![if !supportEmptyParas]> <![endif]>
<![if !supportEmptyParas]> <![endif]>
<![if !supportEmptyParas]> <![endif]>
<![if !supportEmptyParas]> <![endif]>
<![if !supportEmptyParas]> <![endif]>
<![if !supportEmptyParas]> <![endif]>