Moderate price increases on Monday and Wednesday of this week could not offset declines during the other three trading days of the week (Wednesday to Wednesday, June 5-12), leaving spot prices lower at most locations for the sixth consecutive week. At the Henry Hub, the average spot price decreased by 13 cents to $3.15 per MMBtu. Six weeks ago, on Wednesday, May 1, the Henry Hub spot price stood at $3.79 per MMBtu. Futures prices also trended lower for the sixth consecutive week. The NYMEX futures contract for July delivery at the Henry Hub declined by $0.203 per MMBtu for the week, settling Wednesday, June 12 at $3.057 per MMBtu–a decrease of a little over 6 percent from the previous Wednesday. EIA's estimate of net injections into storage for the week ended June 7 is 81 Bcf, bringing total working gas inventories to 1,974 Bcf, or about 20 percent above the previous 5-year (1997-2001) average. On Thursday, June 6, the spot price for West Texas Intermediate (WTI) crude oil fell below $25 per barrel for the first time since April 16, and ended trading on Wednesday, June 12 at $24.79 per barrel, or $4.27 per MMBtu.
<![if !supportEmptyParas]> <![endif]>
<![if !vml]>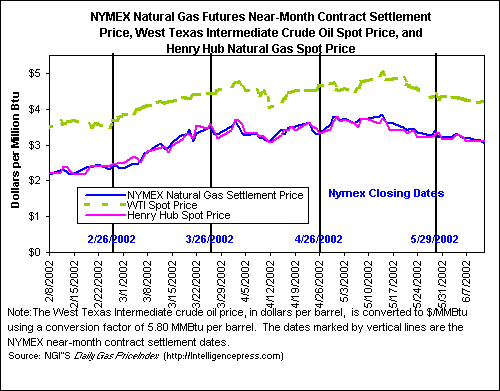 <![endif]>
<![if !supportEmptyParas]> <![endif]>
<![if !supportEmptyParas]> <![endif]>
Prices:
Prices received a boost on Monday from continuing hot weather in California, the desert Southwest, and much of the Southeast, and weekend temperatures in the Northeast and parts of the Midwest that were much higher than normal. However, the hot temperatures in the nation's northern tier were forecast to dissipate by mid-week and lead to lower-than-normal temperatures for the coming weekend and beyond. Prices responded on Tuesday with another downturn, but the market's expected weakness was delayed for at least one more day, as spot prices seemed to get a lift from a jump in crude oil and heating oil futures and cash prices. Wednesday's gains were largest in the Rockies and California locations, ranging around 15 to 20 cents per MMBtu. Increases at other locations were less than a dime. However, for the week, spot prices declined at most locations between 10 to 15 cents per MMBtu; only the Rockies and California experienced net price gains. The spot price at TRANSCO Zone 6 for delivery to New York fell 13 cents to $3.46 per MMBtu; the Chicago price dropped a dime to $3.14 per MMBtu. In Florida, the opening of a new interconnect between Florida Gas Transmission (FGT) and the new Gulfstream pipeline helped ease demand on the FGT system, and contributed to the lifting of a two-day-old Overage Alert notice on Wednesday, June 12. Nonetheless, the FGT citygate price is still the highest in the nation, but, at $3.60 per MMBtu, its premium over prices in other major markets has declined. Indeed, spot prices in most markets have declined on a week-to-week basis for six straight weeks, with a few exceptions in the highly variable markets of the Rocky Mountain region, and isolated points in the Midcontinent.
<![if !supportEmptyParas]> <![endif]>
On the NYMEX, the settlement price for the near-month (July delivery) contract declined for the third straight trading session, and for the fifth time in six days, to end trading Wednesday, June 12 at $3.057 per MMBtu. This is the lowest price for the July delivery contract in three months. Futures prices have also declined fairly steadily for the past six weeks. Since it settled at $3.794 per MMBtu on May 8, the July contract has dropped almost 20 percent in price.
<![if !supportEmptyParas]> <![endif]>
Spot Prices ($ per MMBtu)

Thur.

Fri.

Mon.

Tues.

Wed.

6-Jun

7-Jun

10-Jun

11-Jun

12-Jun

Henry Hub

3.20

3.11

3.14

3.10

3.14

New York

3.49

3.37

3.51

3.49

3.46

Chicago

3.19

3.07

3.15

3.10

3.14

Cal. Comp. Avg,*

2.74

2.61

2.71

2.64

2.76

Futures ($/MMBtu)

July delivery

3.182

3.204

3.135

3.132

3.057

Aug delivery

3.242

3.280

3.203

3.197

3.124

*Avg. of NGI's reported avg. prices for: Malin, PG&E citygate,

and Southern California Border Avg.

Source: NGI's Daily Gas Price Index (http://intelligencepress.com).
<![if !supportEmptyParas]> <![endif]>
Storage:
Total working gas in storage was 1,974 Bcf for the week ended June 7, according to EIA's Weekly Natural Gas Storage Report, which is 324 Bcf, or 20 percent, above the 5-year average. All regional inventory levels exceeded their respective 5-year averages, with the Producing region, at 39 percent above its average of 515 Bcf, showing the largest percentage difference. The net change in storage stocks during the week of June 7 was 81 Bcf, which is 7 Bcf, or about 8 percent, less than the previous 5-year (1997-2001) average for this week. Net injections into storage in the Consuming East were 1 Bcf above average. However, net storage changes in the Consuming West and Producing regions were about 22 and 26 percent, respectively, less than their 5-year averages of 10 Bcf and 20 Bcf. This pattern of net additions to storage reflects the general temperatures across the country. The northern tier, including the normally high gas-consuming Northeast and several large cities in the Midwest, enjoyed cooler-than-normal temperatures, mostly in the 50s to 70s, while temperatures generally were above normal in the rest of the nation (see maps: (See Temperature Map) (See Deviation Map). Given the unusually high stocks at present, net injections through the remainder of the refill season only have to be 76 percent of average to achieve the unofficial target of 3,000 Bcf entering the next heating season. (See Storage Figure)
<![if !supportEmptyParas]> <![endif]>
<![if !supportEmptyParas]> <![endif]>
All Volumes in Bcf

Current Stocks 6/07/2002

Estimated Prior 5-Year (1997-2001) Average

Percent Difference from 5 Year Average

Net Change from Last Week

One-Week Prior Stocks 5/31/2002

<![if !supportMisalignedRows]>
<![endif]>

East Region

968

900

8%

58

910

<![if !supportMisalignedRows]>
<![endif]>

West Region

292

235

24%

8

284

<![if !supportMisalignedRows]>
<![endif]>

Producing Region

714

515

39%

15

699

<![if !supportMisalignedRows]>
<![endif]>

Total Lower 48

1,974

1,650

20%

81

1,893

<![if !supportMisalignedRows]>
<![endif]>

Source: Energy Information Administration: Form EIA-912, "Weekly Underground Natural Gas Storage Report," and the Historical Weekly Storage Estimates Database.

<![if !supportMisalignedRows]>
<![endif]> <![if !supportMisalignedRows]>
<![endif]> <![if !supportMisalignedRows]>
<![endif]>
Other Market Trends:
Natural Gas Rig Counts: The number of rigs drilling for natural gas decreased by 11 to 710 for the week ended Friday, June 7, according to Baker-Hughes Incorporated. This is the second consecutive week that the number of rigs has fallen. Nevertheless, the rig count is now over 20 percent above the level on April 5, when the number bottomed out at 591. During the period between the weeks ended April 5, 2002, and May 24, 2002, the number of rigs increased for 7 consecutive weeks, climbing almost 3 percent per week on average from 591 to 725 rigs. Natural gas rigs are over 32 percent below last year at this time when they numbered 1,051. Although rigs drilling gas prospects are below levels recorded in the unprecedented drilling surge from July 2000 through January 2002, they remain well above the long-term level of gas rig counts. At 710 rigs, the latest count exceeds by 31 percent the average of 540 gas rigs for 1997-1999, which were the peak drilling years of the past decade.
<![if !supportEmptyParas]> <![endif]>
Natural Gas Summary from the Short-Term Energy Outlook:
EIA projects that natural gas wellhead prices will average $2.83 per MMBtu in 2002 compared with about $4.00 last year (Short-Term Energy Outlook, June 2002). Average wellhead prices have increased by nearly 50 percent from $2.09 per MMBtu in February to an estimated $3.11 per MMBtu in May. Spot prices at the Henry Hub have also increased, rising more than $1.00 per MMBtu since early February. It is atypical to see higher spot gas prices in the cooling season than during the heating season, particularly when working gas in underground storage is at high levels, as it has been for the past several months. As of the end of May, working gas levels were more than 20 percent above the previous 5-year average for that month. Moreover, gas-directed drilling, while down sharply from summer 2001 levels, is still quite strong from a historical perspective. The gas rig count as of May 31 was up 22 percent from the recent low of 591 for the week ending April 5.
<![if !supportEmptyParas]> <![endif]>
Given the ample storage stocks and overall resource development efforts of the past 10-18 months, EIA expects that wellhead prices will fall somewhat during the next few months if summer weather is normal or cooler than normal. If the summer temperatures are mild so the incremental demand for gas-fired electricity generation (to run air-conditioners) turns out to be moderate, the wellhead price could once more dip below $3.00 per MMBtu. Wellhead prices are expected to average $2.81 per MMBtu in the third quarter of 2002 and $3.23 in the fourth quarter.
<![if !supportEmptyParas]> <![endif]>
Natural gas production is projected to fall by more than 3 percent in 2002 compared with the 2001 level. Major energy companies reported reductions in natural gas output for first quarter 2002 (compared with the same period in 2001) of between 3 and 4 percent. (Some of this decline may have been due to asset sales.) Lower natural gas prices have reduced production and resource development incentives from their highs of last summer. U.S. natural gas production continued to rise through December 2001, then began to fall in January 2002, a lagged response to the lower demand and prices. Natural gas net imports have been dropping monthly on a year-over-year basis since October 2001, reflecting the slowing demand for natural gas. Net imports of natural gas are projected to recover by November 2002 as natural gas demand increases. Natural gas demand this summer is projected to be 4.7 percent higher than last summer's level mainly because of the fall in natural gas prices since a year ago and the slowly reviving economy. Natural gas demand for the entire year 2002 is projected to increase by 3.2 percent over the level in 2001.

<![if !supportLineBreakNewLine]>
<![endif]>
History

Projections

Mar-02

Apr-02

May-02

Jun-02

Jul-02

Aug-02

PRICES ($/MMBtu)

Average Wellhead Price

2.45

2.94

3.11

2.93

2.79

2.81

Residential Price

6.53

6.88

7.67

8.67

9.10

9.27

Electric Utilities Price

3.09

3.48

3.68

3.46

3.29

3.32

SUPPLY (Trillion Cubic Feet)

Total Dry Gas Prod

1.557

1.561

1.590

1.553

1.598

1.594

Net Imports

0.258

0.249

0.258

0.255

0.270

0.273

Imports

0.319

0.304

0.314

0.309

0.327

0.330

Exports

0.060

0.055

0.056

0.055

0.056

0.057

Suppl. Gaseous Fuels

0.006

0.005

0.004

0.004

0.005

0.005

Total New Supply

1.822

1.815

1.852

1.812

1.873

1.872

Working Gas in Storage

Opening

1.852

1.532

1.620

1.893

2.152

2.443

Closing

1.532

1.620

1.893

2.152

2.443

2.709

Net Storage Withdrawal

0.320

-0.088

-0.273

-0.259

-0.291

-0.266

Total Supply

2.142

1.727

1.579

1.553

1.582

1.606

Balancing Item

0.098

0.088

0.002

-0.048

-0.002

-0.011

Total Primary Supply

2.240

1.816

1.582

1.505

1.580

1.594

DEMAND (Trillion Cubic Feet)

Lease & Plant Fuel

0.095

0.095

0.097

0.095

0.098

0.098

Pipeline Use

0.058

0.049

0.042

0.038

0.042

0.042

Delivered to Consumers

2.087

1.672

1.443

1.372

1.441

1.454

Residential

0.694

0.433

0.254

0.167

0.136

0.127

Commercial

0.403

0.286

0.211

0.175

0.171

0.169

Industrial

0.807

0.749

0.741

0.750

0.780

0.806

Elec Utility

0.182

0.204

0.237

0.280

0.354

0.353

Total Demand

2.240

1.816

1.582

1.505

1.580

1.594
Source: Energy Information Administration, Short-Term Energy Outlook, June 2002.
<![if !supportEmptyParas]> <![endif]>