Overview: Thursday May 16, 2002 (next release 2:00 p.m. on May 23)
Natural gas spot prices at many trading locations this week surged close to their highest levels for the month, but then eased yesterday (May 15) as cooler weather relieved a heat wave in the South and a recent run-up in the price of crude oil abated.  On Tuesday, the NYMEX closing price of $3.855 per MMBtu for the futures contract with June delivery was the highest price for a near-month contract since June 2001. But by the end of trading the next day, prices had subsided along with a drop in crude oil prices.  After reaching a high of $29.17 per barrel on Tuesday, the spot price for West Texas Intermediate (WTI) crude oil dropped Wednesday to an average of $28.17 per barrel, or $4.86 per MMBtu.  This was an increase of 3 percent since last Wednesday.
<![if !supportEmptyParas]> <![endif]>
<![if !vml]>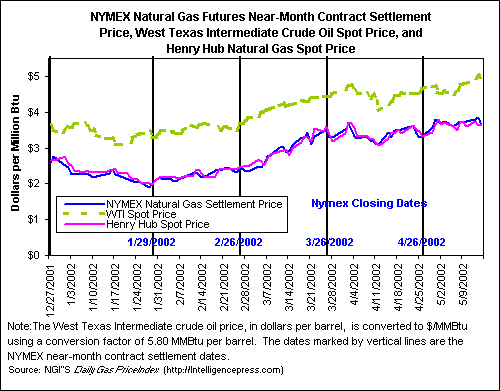 <![endif]>
<![if !supportEmptyParas]> <![endif]>
<![if !supportEmptyParas]> <![endif]>
Prices:
Spot prices in most locations softened in the past week (May 8 to 15) by between 10 and 20 cents.  The Henry Hub cash price eased 12 cents, or about 3 percent, to an average of $3.62 per MMBtu yesterday.  New York and Chicago citygate prices followed suit with similar declines of about 3 percent from the previous week.  Concerns over tensions in the Middle East contributed to increases in prices early in the week, but these fears of supply disruptions faded and crude oil prices fell during yesterday's trading session.  Expectations of weak summer demand for natural gas likely contributed to yesterday's declines.  Since the beginning of May, the cash price at the Henry Hub has bumped up to between $3.74 per MMBtu and $3.79 three times, then retreated.  Major price aberrations continue in Florida and the Rockies.  Owing to pipeline outages and maintenance on the Florida Gas Transmission system for most of the month, Florida prices remain the highest in the country.  After averaging between $7.46 per MMBtu and $7.58 for the past week, prices retreated on May 15 to about $6.90 per MMBtu as temperatures in the South moderated.  In the Rockies, prices recovered from lows in the $1.80s late last week to trade at over $2.12 per MMBtu at most of the region's trading locations.  However, considerable daily variability in prices continues to characterize the region.
<![if !supportEmptyParas]> <![endif]>
At the NYMEX, the price of the futures contract for June delivery dropped 5.6 percent yesterday to close at $3.64 per MMBtu, erasing the gains made earlier in the week.  This $0.215 drop capped a week in which the price of the near-month (June) contract increased for three consecutive sessions, reaching an 11-month high on Tuesday, May 14 at a closing price of $3.855 per MMBtu.  The rise in natural gas futures prices followed a surge in crude oil prices that resulted from tensions in the Middle East and expectations of lower crude inventories.  As crude oil prices fell by $1 per barrel yesterday, natural gas futures prices also declined, approaching their lowest levels for the month.  As of yesterday's close, the futures contracts for July delivery continued to trade at about a 7.5-cent premium to the near-month contract.  The spread between the near-month contract and the futures contract for January 2003 delivery is $0.732 per MMBtu.
<![if !supportEmptyParas]> <![endif]>
Spot Prices ($ per MMBtu)

Thur.

Fri.

Mon.

Tues.

Wed.

9-May

10-May

13-May

14-May

15-May

Henry Hub

3.72

3.71

3.61

3.75

3.62

New York

4.05

4.00

3.91

4.06

3.92

Chicago

3.74

3.73

3.64

3.79

3.63

Cal. Comp. Avg,*

3.39

3.16

3.28

3.37

3.21

Futures ($/MMBtu)

June delivery

3.719

3.749

3.783

3.855

3.640

July delivery

3.768

3.800

3.831

3.912

3.715

*Avg. of NGI's reported avg. prices for:  Malin, PG&E citygate,

and Southern California Border Avg.

Source: NGI's Daily Gas Price Index (http://intelligencepress.com).
<![if !supportEmptyParas]> <![endif]>
Storage:
Net injections of natural gas into storage were 55 Bcf for the week ended, May 10, 2002, according to EIA's Weekly Gas Storage Report.  Injections were below the 5-year average of 77 Bcf for the United States as a whole, as well as the 5-year averages in all three regions in the storage report.  With a net injection for the week of 35 Bcf, storage activity in the East Region fell 30 percent short of the 5-year average injections of 50 Bcf and 45 percent below last year's injection of 64 Bcf.  The East Region injection is the lowest injection for the comparable week in 6 years.  With cooling demands (measured by cooling degree days) between 73 percent and 90 percent higher than normal in southern parts of the country, injections in the Producing Region totaled 16 Bcf  (See Temperature Map) (See Deviation Map).  Storage activity in the West resulted in net injections of 4 Bcf, or about 50 percent of the 5-year average for the region.  
<![if !supportEmptyParas]> <![endif]>
Although there was a relatively low injection in comparison to last year and the 5-year average, inventories remain well above historical levels.  At 1,657 Bcf, total storage levels remain 500 Bcf over last year and 330 Bcf over the 5-year average.  Inventory levels in the Producing Region have outpaced the 5-year average by 41.2 percent, the highest percentage difference of the regions.  Stocks in the East are 13.2 percent ahead of the 5-year average. (See Storage Figure)
<![if !supportEmptyParas]> <![endif]>
This week's inventory levels include an adjustment of 8 Bcf to last week's stock estimates in the East Region, which also changes the estimated Total Lower 48 stocks.  Comparable changes were required for all weeks from March 15 through May 3.  Thus, the net change in stocks between April 26 and May 3 remains at 39 Bcf.  A complete set of updated weekly estimates for the period from Dec. 31, 1993 to April 26, 2002 is available at http://tonto.eia.doe.gov/oog/info/ngs/history.html.
<![if !supportEmptyParas]> <![endif]>
All Volumes in Bcf

Current Stocks 5/10/2002

Estimated Prior 5-Year (1997-2001) Average

Percent Difference from 5 Year Average

Net Change from Last Week

One-Week Prior Stocks 5/3/2002

<![if !supportMisalignedRows]>
<![endif]>

East Region

779

688

13%

35

744 R

<![if !supportMisalignedRows]>
<![endif]>

West Region

253

196

29%

4

249

<![if !supportMisalignedRows]>
<![endif]>

Producing Region

625

442

41%

16

609

<![if !supportMisalignedRows]>
<![endif]>

Total Lower 48

1,657

1,327

25%

55

1602 R

<![if !supportMisalignedRows]>
<![endif]>

Source:  Energy Information Administration:  Form EIA-912, "Weekly Underground Natural Gas Storage Report," and the Historical Weekly Storage Estimates Database. R: Revised

<![if !supportMisalignedRows]>
<![endif]> <![if !supportMisalignedRows]>
<![endif]> <![if !supportMisalignedRows]>
<![endif]>
<![if !supportEmptyParas]> <![endif]>
<![if !supportEmptyParas]> <![endif]>
NYMEX to Launch OTC Energy Clearing Services: The New York Mercantile Exchange (NYMEX) has announced that it will begin over-the-counter (OTC) energy clearing services for 25 of the most commonly traded OTC energy contracts on May 31, 2002.  The new services will cover a variety of common location- and index-based OTC products. In addition to natural gas swaps contracts based at the Henry Hub in Louisiana, the OTC transactions will include natural gas basis swaps contracts for the AECO-C Hub in Alberta, Chicago Citygate, Houston Ship Channel, San Juan Basin, Southern California border, Transco Zone 6, Northwest Pipeline Rockies, and Panhandle Eastern Pipe Line Co. The transactions will not be displayed by NYMEX, but will remain confidential. The NYMEX will accept the OTC trades between the hours of 7:00 AM to 1:30 PM EST each business day.  Once two parties complete a transaction covering the common OTC products, the contracts will be posted with NYMEX marked to market and cleared by the NYMEX. According to NYMEX, the new offering will give energy markets new products to trade, increased trading security, and new trading flexibility.
<![if !supportEmptyParas]> <![endif]>
Pipeline Addition in Florida to Become Operational:  The Gulfstream Natural Gas System, which is a pipeline project to deliver natural gas to Manatee County in central Florida from Pascagoula, Mississippi and Mobile, Alabama, appears to be on target to begin operations on June 1, 2002.  Phase 1 of the project, which will deliver gas to the Tampa-St. Petersburg area, will be the first part of the pipeline to become operational.  Crossing the Gulf of Mexico with 431 miles of 36-inch diameter steel pipe, the pipeline will have the capacity to transport 1.1 billion cubic feet per day of natural gas to customers in Florida.  Industry sources indicate that the pipeline will begin line-packing during the last 2 weeks of May in anticipation of the June 1 start date.  This should help to lower prices in the Sunshine State, which has been beleaguered by force majeures and other supply constraints as well as hot temperatures this spring.  Phase 2 of the project will extend further south to Palm Beach County.
<![if !supportEmptyParas]> <![endif]>
Summary:
After increasing through three consecutive trading sessions, spot prices yesterday (May 15) dropped between 10 and 20 cents at most trading locations owing to a lack of weather-driven demand and an easing in crude oil prices.  Storage injections for the week ending May 10 totaled 55 Bcf.  Inventories for the United States as a whole are now 330 Bcf over the 5-year average.
<![if !supportEmptyParas]> <![endif]>
<![if !supportEmptyParas]> <![endif]>
<![if !supportEmptyParas]> <![endif]>
<![if !supportEmptyParas]> <![endif]>