Overview: Thursday May 9, 2002
Since Wednesday May 1, spot prices were down at most locations with some exceptions, despite large increases across the board on Wednesday, May 8, owing primarily to rising crude oil prices.  For the week, prices at the Henry Hub declined a little over 1 percent, falling 5 cents to $3.74 per MMBtu.  (See Temperature Map) (See Deviation Map)Temperatures helped to drive demand for natural gas as overnight lows in the 20's in some parts of the country contributed to heating demand, and mid-day highs in the 90's in other parts of the country increased cooling demand.  Prices in Florida surged past $7, owing to a combination of high temperatures and gas transportation difficulties, which constrained supply. The spot price for West Texas Intermediate (WTI) crude oil climbed $1.18 per barrel or over 4 percent since last Wednesday, trading at $27.76 per barrel or $4.79 per MMBtu.
<![if !supportEmptyParas]> <![endif]>
<![if !vml]>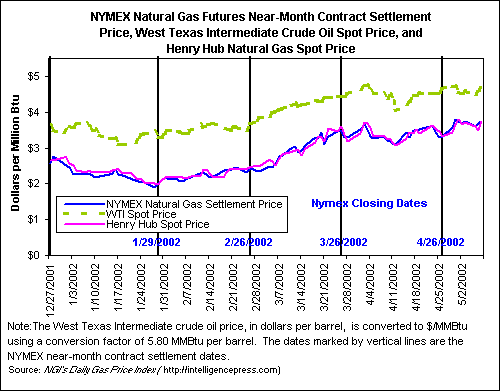 <![endif]>
<![if !supportEmptyParas]> <![endif]>
<![if !supportEmptyParas]> <![endif]>
Prices:
Spot prices declined at most market locations in the Lower 48 States during the past week (Thursday, May 2 through Wednesday, May 8) although some locations had notable increases.  In Florida, prices soared almost 39 percent to $7.43 per MMBtu, as high temperatures, an overage alert notification, and a force majeure combined to create a very tight market.  Prices in some Rocky Mountain markets increased between 1 and 49 percent during the week, as the region continues to be characterized by considerable day-to-day variability in price.  Prices at the PG&E citygate and the Southern California border increased over 11 percent as high temperatures increased cooling demand.  Nevertheless, price declines were more widespread as prices decreased throughout most of the Northeast and the producing regions of the Southwest by about 1 to 6 percent.  At the Henry Hub in Louisiana, prices fell just over 1 percent to $3.74 per MMBtu.  Despite the overall week-to-week drop in prices, prices surged at nearly all market locations on Wednesday May 8, rising between 20 and  40 cents at most points in the country, offsetting at least partially the impact of  pronounced price drops earlier in the week.  Increased tensions in the Middle East contributed to increased uncertainty and rising crude oil prices, which drove increases in both the spot and futures markets.
<![if !supportEmptyParas]> <![endif]>
At the NYMEX, the price of the futures contract for June delivery at the Henry Hub had a net change of just over a penny during the week, settling at $3.746 per MMBtu.  Prices of the futures contracts for delivery during each month remaining in 2002 climbed between 7 and 8 cents per MMBtu on Wednesday, May 8.  These increases were driven by both rising crude oil prices, which jumped almost 4 percent on Wednesday, and weather forecasts calling for hot temperatures across the country.
<![if !supportEmptyParas]> <![endif]>
Spot Prices ($ per MMBtu)

Thur.

Fri.

Mon.

Tues.

Wed.

2-May

3-May

6-May

7-May

8-May

Henry Hub

3.65

3.71

3.61

3.49

3.74

New York

3.91

3.92

3.81

3.74

4.01

Chicago

3.66

3.69

3.58

3.49

3.74

Cal. Comp. Avg,*

3.16

2.71

3.23

3.19

3.31

Futures ($/MMBtu)

June delivery

3.684

3.745

3.595

3.673

3.746

July delivery

3.721

3.787

3.639

3.719

3.794

*Avg. of NGI's reported avg. prices for:  Malin, PG&E citygate,

and Southern California Border Avg.

Source: NGI's Daily Gas Price Index (http://intelligencepress.com).
<![if !supportEmptyParas]> <![endif]>
Storage:
Net injections of natural gas into storage were 39 Bcf for the week ended Friday, May 3, 2002, according to EIA's first release of its Weekly Gas Storage Report.  For the United States as a whole, injections were below the 5-year average of 66 Bcf for the report week.  In the Consuming East Region and the Producing Region, injections were below the 5-year average, while in the West Consuming Region, injections were above the 5-year average.  The low level of injections in the Consuming East and Producing regions is likely attributable to weather-related increases in demand.  Low overnight temperatures in the northern states contributed to space-heating demand for natural gas, and high daytime temperatures in the Southeast and Southwest spurred electric generation demand for air conditioning.  Temperatures were moderate in most parts of the Pacific and Rocky Mountains regions.  The relief from strong weather-driven demand and the pattern of low spot prices relative to the futures contract prices for delivery at the Henry Hub through next winter provided suppliers in the West an incentive to inject more gas into storage.  Stocks are 540 Bcf, or over 51 percent, above the level recorded last year at this time.  Although the storage overhang that persisted throughout the heating season has diminished, working gas stocks continue to be robust relative to historical norms at almost 28 percent above the 5-year average. (See Storage Figure)
<![if !supportEmptyParas]> <![endif]>
All Volumes in Bcf

Current Stocks 5/3/2002

Estimated Prior 5-Year (1997-2001) Average

Percent Difference from 5 Year Average

Net Change from Last Week

One-Week Prior Stocks 4/26/2002

<![if !supportMisalignedRows]>
<![endif]>

East Region

736

638

15%

17

719

<![if !supportMisalignedRows]>
<![endif]>

West Region

249

188

32%

12

237

<![if !supportMisalignedRows]>
<![endif]>

Producing Region

609

424

44%

10

599

<![if !supportMisalignedRows]>
<![endif]>

Total Lower 48

1,594

1,250

28%

39

1,555

<![if !supportMisalignedRows]>
<![endif]>

Source:  Energy Information Administration:  Form EIA-912, "Weekly Underground Natural Gas Storage Report," and the Historical Weekly Storage Estimates Database.

<![if !supportMisalignedRows]>
<![endif]> <![if !supportMisalignedRows]>
<![endif]> <![if !supportMisalignedRows]>
<![endif]>
<![if !supportEmptyParas]> <![endif]>
<![if !supportEmptyParas]> <![endif]>
EIA begins the Weekly Gas Storage Report, releases comparison of AGA and EIA survey methods: EIA initiated its Weekly Gas Storage Report this morning (May 9) with the release of estimates of current underground storage stocks in the country.  The Weekly Gas Storage Report continues the regional division of storage fields (Consuming Region East, Consuming Region West, and the Producing Region) established in the former storage report issued by the American Gas Association (AGA).  As with the AGA report, EIA's weekly storage report provides comparisons with year-ago stocks, as well as statistics on 5-year average stocks.  EIA yesterday (May 8) released a report, Comparative Assessment of EIA and AGA Weekly Storage Estimates, on its web site comparing the AGA and EIA survey methods and providing estimates of natural gas in underground storage for the weeks between March 15 and April 26, 2002.  Historical estimates of weekly stocks from 1994 forward are also available on the web site, along with a description of the methodology used in the calculations.  Previously, EIA posted a report on the estimation methods for calculation of the weekly inventory levels published in the weekly storage survey.  This report is available at the EIA Web site at http://tonto.eia.doe.gov/oog/info/ngs/methodology.html.  Storage activity estimates will be released regularly on Thursdays, except for certain weeks with Federal holidays.
<![if !supportEmptyParas]> <![endif]>
MMS issues report on Gulf of Mexico production: Oil and gas activity in the Deepwater Gulf of Mexico reached record levels in 2001 as 14 new projects began producing, according to the report Deepwater Gulf of Mexico 2002: America's Expanding Frontier, released by the Minerals Management Service (MMS).  As of the end of 2001, there were 51 projects on production, up from just 16 in 1997.  An additional 13 projects will likely start producing in 2002, continuing the surge of activity that has increased gas production in the deepwater by 550 percent since 1995.  After noting the emergence of extensive exploration and development activity in previous studies, the MMS now reports activity has "reached a level of maturity" that makes the deepwater (defined as greater than or equal to 1,000-foot depths) Gulf an expanding frontier.  MMS notes that the depth of exploration sites in the Gulf of Mexico has steadily increased over the past 5 years, and that deepwater gas production has grown by more than 400 MMcf per day every year since 1997.  Ultra-deepwater activity (defined as greater than or equal to 5,000-foot depths), which is also accelerating, included a significant discovery at a water depth of 9,727 feet.  Since their last study on the subject in 2000, drilling rigs operating in the deepwater Gulf have increased from 28 to 43.  Since 1992, the average shallow-water field increased proved and unproved reserves of natural gas by the equivalent of 6 million barrels of oil (BOE).  The average deepwater field yielded over 10 times that amount of reserve additions, at an average of 64 million BOE. 
<![if !supportEmptyParas]> <![endif]>
Natural Gas Summary from the Short-Term Energy Outlook:
EIA projects that natural gas wellhead prices will average $2.73 per MMBtu in 2002 compared with about $4.00 per MMBtu last year (Short-Term Energy Outlook, May 2002). This projection reflects the sharp increases in spot and near-term futures prices in recent weeks. Average wellhead prices have risen 38 percent from $2.14 per MMBtu in February to an estimated $2.96 in April.  Spot prices at the Henry Hub have increased to an even greater extent, rising more than $1.50 per MMBtu since early February. The upward price trend reflects a number of influences, such as unusual weather patterns that have led to increased gas consumption, and tensions in the Middle East and rising crude oil prices. Other factors contributing to the recent price surge include the strengthening economy, the increased capacity and planned new capacity of gas-burning power plants, and concerns about the decline in gas-directed drilling.
<![if !supportEmptyParas]> <![endif]>
Natural gas production is projected to fall by almost 2 percent in 2002 compared with the 2001 level. Weak demand and falling prices during the last half of 2001 and most of this past winter have reduced production and resource development incentive in natural gas since last summer. However, the recent price increases seem to be stimulating supply activity. Although natural gas drilling activity has fallen rather steadily since mid 2001, gas-directed drilling rates may have reached the bottom of the current drilling cycle. Baker Hughes has reported drilling increases each week since the recent low of 591 posted for the week of April 5, 2002, which amounts to an 8 percent increase in the past 4 weeks. Also, aggregate lease revenues from domestic oil and gas production, which are a strong determinant of industry cash flow, are expected to move up this year, which in turn would likely lead to an upward trend in gas drilling levels.  Current supplies appear to be adequate, given the relatively large volumes of working gas in underground storage at the end of April 2002, relative to both last year and the 5-year average. Storage is expected to remain at above average levels throughout the refill season (April-October). 
<![if !supportEmptyParas]> <![endif]>
Summer natural gas demand is expected to be 4.4 percent higher than last summers level, mainly because of rising demand for natural gas in the industrial and electricity generating sectors and this years lower prices. Natural gas demand for the entire year 2002 is projected to increase by 2.8 percent over the level in 2001.
<![if !vml]> <![endif]>
Please note that the storage numbers in the table below are those from the STEO released on May 6 and consequently were prepared before the availability of the EIA weekly storage estimates released on May 9.  The STEO estimates thus are based on a prior estimation system.  This was a one-time separation of data systems related to the beginning of the new confidential survey.  As a result, some differences between the weekly estimates of working gas and the STEO values are present.
<![if !supportEmptyParas]> <![endif]>