Overview: Thursday May 2, 2002
Spot and futures prices have rebounded strongly through yesterday's (Wednesday, May 1) trading from their 3-day slide at the end of last week, as lingering cold temperatures in parts of the Midwest and Northeast teamed with unseasonably warm temperatures in the Southeast and Southwest to boost gas demand.  At the Henry Hub, 3 days of double-digit price increases brought the average spot price there to $3.79 per MMBtu.  On the NYMEX futures market, the futures contract for May delivery at the Henry Hub closed its tenure as the near-month contract on Friday, April 26 at $3.319 per MMBtu, a net increase of just $0.055 per MMBtu since becoming the near-month contract on March 26.  Taking over as the near-month contract this past Monday (April 29), the June contract gained nearly 20 cents on its first day as the near-month contract, and by yesterday had risen to $3.735 per MMBtu.  The spot price for West Texas Intermediate crude oil, which had held above $27 per barrel since last Friday, declined by 74 cents yesterday, falling to $26.58 per barrel, or $4.58 per MMBtu, as tensions in the Middle East gradually ease.
<![if !supportEmptyParas]> <![endif]>
<![if !vml]>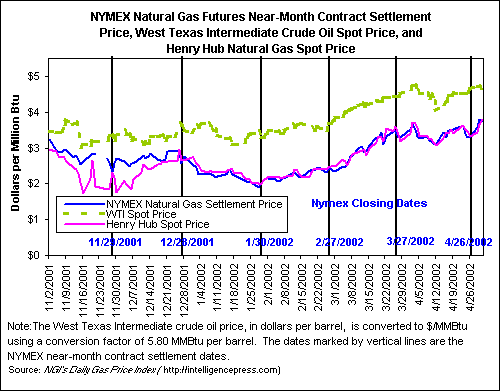 <![endif]>
<![if !supportEmptyParas]> <![endif]>
<![if !supportEmptyParas]> <![endif]>
Prices:
Spot prices have risen significantly in the first 3 days of this week, spurred in part by unseasonable weather-related demand and influenced by rising futures prices.  At the Henry Hub, where cash prices fell a cumulative 21 cents per MMBtu in the last two days of last week to enter the weekend at $3.32 per MMBtu, the spot price has risen a cumulative 47 cents to $3.79 per MMBtu.  Average prices in most regions have risen from $0.40 to $0.55 per MMBtu since Monday, with the Rocky Mountains showing the largest average increase at $0.81 per MMBtu.  However, on a Wednesday-to-Wednesday basis, prices at most Rockies locations are still well below their levels of last Wednesday (April 24).  The Cheyenne hub is down 72 cents to $1.46 per MMBtu, while Kern River is 22 cents lower than a week ago, at $2.13.  Conversely, most other regions have recorded weekly gains mostly in the range of 10 to 30 cents per MMBtu.  Spot gas for delivery to New York City climbed to $4.06 per MMBtu on Wednesday, joining the majority of points for Northeast delivery above the $4 mark.  In Florida, persistent temperatures in the 90s caused Florida Gas Transmission to extend its Overage Alert Day notice for a third day, sending prices up $0.65 per MMBtu to $5.35.  Meanwhile, Midwest prices were somewhat more moderate, as the spot price at the Chicago citygate gained 26 cents from last Wednesday, to $3.81 per MMBtu.
<![if !supportEmptyParas]> <![endif]>
On the NYMEX, futures prices have also surged.  The contract for June delivery began trading as the near-month contract on Monday with a sharp gain of $0.189 per MMBtu, then climbed another $0.234 on Tuesday, as hot temperatures in the Southeast and Southwest boosted demand, fulfilling National Weather Service short-term forecasts.  The June contract settled that day at $3.795 per MMBtu, its highest level in many months.  The release Wednesday of a smaller-than-average net storage injection estimate by AGA had little impact in the market, although the June contract did decline by 6 cents to $3.735 per MMBtu.
<![if !supportEmptyParas]> <![endif]>
Spot Prices ($ per MMBtu)

Thur.

Fri.

Mon.

Tues.

Wed.

25-Apr

26-Apr

29-Apr

30-Apr

1-May

Henry Hub

3.47

3.32

3.44

3.65

3.79

New York

3.81

3.66

3.79

3.95

4.06

Chicago

3.49

3.33

3.48

3.67

3.81

Cal. Comp. Avg,*

3.14

2.70

3.14

3.27

3.32

Futures ($/MMBtu)

May delivery

3.295

3.319

expired

expired

expired

June delivery

3.306

3.372

3.561

3.795

3.735

July delivery

3.341

3.407

3.589

3.823

3.767

*Avg. of NGI's reported avg. prices for:  Malin, PG&E citygate,

and Southern California Border Avg.

Source: NGI's Daily Gas Price Index (http://intelligencepress.com).
<![if !supportEmptyParas]> <![endif]>
Storage:
Net injections of working gas into storage were 38 Bcf for the week ended April 26, according to American Gas Association (AGA) estimates. The injection estimate for the East region of 9 Bcf was the second smallest for this week in the 9-year history of AGA data and was 63 percent lower than the previous 5-year (1997-2001) EIA-estimated average.  The relatively low injections in the East could in part reflect some continuing space-heating demand resulting from the generally cooler-than-normal weather in many states in the region. (See Temperature Map) (See Deviation Map)   According to the latest National Weather Service (NWS) data, gas customer weighted heating degree-days (HDDs) ranged from 35 to 45 percent greater than normal for the week in New England, the Middle Atlantic, and much of the Midwest.  Conversely, the West region's stock build of 13 Bcf was the largest for this week, exceeding the average by 44 percent as generally mild temperatures prevailed along the populous West Coast.  According to NWS data, the Census Division composed of Washington, Oregon, and California recorded HDDs that were 2 percent less than normal for the week, while also having 20 percent less electric home air conditioning customer weighted cooling degree-days.   Overall, the total net injection of 38 Bcf was 17 percent less than the 5-year average of 46 Bcf.   At an EIA-estimated 1,675 Bcf, total stocks as of April 26 were nearly 39 percent greater than the 5-year average. (See Storage Figure)
<![if !supportEmptyParas]> <![endif]>
NOTE:  AGA terminated its weekly survey of natural gas storage operators effective with its report of storage operations for the week ended April 26, released Wednesday, May 1, 2002.  The EIA will begin posting the results of its new weekly storage survey on Thursday, May 9, 2002.  A sample of EIA's report can be seen at: Weekly Gas Storage Test Page.  The Natural Gas Weekly Market Update report will convert to the new data series in next week's issue.
<![if !supportEmptyParas]> <![endif]>
All Volumes in Bcf

Current Stocks (Fri,4/26)

Estimated Prior 5-Year (1997-2001) Average

Percent Difference from 5 Year Average

Net Change from Last Week

One-Week Prior Stocks (Fri, 4/19)*

East Region

808

615

31%

9

799

West Region

276

184

50%

13

263

Producing Region

591

409

44%

16

575

Total Lower 48

1,675

1,208

39%

38

1,637

Note: Net change data are estimates published by AGA on Wednesday of each week.

All stock-level figures are EIA estimates based on EIA monthly survey data and weekly AGA

net-change estimates.  Column sums may differ from Totals because of independent rounding.

*Revised to incorporate EIA survey data for February 2002.
<![if !supportEmptyParas]> <![endif]>
<![if !supportEmptyParas]> <![endif]>
EIA Weekly Storage Data Series:  EIA released the report Methodology for EIA Weekly Underground Natural Gas Storage Estimates on Wednesday, May 1, which discusses the methods and procedures that will be used by EIA to prepare weekly estimates of working gas in storage. The paper describes the new weekly survey form (EIA-912) and survey processing procedures, the methodology for sample selection and estimation, and procedures relating to revisions and data security.  General information on the weekly storage survey, including weekly release time, a sample of the presentation format, and EIA's policy on the use of automated retrieval programs (or robots) against the EIA web site, is available at http://tonto.eia.doe.gov/oog/info/ngs/information.html.  A second paper, comparing the AGA and EIA surveys and methods, will be available through this web site on May 9, 2002.
Summary:
Spot prices reversed a late-week downward trend from last week with strong gains of 35 to 70 cents per MMBtu since Monday at most market locations.  Futures prices also moved up substantially, as short-term weather forecasts have consistently called for warmer-than-normal temperatures throughout the country east and south of a line from around the bottom of California to the middle of Lake Superior. 
<![if !supportEmptyParas]> <![endif]>
<![if !supportEmptyParas]> <![endif]>