Overview: Thursday April 11, 2002
Natural gas prices have declined substantially in the past 7 days.  Spot prices at most market locations across the country finished the day on Wednesday, April 10 down slightly.  However the cumulative difference from the previous Wednesday ranged between $0.21 and $0.89 per MMBtu.  Prices at the Henry Hub declined 43 cents per MMBtu from the previous Wednesday to trade at $3.25 yesterday.  On the NYMEX, the price of the futures contract for May delivery at the Henry Hub settled at $3.184 per MMBtu, down roughly 32 cents since last Wednesday.  The spot price for West Texas Intermediate (WTI) crude oil declined $1.40 per barrel since the previous Wednesday, trading at $26.15 per barrel or $4.51 per MMBtu.
<![if !supportEmptyParas]> <![endif]>
<![if !vml]>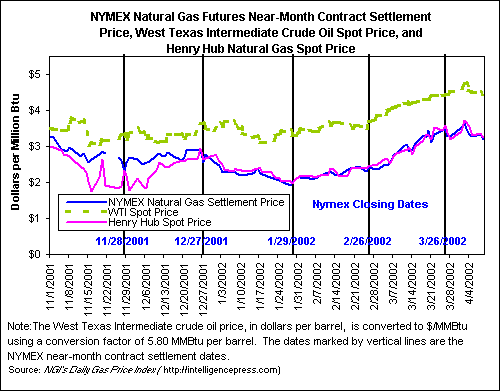 <![endif]>
<![if !supportEmptyParas]> <![endif]>
<![if !supportEmptyParas]> <![endif]>
Prices:
Spot prices declined since Wednesday, April 3 at most major trading locations, falling between $0.21  and $.89 per MMBtu.  Variability in daily prices was considerable, varying in a range of about 35 to 49 cents at most market locations.  This daily price variability was especially pronounced  in the Rocky Mountain region, where daily price changes varied between $0.37 and $2.21 per MMBtu.  A  combination of maintenance and pipeline-expansion related outages significantly curtailed options for transporting gas out of the region, which effectively eliminated much of the demand for the region's supplies.  Average prices fell to levels below $1 per MMBtu at some locations in the region.  Prices remain well below the levels of last year at this time at nearly all market locations.  For example, prices at the Henry Hub on Wednesday were $2.30 per MMBtu or 41 percent less than last year's price on the same date.
<![if !supportEmptyParas]> <![endif]>
At the NYMEX, the settlement price of the futures contract for May delivery at the Henry Hub declined over 9 percent since last Wednesday as more temperate weather eased demand.
<![if !supportEmptyParas]> <![endif]>
Spot Prices ($ per MMBtu)

Thur.

Fri.

Mon.

Tues.

Wed.

4-Apr

5-Apr

8-Apr

9-Apr

10-Apr

Henry Hub

3.56

3.31

3.36

3.25

3.25

New York citygates

4.08

3.80

3.72

3.59

3.59

Chicago citygate

3.61

3.34

3.40

3.28

3.28

PG&E citygate

3.47

3.17

3.23

3.16

3.15

So. Cal. Border Avg.

3.50

3.14

3.26

3.17

3.21

Futures ($/MMBtu)

May delivery

3.333

3.275

3.327

3.201

3.184

June delivery

3.371

3.313

3.365

3.240

3.223

Source: NGI's Daily Gas Price Index (http://intelligencepress.com)
<![if !supportEmptyParas]> <![endif]>
Storage:
Net withdrawals from storage for the week ended Friday, April 5, were 9 Bcf according to the American Gas Association (AGA), which is a marked contrast to the average net injections of 24 Bcf in the preceding 5 years for the report week.  This marks only the third time in the 9-year history of the AGA storage survey that the net change in working gas stocks for this report week amounted to a withdrawal.  One factor behind the net withdrawals is the relative price pattern, in which the price of the futures contract is trading below the Henry Hub spot price.  This provides suppliers an economic incentive to rely on natural gas from storage.  Another factor is cooler–than-normal temperatures early in the week ended Saturday, April 6.  According to the National Weather Service (NWS), heating degree days in the Lower 48 States were almost 15 percent above normal.  However, differences in temperature patterns across the Lower 48 led to variation in regional storage activity.  The East and Producing regions posted net withdrawals of gas from storage of 13 and 2 Bcf, respectively, in contrast with the preceding 5-year average net injections of 14 and 2 Bcf.  In the West region, injections were 6 Bcf compared with the 5-year average withdrawal of just over 2 Bcf.  Most of the eastern two-thirds of the country recorded cooler-than-normal temperatures, while the Pacific and Mountain regions were over 23 percent warmer than normal. (See Temperature Map) (See Deviation Map)
<![if !supportEmptyParas]> <![endif]>
<![if !supportEmptyParas]> <![endif]>
<![if !supportEmptyParas]> <![endif]>
All Volumes in Bcf

Current Stocks (Fri,4/05)

Estimated Prior 5-Year (1997-2001) Average

Percent Difference from 5 Year Average

Net Change from Last Week

One-Week Prior Stocks (Fri, 3/29)

East Region

777

570

36%

-13

790

West Region

244

176

38%

6

238

Producing Region

547

370

48%

-2

549

Total Lower 48

1,568

1,117

40%

-9

1,577

Note:  net change data are estimates published by AGA on Wednesday of each week.  All stock-level Figures are EIA estimates based on EIA monthly survey data and weekly AGA net-change estimates.  Column sums may differ from Totals because of independent rounding.
<![if !supportEmptyParas]> <![endif]>
According to EIA estimates, working gas in storage in the continental United States ended the heating season at a record high 1,574 Bcf on March 31.  This 479 Bcf difference is almost 44 percent above the prior 5-year average for this time of the year.(See Storage Figure)  In addition,  stocks were 833 Bcf or 112 percent above last year's level.  Following a record-setting injection season in 2001, withdrawals were 1,570 Bcf, almost 15 percent below the 5-year average, during what proved to be a mild winter throughout most of the country.  This contrasts sharply with the winter of 2000-2001, when withdrawals from storage totaled 1,844 Bcf, almost 8 percent above the 5-year average.  With gas in storage entering the injection season at the highest level since 1991, gas requirements to refill storage capacity during the summer of 2002 are well below average, thus reducing upward demand pressure on price.
<![if !supportEmptyParas]> <![endif]>
<![if !vml]> <![endif]>
<![if !supportEmptyParas]> <![endif]>
<![if !supportEmptyParas]> <![endif]>
Other Market Trends:
Natural gas exchanges set record volume: The trading of natural gas futures reached a new high in March at the New York Mercantile Exchange (NYMEX).  NYMEX recorded natural gas futures volume totaling 2,381,105 contracts last month.  The previous record was set in September 1999 at 1,978,582 contracts.  Additionally, the NYMEX reported natural gas options trading volume of 1,043,374 contracts in March, which far exceeded the previous high of 859,522 contracts traded in January 2002.  The increased trading activity in natural gas contracts at the NYMEX came during a month in which trading volumes for numerous energy contracts reached all-time highs in the aftermath of the Enron bankruptcy and an associated reduction in trading volumes in Enron's online trading platform. For example, trading at the IntercontinentalExchange (ICE) has far surpassed historical levels.  ICE, which trades natural gas for next-day delivery at numerous pipeline points, reported natural gas volume for the first quarter of 2002 was 31 Tcf, a 2,600 percent increase over the first quarter of 2001.
<![if !supportEmptyParas]> <![endif]>
Short-Term Energy Outlook:  The Energy Information Administration (EIA) released its latest Short-Term Energy Outlook on Monday, April 8.  In this Outlook, EIA notes four factors that have contributed significantly to the sharp increase in spot and near-term futures prices in recent weeks: 1) the strength of the anticipated domestic economic recovery; 2) the potential for greater tightening in, and even disruption of, the world oil market;  3) the increased role in domestic electricity output and fuel consumption of the numerous new gas-fired electric generating plants added over the past 2 years (and still coming on line in the near future); and 4) the possible impact of the decline in gas-directed drilling since July 2001 on supply capability in the United States.  However, EIA considers it most likely that the recent price run-up will be temporary and that prices will move back towards $2.50 per MMBtu at the wellhead, particularly as the summer season begins and the relatively high level of inventories tends to dampen storage-injection related demand.
<![if !supportEmptyParas]> <![endif]>
Nuclear vs. gas-fired electric generation demand:  A recent development regarding nuclear electricity-generating plants caused a period of heightened concern for the availability of nuclear generation this summer with potential implications for natural gas demand. Upon discovery of corrosion in a major component in a nuclear plant in Ohio, the Nuclear Regulatory Commission (NRC) ordered the submission of safety information on 68 other units, implying the possible need for shutdowns for inspections.  Because natural gas fired generating plants would generally be the alternative of choice to replace lost nuclear-generating capacity, the prospect of widespread shutdowns could have led to a significant increase in natural gas demand.  However, the prospect for normal operations now appears likely as it appears the problem is confined to one unit.  The temporary loss of this capacity is offset by increases in capacity at several reactors due to NRC-approved upgrades ranging from 2 to 20 percent and totaling several hundred megawatts.
Summary:
Spot prices on Wednesday, April 10, showed significant declines from the previous Wednesday.  On the NYMEX, the settlement price of the futures contract for May delivery at the Henry Hub fell about 9 percent from the previous Wednesday.  Net withdrawals of natural gas from storage were 9 Bcf for the week ended April 5 as a result of cooler-than-normal temperatures in the Lower 48 States. 
<![if !supportEmptyParas]> <![endif]>