The release day for the Natural Gas Weekly Market Update will shift from Monday to Thursday effective for the week of April 8-12.  This is the last issue to be published on Monday.  There will be no issue released on Monday, April 8.  The next issue will be released on Thursday, April 11. 
<![if !supportEmptyParas]> <![endif]>
Overview: Monday, April 1, 2002
Spot prices fell sharply after Tuesday, March 26, during last week's holiday-shortened trading, as unseasonably cold temperatures began to moderate around midweek in many high gas consumption areas.  (See Temperature Map) (See Deviation Map) With the exception of the expiring near-month contract, futures contract prices also trended down, but the decreases were relatively modest.  By Thursday's end of trading (both spot and futures markets were closed for Good Friday, March 29), the Henry Hub average spot price had declined by $0.35 per MMBtu since the previous Friday (March 22) to $3.19.  The NYMEX futures contract for April delivery at the Henry Hub expired on Tuesday on an upswing, gaining almost 15 cents in 2 days to close out trading at $3.472 per MMBtu. The new near-month contract (May delivery) ended trading on Thursday at $3.283 per MMBtu, down just over 9 cents in 2 days as the near-month contract.  The spot price for West Texas Intermediate (WTI) crude oil continued its steady rise, with modest gains early in the week punctuated by a 42-cent per barrel increase on Thursday.  The WTI spot price at week's end was $26.21 per barrel ($4.52 per MMBtu), up $0.62 per barrel over the previous Friday.  This is the highest price for WTI since the third week of September 2001.
<![if !supportEmptyParas]> <![endif]>
<![if !vml]>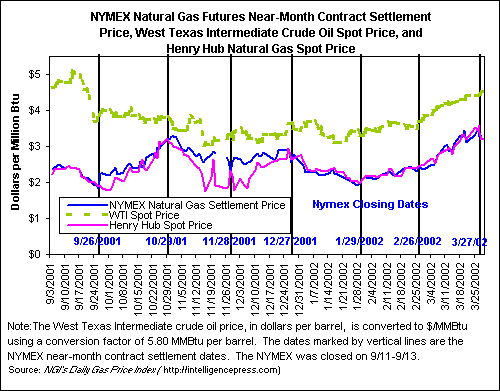 <![endif]>
<![if !supportEmptyParas]> <![endif]>
<![if !supportEmptyParas]> <![endif]>
Prices:
Spot gas prices declined significantly after peaking on Tuesday.  Spot gas prices managed gains of around 8 to 14 cents per MMBtu in most market locations on Tuesday, influenced partly by cold temperatures that had lingered from the weekend in the Midwest and Northeast and partly by Monday's strong gains in the futures market.  But with a general warming trend beginning on Wednesday, the 3-day holiday weekend in the offing, and still warmer temperatures forecasted for the weekend, spot prices fell sharply by Thursday.  Given the holiday-shortened week, coupled with the end of March falling on Sunday, the vast majority of spot-price deals on Wednesday were done to cover gas deliveries through the end of the month, leaving Thursday's trading to arrange for flow in the first day of the new month.  On Wednesday, spot prices for volumes through the end of March fell at nearly all locations in the Lower 48 States, in the range of 6 to 45 cents per MMBtu.  On Thursday, cash prices for gas on the first day of April fell an additional 2 to 35 cents per MMBtu, with most locations experiencing drops in the 10- to 20-cent range.  The lone exception to this pattern was Florida citygate prices, where an overage alert on the Florida Gas Transmission system, in effect from Tuesday through Thursday, and day-time temperatures in the 80s, brought prices back up to $4.00 per MMBtu on Thursday.  Elsewhere, cumulative declines for the week (encompassing March and April pricing) were primarily in the range of 30 to 50 cents per MMBtu.
<![if !supportEmptyParas]> <![endif]>
On the futures market, prices surged on Monday as unusually cold weather carried over from the weekend.  The near-month contract (April delivery) climbed 13.1 cents per MMBtu, then added another 1.5 cents on its last day of trading on Tuesday, to expire at $3.472.  Since becoming the near-month contract on February 27, the April contract gained $1.045 per MMBtu–an increase of 43 percent.  As of the end of trading on Thursday, settlement prices for futures contracts for delivery through the end of the next heating season had declined by just under 6 cents to nearly 8 cents per MMBtu, with the highest priced gas in that period being for January 2003 delivery, at $3.971.
<![if !supportEmptyParas]> <![endif]>
Spot Prices ($ per MMBtu)

Mon.

Tues.

Wed.

Thurs.

Fri.

25-Mar

26-Mar

27-Mar

28-Mar

29-Mar

Henry Hub

3.45

3.59

3.38

3.19

3.19

New York citygates

3.81

3.89

3.67

3.65

3.65

Chicago citygate

3.55

3.65

3.39

3.22

3.22

PG&E citygate

3.60

3.67

3.38

3.14

3.14

So. Cal. Border Avg.

3.47

3.57

3.31

3.14

3.14

Futures ($/MMBtu)

April delivery

3.457

3.472

Expired

Expired

Expired

May delivery

3.462

3.374

3.290

3.283

Closed

June delivery

3.484

3.394

3.315

3.309

Closed

Source: NGI's Daily Gas Price Index (http://intelligencepress.com)
<![if !supportEmptyParas]> <![endif]>
Storage:
Total net withdrawals from storage were 69 Bcf for the week ended Friday, March 22, according to American Gas Association (AGA) estimates.  This is the second highest level of withdrawals for this week in the 9-year span of AGA data, and is 65 percent greater than the average drawdown for the week (42 Bcf) over the past 5 years (1997-2001).  Net withdrawals in the East region were about 22 percent greater than the previous 5-year average, while those in the Producing region equaled that region's 5-year average.  Not only were the net withdrawals of 13 Bcf in the West region the largest for this week in the 9-year AGA data series, but they also were an unusual departure from the pattern in this region over the previous 6 years.  During 1996-2001, the West region consistently recorded net injections in this week, averaging 6 Bcf over that period.  The unusually high storage withdrawals this year occurred in a week in which temperatures deviated from normal by the greatest amount this heating season.  Gas-weighted heating degree days (HDDs) for the nation as a whole were 15 percent greater than normal.  Further, according to National Weather Service data, this was the only week thus far this winter in which gas-weighted HDDs exceeded normal in all nine Census divisions of the Lower 48 States. In addition, HDDs exceeded normal by the largest percentage of any week this winter in the four Census divisions encompassing the northern half of the nation from North Dakota eastward through the Middle Atlantic and New England. (See Storage Figure)
<![if !supportEmptyParas]> <![endif]>
All Volumes in Bcf

Current Stocks (Fri,3/22)

Estimated Prior 5-Year (1997-2001) Average

Percent Difference from 5 Year Average

Net Change from Last Week

One-Week Prior Stocks (Fri, 3/15)

East Region

826

614

35%

-50

876

West Region

228

177

29%

-13

241

Producing Region

563

365

54%

-6

569

Total Lower 48

1,617

1,156

40%

-69

1,686

Note:  net change data are estimates published by AGA on Wednesday of each week.  All stock-level Figures are EIA estimates based on EIA monthly survey data and weekly AGA net-change estimates.  Column sums may differ from Totals because of independent rounding.
<![if !supportEmptyParas]> <![endif]>
Other Market Trends:
The reopening of the Williams Companies' liquefied natural gas (LNG) import facility at Cove Point, MD has been delayed once again.  Originally scheduled to be in operation in the spring of 2001, the terminal's reopening and operations underwent additional scrutiny over concerns about its proximity to a nuclear power plant, which were heightened in light of the September 11 terrorist attacks.  On October 12, 2001, the Federal Energy Regulatory Commission granted a blanket certificate for the reactivation of the terminal, including approval to implement a number of upgrades, such as the construction of a fifth LNG storage tank that, when placed into operation, would make the facility the largest in the United States.  Pending the approval of a state air quality permit, the facility may reopen sometime in the fourth quarter of this year or perhaps early in 2003.  LNG imports fell sharply in the fourth quarter of last year, causing significant decreases in activity at a similar facility at Lake Charles, Louisiana, and slowing the resumption of operations at the newly reopened Elba Island terminal in Georgia.
Summary:
Spot gas prices fell markedly as the advent of more spring-like temperatures coincided with the 3-day Easter weekend.  Futures market prices declined more gradually, perhaps buoyed somewhat by near-term forecasts for below normal temperatures in the Midcontinent, Midwest, and much of the Northeast for this week.  Greater-than-normal storage withdrawals in the next-to-last week of the traditional heating season had scant effect on the level of incremental storage over the 5-year average.  The differential is almost certain to be somewhere between 400 to 500 Bcf by the end of March.
<![if !supportEmptyParas]> <![endif]>
<![if !supportEmptyParas]> <![endif]>
<![if !supportEmptyParas]> <![endif]>