Spot prices wound up slightly higher for the week (Friday to Friday) after trading within relatively narrow ranges with only regional exceptions.On the NYMEX futures market, the March contract expired on Tuesday, February 26, 2002, at $2.388 per MMBtu, ending with a gain of $0.321 per MMBtu since becoming the near-month contract on January 29.Tuesday also saw the largest increase in spot prices, as a huge Arctic air mass expanded from the Central Plains States into the Midwest and Southwest, bringing some of the coldest temperatures thus far this winter.Daily average temperatures on Tuesday through Thursday in major cities in the Central and Southwest regions ranged from 6 to 18 degrees below normal and up to 8 degrees below normal in the Midwest.Equally sharp temperature drops were seen in the Southeast by Wednesday. (See Temperature Map) (See Deviation Map). At the Henry Hub, the spot price gained a nickel on Tuesday, but for the week was up by only 9 cents, to $2.49 per MMBtu.The new near-month contract, for April delivery at the Henry Hub, ended the week at $2.359 per MMBtu. The spot price for West Texas Intermediate crude oil moved above $22 per barrel for the first time since early November, gaining $1.45 for the week and ending trading on Friday at $22.37 per barrel, or $3.86 per MMBtu.
<![if !supportEmptyParas]> <![endif]>
<![if !vml]>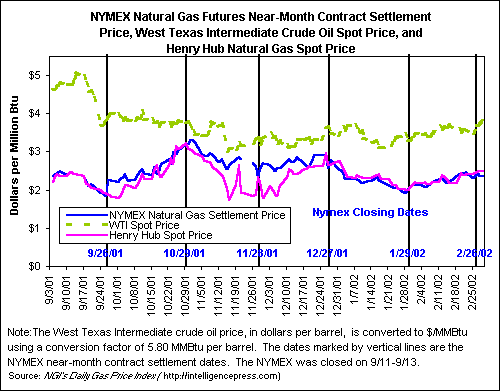 <![endif]>
<![if !supportEmptyParas]> <![endif]>
<![if !supportEmptyParas]> <![endif]>
Prices:
Spot prices generally moved up on Monday and Tuesday in response to one of the few widespread cold fronts of the winter, but increases were limited to less than 10 cents at most market locations.New York and Florida citygate prices were the glaring exceptions.Spot gas for New York delivery rose over $1.00 to $3.74 per MMBtu by Wednesday, while surging demand on the Florida Gas Transmission system elicited two consecutive Overage Alert Days and sent prices up by $1.75 to $4.50 per MMBtu.However, moderating temperatures by Friday, coupled with forecasts for milder weekend weather for the Eastern seaboard, quickly brought these prices back down.By week's end, Friday-to-Friday price increases at New York and Florida citygates had narrowed to 29 and 30 cents, respectively, as spot prices stood at $2.93 and $3.00 per MMBtu. Meanwhile, a second cold front invaded the Rockies late in the week, reversing Wednesday's brief respite of softening prices there and providing an end-of-week boost to spot prices at many locations in the country's midsection, Texas, and the Gulf Coast.Rockies prices rose an average of $0.24 per MMBtu from the previous Friday, reaching $2.27 by Friday, March 1, while the Chicago citygate price rose $0.14 to $2.56.By contrast, California and the Southwest enjoyed warmer than normal temperatures for most of the week.A high-inventory operational flow order on the PG&E system on Tuesday and Wednesday had prices falling slightly on those days.Nevertheless, California prices moved up for the week, as more of Rockies gas was staying at home or moving eastward.By Friday the spot price on PG&E was up 13 cents to $2.46 per MMBtu, while the Southern California Border average was up 22 cents to $2.42.
<![if !supportEmptyParas]> <![endif]>
On the NYMEX futures market, the expiring March contract recovered part of its sharp 14-cent drop of Monday by gaining $0.081 per MMBtu on Tuesday, its final day of trading, to close at $2.388.On its first day of trading as the near-month, the April contract managed to settle above $2.40 per MMBtu.But it settled on Friday at $2.359, down almost 7 cents from its first day in the near-month position, and down $0.132 from the previous Friday.The settlement prices for out-month contracts through January 2003 also declined by up to 13 cents for the week (Friday to Friday), with the highest-priced gas over this period being for January 2003 delivery, at $3.314 per MMBtu.The National Weather Service (NWS) latest 6- to 10-day outlook calls for normal to above-normal temperatures for most of the nation, including the high gas-consuming regions of the Northeast and Midwest, implying potential downward pressure on futures prices.
<![if !supportEmptyParas]> <![endif]>
Spot Prices($ per MMBtu)

Mon.

Tues.

Wed.

Thurs.

Fri.

25-Feb

26-Feb

27-Feb

28-Feb

1-Mar

Henry Hub

2.40

2.45

2.48

2.48

2.49

New York citygates

2.67

3.18

3.74

3.33

2.93

Chicago citygate

2.43

2.50

2.49

2.52

2.56

PG&E citygate

2.43

2.38

2.37

2.45

2.46

So. Cal. Border Avg.

2.29

2.36

2.34

2.39

2.42

Futures ($/MMBtu)

March delivery

2.307

2.388

expired

expired

expired

April delivery

2.348

2.389

2.427

2.357

2.359

May delivery

2.410

2.449

2.479

2.415

2.416

Source: NGI's Daily Gas Price Index (http://intelligencepress.com)
<![if !supportEmptyParas]> <![endif]>
Storage:
Net withdrawals of natural gas from storage were 64 Bcf for the week ended February 22 according to the American Gas Association. This is the lowest that net withdrawals have been for the report week since 1997.Net withdrawals during the week were nearly 37 percent less than last year, and almost 28 percent less than the 5-year average during the report week.Warmer than normal temperatures across much of the country that week likely accounted for the below average withdrawals.Gas-weighted heating degree-days were over 23 percent below normal on average in the United States according to the NWS.In each of the nine Census Divisions of the continental United States, heating degree-days ranged between 14 and 34 percent below normal for the week.Likewise, withdrawals in the East and Producing regions were nearly 25 and 33 percent below the 5-year average, respectively.In the West region, where the 5-year average withdrawal for the report week is 7 Bcf, total inventories remained unchanged from the prior report.If net withdrawals match the maximum level of withdrawal achieved during the past 5 years for the remainder of the heating season, working gas stocks will be approximately 1,548 Bcf at the end of March, over 41 percent greater than the 5-year average.(See Storage Figure)
<![if !supportEmptyParas]> <![endif]>
All Volumes in Bcf

Current Stocks (Fri, 2/22)

Estimated Prior 5-Year (1997-2001) Average

Percent Difference from 5 Year Average

Net Change from Last Week

One-Week Prior Stocks (Fri, 2/15)

East Region

1,089

802

36%

-54

1,143

West Region

248

193

28%

0

248

Producing Region

619

386

60%

-10

629

Total Lower 48

1,956

1,382

42%

-64

2,020

Note:net change data are estimates published by AGA on Wednesday of each week.All stock-level Figures are EIA estimates based on EIA monthly survey data and weekly AGA net-change estimates.Column sums may differ from Totals because of independent rounding.
Summary:
Spot prices generally moved higher on the strength of increases accompanying consecutive cold fronts.Futures prices moved lower, although the new near-month contract (April delivery) held above $2.30 per MMBtu.Stocks continue to exceed the 5-year average by wide margins in all regions.
<![if !supportEmptyParas]> <![endif]>