Overview: Monday February 25, 2002
Natural gas prices generally increased last week. At the Henry Hub, spot prices moved up $0.22 compared with the previous Friday and ended the week at $2.40 per MMBtu. Contributing to this increase was the latest National Weather Service ( NWS) 6- to 10- day forecast, which calls for lower temperatures to arrive this week in most of the eastern two-thirds of the country. (See Temperature Map) (See Deviation Map) There is an upward price trend on the NYMEX futures market also as the March contract gained over $0.24 during last week's holiday-shortened trading to settle on Friday at $2.449 per MMBtu. Net storage withdrawals exceeded 100 Bcf during the second week of February, but stocks remain over 90 percent higher than last year at this time. The spot price of West Texas Intermediate (WTI) declined $0.55 to end the week at $20.92 per barrel or $3.60 per MMBtu.
<![if !supportEmptyParas]> <![endif]>
<![if !vml]>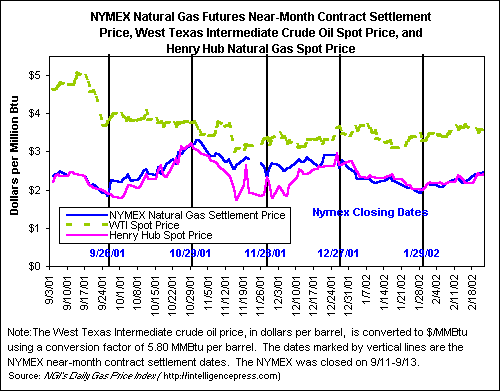 <![endif]>
<![if !supportEmptyParas]> <![endif]>
<![if !supportEmptyParas]> <![endif]>
Prices:
Prices last week increased to levels between $2.10 and $2.40 per MMBtu at most major spot markets outside the Northeast and Midwest. Many market observers expect that last week's increases will be short-lived in the face of existing market fundamentals, which include a warmer-than-normal winter, a sluggish U.S. economy, and above average stock levels of natural gas. The expected arrival of some colder than normal weather this week in many parts of the country will in all likelihood be too late to have a significant impact on markets during this winter heating season. Thus far this winter, according to the NWS, gas-weighted heating degree-days (HDD) are over 15 percent below normal compared with last winter, which was close to 6 percent higher than normal HDDs between November 2000 and February 2001.
<![if !supportEmptyParas]> <![endif]>
On the NYMEX futures market, the daily settlement price for the March contract reached $2.449 per MMBtu on Friday, February 22, a near-month price level last seen in early January in trading for the February contract. The February contract moved down during the last half of January to close at  $2.006 per MMBtu. The March contract, which closes on Tuesday, February 26, closed last year at $4.998 per MMBtu.
<![if !supportEmptyParas]> <![endif]>
Spot Prices ($ per MMBtu)

Mon.

Tues.

Wed.

Thurs.

Fri.

18-Feb

19-Feb

20-Feb

21-Feb

22-Feb

Henry Hub

2.18

2.31

2.43

2.39

2.40

New York citygates

2.56

2.58

2.70

2.64

2.64

Chicago citygate

2.17

2.30

2.45

2.42

2.42

PG&E citygate

2.27

2.40

2.51

2.38

2.33

So. Cal. Border Avg.

2.19

2.30

2.42

2.33

2.20

Futures ($/MMBtu)

March delivery

holiday

2.397

2.385

2.425

2.449

April delivery

holiday

2.427

2.413

2.455

2.491

Source: NGI's Daily Gas Price Index (http://intelligencepress.com)
<![if !supportEmptyParas]> <![endif]>
Storage:
According to the American Gas Association, net storage withdrawals for the week ended Friday, February 15 were estimated to have been 112 Bcf, which is 44 Bcf lower than the previous week. The heavily populated East Consuming region again reported the highest level of weekly withdrawals with a drawdown of 81 Bcf. Total stocks on hand in mid February 2002 exceed last year's levels by 961 Bcf and are more than 37 percent above the previous 5-year average. This larger-than-average stock level is due to higher stocks at the beginning of the current heating season on November 1, 2001, of 3,109 Bcf compared with the previous year's 2,699 Bcf and lower cumulative net withdrawals during the current heating season. The above normal temperatures that have prevailed in most of the lower 48 states have been a key factor in the reduced withdrawals this winter. During November and December 2000, HDDs were roughly 16 and 20 percent above normal, which resulted in total net withdrawals during the first two months of that heating season of 1,008 Bcf compared with 436 Bcf during the same months in 2001. (See Storage Figure)
<![if !supportEmptyParas]> <![endif]>
All Volumes in Bcf

Current Stocks (Fri, 2/15)

Estimated Prior 5-Year (1997-2001) Average

Percent Difference from 5 Year Average

Net Change from Last Week

One-Week Prior Stocks (Fri, 2/8)*

<![if !supportMisalignedRows]>
<![endif]>

East Region

1,143

865

32%

-81

1,224

<![if !supportMisalignedRows]>
<![endif]>

West Region

248

204

21%

-8

256

<![if !supportMisalignedRows]>
<![endif]>

Producing Region

629

401

57%

-23

652

<![if !supportMisalignedRows]>
<![endif]>

Total Lower 48

2,020

1,471

37%

-112

2,132

<![if !supportMisalignedRows]>
<![endif]>

Note:  net change data are estimates published by AGA on Wednesday of each week.  All stock-level Figures are EIA estimates based on EIA monthly survey data and weekly AGA net-change estimates.  Column sums may differ from Totals because of independent rounding. *Revised to incorporate revisions to EIA monthly survey data for various months in 1999-2000.

<![if !supportMisalignedRows]>
<![endif]> <![if !supportMisalignedRows]>
<![endif]> <![if !supportMisalignedRows]>
<![endif]> <![if !supportMisalignedRows]>
<![endif]>
<![if !supportEmptyParas]> <![endif]>
Other Market Trends:
The number of active natural gas drilling rigs continues to decline in the United States. According to the latest Baker-Hughes report, the number of gas drilling rigs moved down to 647 during the week ended Friday, February 22, 2002. This is the lowest level since June 9, 2000, when the rig count was reported as 643. The latest weekly estimate is 39 percent below the mid July 2001 high of 1,068. Natural gas drilling rig activity in Western Canada has also declined. The Canadian Association of Drilling Contractors reports that as of February 15, the total number of drilling rigs exploring for gas decreased to 492 compared to 602 in operation at the same time last year.
<![if !supportEmptyParas]> <![endif]>
Summary:
Based on the latest NWS 6-to-10 day forecast, spot market prices moved up most days last week on what appeared to be an anticipated increase in demand this week. The futures market price also increased for the near-month March contract, which is scheduled to end trading Tuesday, February 26. Barring any unforeseen supply disruption and considering current stock levels, temperatures may need to be below normal for several weeks for current price levels to be sustained.
<![if !supportEmptyParas]> <![endif]>
<![if !supportEmptyParas]> <![endif]>