At the Henry Hub, the spot price surged 10 cents on Wednesday followed by 6-cent increases on both Thursday and Friday, and ended trading Friday at $2.20 per MMBtu, up 16 cents from the previous Friday. Although prices rose, they remain well below levels that prevailed through most of January. Cash prices moved higher primarily on the strength of the winter's most extensive storm to date. The rapidly moving front barreled through the country's midsection at midweek, bringing plunging temperatures from Kansas and Oklahoma northeastward through Ohio and into upstate New York. Meanwhile, record-setting date-specific high temperatures were being recorded at numerous locations in the Southeast and Mid-Atlantic States, with reports of air conditioners being turned on in southern Texas, Louisiana, and Florida. (See Temperature Map) (See Deviation Map) On the NYMEX, owing to an afternoon mini-rally of short covering on its last day of trading, the expiring near-month futures contract (February delivery) barely managed to end trading above $2, closing out at $2.006 per MMBtu on Tuesday, January 29. The futures contract for March delivery, which became the near-month contract on Wednesday, promptly notched 2 days of modest increases and ended the week at $2.138 per MMBtu. The spot price of West Texas Intermediate crude oil traded in a narrow, sub-$1 range all week, and finished the week just 60 cents higher than the previous Friday, at $20.40 per barrel, or $3.52 per MMBtu.
<![if !supportEmptyParas]> <![endif]>
<![if !vml]>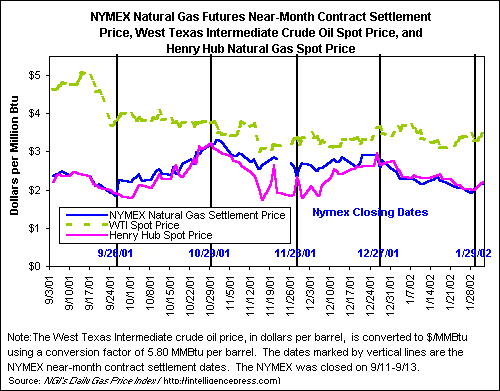 <![endif]>
<![if !supportEmptyParas]> <![endif]>
Prices:
Spot prices were generally flat to slightly down through Tuesday at most market locations, but surged on Wednesday as the winter's strongest storm to date pushed further into the Midcontinent and Midwest. Wednesday's increases ranged from 5 to 16 cents at every market location tracked by Natural Gas Intelligence. And even though the storm was fast-moving and short-lived, cash prices for the rest of the week tended to continue to move up, leading to Friday-to-Friday gains in the range of 5 to 20 cents at most market locations. Price increases were even seen in the Southeast, mid-Atlantic and parts of the Northeast–areas not only untouched by the storm, but also experiencing daily average temperatures that exceeded normal by double digits right through Friday. Some of the price strength in these markets was attributed to short covering by participants who had entered the new month with short supply positions, and also to end-of-month balancing. Another factor, at least for the mid-Atlantic and the more southerly parts of the Northeast, was the forecast for drastically falling temperatures over the weekend. The Transco Zone 6 spot price for delivery to New York citygates increased by 32 cents from the previous Friday, to $2.59 per MMBtu. The West experienced its third week in a row of frigid, sub-normal temperatures. PG&E reported a near-record send out of gas on Tuesday of just less than 4 Bcf. The PG&E citygate price increased by 12 cents from the previous Friday, to $2.25 per MMBtu, while the Southern California border average price was up by a dime to $2.17. Price increases in California have been kept in check by large storage withdrawals during this recent cold snap.
<![if !supportEmptyParas]> <![endif]>
On the NYMEX, the February contract gained almost 10 cents on its last trading day (Tuesday, January 29) to settle at $2.006, barely pulling back up above $2 per MMBtu. Over the course of its tenure as the near-month contract since December 28, the February contract fell by $0.768 per MMBtu, or nearly 28 percent. Beginning as the near-month contract on Wednesday, the futures contract for March delivery had small gains to end the week at $2.138 per MMBtu, an increase of $0.034 from the preceding Friday. For the week (Friday-to-Friday), only the March and April contracts showed gains. The out-month contracts through the end of 2002 fell by as much as 5 cents, with all contracts through October settling below $2.50 per MMBtu. The highest priced futures contract for 2002 was for December delivery, which settled on Friday at $2.894.
<![if !supportEmptyParas]> <![endif]>
Spot Prices ($ per MMBtu)

Mon.

Tues.

Wed.

Thurs.

Fri.

28-Jan

29-Jan

30-Jan

31-Jan

1-Feb

Henry Hub

2.02

1.98

2.08

2.14

2.20

New York citygates

2.30

2.31

2.42

2.42

2.59

Chicago citygate

2.02

1.99

2.10

2.16

2.19

PG&E citygate

2.15

2.15

2.22

2.25

2.25

So. Cal. Border Avg.

2.07

2.07

2.16

2.19

2.17

Futures ($/MMBtu)

February delivery

1.908

2.006

Expired

Expired

Expired

March delivery

1.984

2.067

2.080

2.138

2.138

April delivery

2.147

2.190

2.198

Source: NGI's Daily Gas Price Index (http://intelligencepress.com)
<![if !supportEmptyParas]> <![endif]>
Storage:
Net withdrawals for the week ended Friday, January 25, were 111 Bcf according to the American Gas Association (AGA). All regions reported net withdrawals for the week with the Consuming East again reporting the majority of the drawdown with 69 Bcf removed from storage. This was the fifth consecutive week in which estimated weekly withdrawals exceeded 100 Bcf and brought cumulative net withdrawals this January to 480 Bcf with almost one full week of additional activity remaining in the month. Net withdrawals in January 2001 were 467 Bcf. Even with the larger withdrawals this January, the level of working gas on hand remains more than 1,000 Bcf higher than last year at this time and 607 Bcf above the previous 6-year average. (See Storage Figure)
<![if !supportEmptyParas]> <![endif]>
All Volumes in Bcf

Current Stocks (Fri,1/25)

Estimated 6-Year (1995-2000) Average*

Percent Difference from 6 Year Average

Net Change from Last Week

One-Week Prior Stocks (Fri,1/18)

<![if !supportMisalignedRows]>
<![endif]>

East Region

1,344

1,043

29%

-69

1,413

<![if !supportMisalignedRows]>
<![endif]>

West Region

280

250

12%

-19

299

<![if !supportMisalignedRows]>
<![endif]>

Producing Region

716

441

62%

-23

739

<![if !supportMisalignedRows]>
<![endif]>

Total Lower 48

2,341

1,734

35%

-111

2,452

<![if !supportMisalignedRows]>
<![endif]>

Note: net change data are estimates published by AGA on Wednesday of each week. All stock-level Figures are EIA estimates based on EIA monthly survey data and weekly AGA net-change estimates. Column sums may differ from Totals because of independent rounding. *Revised to incorporate revisions to EIA monthly survey data for various months in 1999-2000.

<![if !supportMisalignedRows]>
<![endif]> <![if !supportMisalignedRows]>
<![endif]> <![if !supportMisalignedRows]>
<![endif]> <![if !supportMisalignedRows]>
<![endif]>
<![if !supportEmptyParas]> <![endif]>
Other Market Trends:
Commitments of Traders. The Commitments of Traders Report released on Friday, February 1 by the Commodities Futures Trading Commission (CFTC) showed that non-commercial speculators (i.e., traders without a direct connection to the natural gas industry or markets) reduced their net short position by 14,213 contracts to 48,430 during the week ended Tuesday, January 29. Their net short position had grown steadily since December 21, 2001, and by January 22 had more than doubled to the record level of 62,643 contracts. Their current net short position of 48,430 contracts is still a relatively high level. Conversely, the net long position of commercial traders (i.e., firms engaged in business activities in the industry hedged by the use of the futures or options markets) also grew rapidly through January 22, climbing to 58,174 from 21,358 contracts on December 21, 2001. Commercial traders reduced their net long position by 14,388 contracts to 43,786 during the week ended January 29. The difference in the net positions of each group of traders likely reflects their different motives. The net short position for non-commercial traders is consistent with an expectation that prices will decline further. However, commercial traders likely are willing to enter into contracts at present prices to minimize price risk. Prices are unusually low for this time of year and further movement may be considered uncertain to an unacceptable degree.
<![if !supportEmptyParas]> <![endif]>
Summary:
The winter's first significant storm sent cash prices slightly higher last week. The prices of the near-month and second month NYMEX futures contracts rose slightly, while all others declined. The large inventory surplus is likely to exert ever more downward pressure on prices as the remaining weeks of winter begin to dwindle.