Overview: Monday, January 28, 2002
Natural gas prices generally declined last week as mild temperatures continued in most of the country and working gas storage stocks remain at very high levels. Spot prices at most major markets that serve the eastern two-thirds of the country ended the week down from the previous Friday with weather forecasts for the past weekend calling for daytime temperatures to be in the mid 50s to the low 60s in an area stretching from Chicago to Boston. At the Henry Hub prices moved down 9 cents on Friday to end at $2.04 per MMBtu--$0.25 below the previous Friday. The National Weather Service's (NWS) latest 6- to 10-day forecast is calling for above normal temperatures to continue through this week in most areas east of the Mississippi River. (See Temperature Map) (See Deviation Map)  At the NYMEX futures market, the February contract continued to trend down as it ended the week trading at $2.037 per MMBtu—off almost $0.20 from previous Friday. The spot price for West Texas Intermediate (WTI) crude oil gained almost $1.80 per barrel reaching $19.80 on Friday or about $3.40 per MMBtu.
<![if !supportEmptyParas]> <![endif]>
<![if !vml]>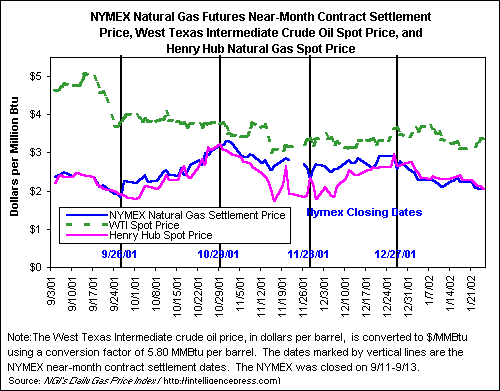 <![endif]>
<![if !supportEmptyParas]> <![endif]>
<![if !supportEmptyParas]> <![endif]>
Prices:
The general decline in spot market prices which began in late December continued as prices moved down between 20 and 30 cents per MMBtu at most major markets last week. It appears that the current market fundamentals which include: lack of any significant weather related demand, near record high stock levels for this time of the year, overall strong pipeline supply resources, reduced industrial demand, and increased availability of nuclear generating capacity, continue to apply downward price pressure. At citygate locations in the Northeast prices at the end of last week were over 50 percent below the level seen at the end of December. For example, the average price at New York City (Transco Z-6) on December 31, 2001, was reported to have been $4.93 and it ended last week at $2.27 per MMBtu. Prices in Chicago were also down--$2.99 on 12/26/01 to $2.01 on Friday.
<![if !supportEmptyParas]> <![endif]>
As another indicator of reduced demand, on the futures market the February contract, which closes tomorrow (1/29/02), ended the week at $2.037 per MMBtu—almost $0.75 below the level it began trading as the prompt month on 12/28/01. It appears that the current February contract will close over $4.00 below last year's contract which terminated trading at $6.293 per MMBtu. Also at the end of trading on Friday (1/25/02), all contracts through the end of 2002 settled below $3.00 per MMBtu with a range going from February's $2.007 to December's $2.945.
<![if !supportEmptyParas]> <![endif]>
Spot Prices ($ per MMBtu)

Mon. 1/21

Tues. 1/22

Wed. 1/23

Thurs. 1/24

Fri. 1/25

Henry Hub

2.29

2.19

2.11

2.13

2.04

New York citygates

2.72

2.52

2.39

2.42

2.27

Chicago citygate

2.22

2.14

2.09

2.12

2.01

PG&E citygate

2.19

2.20

2.21

2.18

2.13

So. Cal. Border Avg.

2.17

2.16

2.16

2.13

2.07

Futures ($/MMBtu)

February delivery

holiday

2.106

2.076

2.048

2.037

March delivery

holiday

2.118

2.089

2.090

2.104

Source: NGI's Daily Gas Price Index (http://intelligencepress.com)
<![if !supportEmptyParas]> <![endif]>
Storage:
Net withdrawals from storage were an estimated 124 Bcf for the week ended January 18, 2002, according to the American Gas Association (AGA).  Stock levels (as estimated by EIA) are 2,452 Bcf, which is more than 250 Bcf above the highest level recorded for this week in the 8 years of weekly storage data and almost 31 percent above the 6-year average.  This is the largest relative difference from the 6-year average thus far in the heating season.  Further, after more than two and one-half months of the heating season, working gas volumes are just 10 percent below the 2,732 Bcf in storage at the start of the 2000-2001 heating season.
<![if !supportEmptyParas]> <![endif]>
This marks the fourth week in a row that net withdrawals of working gas exceeded 100 Bcf, although the estimate of 124 Bcf falls 25 Bcf, or about 17 percent, below the 6-year (1995-2000) average for the week.  This storage draw also marks the return to lower-than-average weekly net withdrawals (at the national level), which had been the prevailing pattern this heating season until the weeks of January 4 and January 11.  Withdrawals in the East and Producing regions for the week ended January 18 were 15 and 37 percent less than their respective 6-year averages, due in part to above normal temperatures.  According to the National Weather Service, gas-customer-weighted heating-degree days (HDD) ranged from 15 to 18 percent below normal in the Census divisions containing the states that make up those regions.  By contrast, net withdrawals in the West region were 40 percent greater than the 6-year average, coinciding with HDDs that were 3 and 7 percent greater than normal in the Mountain and Pacific Census divisions. (See Storage Figure)
<![if !supportEmptyParas]> <![endif]>
All Volumes in Bcf

Current Stocks (Fri,1/18)

Estimated 6-Year (1995-2000) Average*

Percent Difference from 6 Year Average

Net Change from Last Week

One-Week Prior Stocks (Fri,1/11)

<![if !supportMisalignedRows]>
<![endif]>

East Region

1,413

1,138

24%

-77

1,490

<![if !supportMisalignedRows]>
<![endif]>

West Region

299

264

13%

-21

320

<![if !supportMisalignedRows]>
<![endif]>

Producing Region

739

475

56%

-26

765

<![if !supportMisalignedRows]>
<![endif]>

Total Lower 48

2,452

1,877

31%

-124

2,576

<![if !supportMisalignedRows]>
<![endif]>

Note:  net change data are estimates published by AGA on Wednesday of each week.  All stock-level Figures are EIA estimates based on EIA monthly survey data and weekly AGA net-change estimates.  Column sums may differ from Totals because of independent rounding. *Revised to incorporate revisions to EIA monthly survey data for various months in 1999-2000.

<![if !supportMisalignedRows]>
<![endif]> <![if !supportMisalignedRows]>
<![endif]> <![if !supportMisalignedRows]>
<![endif]> <![if !supportMisalignedRows]>
<![endif]>
<![if !supportEmptyParas]> <![endif]>
Summary:
Cash prices continue to trend down as above normal temperatures prevail in the eastern two- thirds of the country. The futures contract for February delivery closes tomorrow and barring any unforeseen circumstances will end trading more than $4.00 per MMBtu or roughly 60 percent below last year's February contract. Stock levels for working gas in storage remain more than 30 percent above the previous 6-year average.   
<![if !supportEmptyParas]> <![endif]>
<![if !supportEmptyParas]> <![endif]>
<![if !supportEmptyParas]> <![endif]>
<![if !supportEmptyParas]> <![endif]>