Due to the federal holiday in observance of Martin Luther King Day on Monday, January 21, 2002, the next issue of the Natural Gas Weekly Update will be published on Tuesday, January 22, 2002.
<![if !supportEmptyParas]> <![endif]>
Overview:  Monday, January 14, 2002
Natural gas prices were generally lower last week as the fundamentals of ample working gas in storage and very little temperature-driven swing demand dominated the market.  With little in the way of market-changing developments, trading in both the spot and futures markets tended to occur in relatively small price ranges throughout the week. The warming trend begun late in the previous week continued nearly unabated through last week, with the heavy gas-consuming areas of the Midwest and Northeast recording many of the greatest deviations above daily normal temperatures.   Philadelphia, New York City, and Buffalo, NY had at least 3 days of temperatures that were 10 or more degrees above normal; Chicago's temperature reached an unusually warm 26 degrees above normal on Wednesday.  (See Temperature Map) (See Deviation Map)  Spot prices at the Henry Hub moved down moderately from the previous week, ending trading on Friday at $2.31, down 5 cents from the previous Friday.  On the NYMEX, the futures contract for February delivery at the Henry Hub declined by $0.071 from the previous Friday, settling on Friday, January 11 at $2.204 per MMBtu.  The spot price for West Texas Intermediate crude oil also fell, dipping below $20 per barrel for the first time in the New Year, ending trading last Friday at $19.67 per barrel, or $3.39 per MMBtu, down $1.80 per barrel, or $0.31 per MMBtu, from Friday, January 4.
<![if !supportEmptyParas]> <![endif]>
<![if !vml]>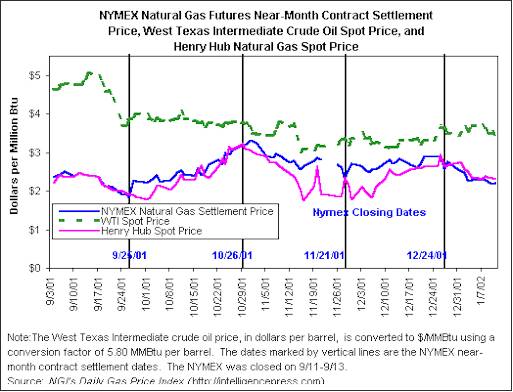 <![endif]>
<![if !supportEmptyParas]> <![endif]>
Prices:
In a week of reduced fluctuations, spot prices in most major markets finished the week at lower levels than on the previous Friday, with downward pressure coming from the large surplus of stored gas with respect to both last year's levels and to the 6-year average, and from unseasonably warm temperatures in much of the nation.  Friday-to-Friday price decreases tended to be largest in the Northeast, ranging from about 30 to 50 cents.  The New York City spot price declined $0.52 to $2.65 per MMBtu by last Friday.  Price drops in most other regions tended to be in the 5- to 10-cent range, leaving prices in the Rockies at just under $2 per MMBtu, at around $2.10 in California, and about $2.30 in Midwest locations.  The major exception to this price-and-weather pattern occurred in Florida, where unusually cold temperatures prevailed throughout most of the week.  A number of Florida cities recorded 3 straight days of average temperatures that were 10 or more degrees below normal.  The Florida Gas Transmission (FGT) citygate price peaked at $4.11 per MMBtu on Tuesday, but gradually moderating temperatures later in the week had prices coming down significantly.  Although still the highest-priced spot gas nationally, FGT's citygate price on Friday of $2.90 per MMBtu was just 3 cents above its level of the previous Friday.
<![if !supportEmptyParas]> <![endif]>
Futures prices declined for the third straight week, with the futures contracts for February and March falling by a little more than 7 and 6 cents per MMBtu, respectively, while most out-month contracts through the next heating season fell in the range of around 2 to 4 cents.  The February contract ended the week at $2.204, down $0.071 per MMBtu from the previous Friday, and $0.57 lower than its first settlement price as the near-month contract.  The relative price pattern with Henry Hub spot prices exceeding near-month futures contract prices continued for another week, signaling persisting expectations of still lower prices later in the heating season.  In the near term, some analysts believe that futures prices are poised for a rebound, based on the relatively large number of short positions held by non-commercial traders.  Their net short open interest grew from over 33,000 contracts as of December 28 to over 47,000 contracts as of January 8, according to the Commodity Futures Trading Commission's weekly reports–their record largest net short position.  Because the vast majority of futures contracts are settled by parties taking the opposite position from their open interest before a contract expires, the existence of the large net short position implies that at some point non-commercial traders will have to buy futures contracts to "cover" or close out their short positions.  This nearly inevitable "short covering" buying represents the potential for upward pressure on futures prices. 
<![if !supportEmptyParas]> <![endif]>
Spot Prices ($ per MMBtu)

Mon. 1/07

Tues. 1/08

Wed. 1/09

Thurs. 1/10

Fri. 1/11

Henry Hub

2.31

2.38

2.32

2.32

2.31

New York citygates

3.06

2.99

2.66

2.68

2.65

Chicago citygate

2.20

2.30

2.19

2.23

2.22

PG&E citygate

2.12

2.23

2.18

2.15

2.15

So. Cal. Border Avg.

2.12

2.20

2.14

2.14

2.12

Futures ($/MMBtu)

February delivery

2.272

2.281

2.228

2.185

2.204

March delivery

2.261

2.285

2.232

2.195

2.203

Source: NGI's Daily Gas Price Index (http://intelligencepress.com)
<![if !supportEmptyParas]> <![endif]>
Storage:
For the week ended Friday January 4, 2002, the American Gas Association estimated that a net drawdown of 190 Bcf was taken from storage. The shift in relative cash and futures prices during that week, with cash prices exceeding prices for delivery later this winter, likely was an important factor behind the largest level of weekly withdrawals from storage thus far this winter.  Cooler temperatures in the Midwest and the Northeast during that week also contributed to this large net withdrawal.  This increased utilization of storage supply resources last week was 47 Bcf above the previous 6-year average and 23 Bcf higher than during the same week last year.  Even with last week's elevated level of storage withdrawals, stocks are 1,112 Bcf higher than last year at this time and 550 Bcf above the 6-year average of 2,163 Bcf. This year's greatly improved storage levels continue to contribute to relatively low spot and futures prices.  Spot prices at the Henry Hub are well over $6.00 per MMBtu lower than at this time last year.  
<![if !supportEmptyParas]> <![endif]>
All Volumes in Bcf

Current Stocks (Fri,1/4)

Estimated 6-Year (1995-2000) Average*

Percent Difference from 6 Year Average

Net Change from Last Week

One-Week Prior Stocks (Fri,12/28)

<![if !supportMisalignedRows]>
<![endif]>

East Region

1,576

1,328

19%

-123

1,699

<![if !supportMisalignedRows]>
<![endif]>

West Region

327

291

12%

-7

334

<![if !supportMisalignedRows]>
<![endif]>

Producing Region

809

544

49%

-60

869

<![if !supportMisalignedRows]>
<![endif]>

Total Lower 48

2,713

2,163

25%

-190

2,903

<![if !supportMisalignedRows]>
<![endif]>

Note:  net change data are estimates published by AGA on Wednesday of each week.  All stock-level Figures are EIA estimates based on EIA monthly survey data and weekly AGA net-change estimates.  Column sums may differ from Totals because of independent rounding. *Revised to incorporate revisions to EIA monthly survey data for various months in 1999-2000.

<![if !supportMisalignedRows]>
<![endif]> <![if !supportMisalignedRows]>
<![endif]> <![if !supportMisalignedRows]>
<![endif]> <![if !supportMisalignedRows]>
<![endif]>
<![if !supportEmptyParas]> <![endif]>
Other Market Trends:
Short-Term Energy Outlook. EIA released its Short-Term Energy Outlook (STEO) for January on Tuesday, January 8.   According to the STEO, the downturn in domestic gas-directed drilling rates since July will probably not reduce natural gas productive capacity enough to prevent relatively low prices this winter and through most of 2002, but could have important implications for market prices by 2003.  EIA projects strong growth in demand during 2002 of 1.2 trillion cubic feet or 5.5 percent over levels in 2001.  This will likely help storage decline from the estimated level of over 2,800 Bcf as of the end of December 2001.  Thus, pressure will be strong on domestic wellhead prices to remain low through much of 2002, with a projected average of $2.05 per MMBtu.   Heating season temperatures for most of the fourth quarter of 2001 were above normal, causing large net withdrawals from storage to be delayed. If temperatures are normal for the rest of this winter, then heating degree-days for the entire 2001-2002 winter season will be about 14 percent lower than last winter. As a consequence, winter demand for natural gas is projected to decline by 7.3 percent compared with growth of 6.4 percent last winter. Spot natural gas prices, which averaged $6.66 per MMBtu last winter, are expected to be two-thirds lower this winter at about $2.26 per MMBtu.
<![if !supportEmptyParas]> <![endif]>
Summary:
A Abundant stocks and significantly warmer temperatures throughout most of the nation pressured spot and futures prices lower, with indications that the market may expect prices to decline further.  Futures prices may experience some excess upward pressure from episodes of short covering by speculators.
<![if !supportEmptyParas]> <![endif]>