Overview:  Monday, December 10, 2001
Price surges on Monday and Friday of last week overshadowed 3 straight days of decreases midweek, as nearly every major market location showed Friday-to-Friday gains.  At the Henry Hub, the spot price gained 36 cents from the previous Friday to end the week at $2.11 per million Btu (MMBtu).  On the futures market, in its first full week of trading as the near-month contract, the price of the NYMEX contract for January delivery at the Henry Hub declined $0.133 per MMBtu to settle on Friday at $2.568.  The unseasonably warm temperatures that have blanketed nearly the entire country east of the Rocky Mountains continued, with specific-day high-temperature records being set at numerous locations in the Northeast, Midwest, and Midcontinent (Temperature Map)(Temperature Deviation Map).  On Thursday, the spot price of West Texas Intermediate (WTI) crude oil fell nearly $1.00 per barrel, as the Organization of Petroleum Exporting Countries (OPEC) announced that it would delay an expected oil-production cut that it hopes will shore up sagging world crude oil prices.  For the week (Friday-to-Friday), the WTI spot price fell $0.43 per barrel to $19.08, or $3.29 per MMBtu.
<![if !supportEmptyParas]> <![endif]>
<![if !vml]>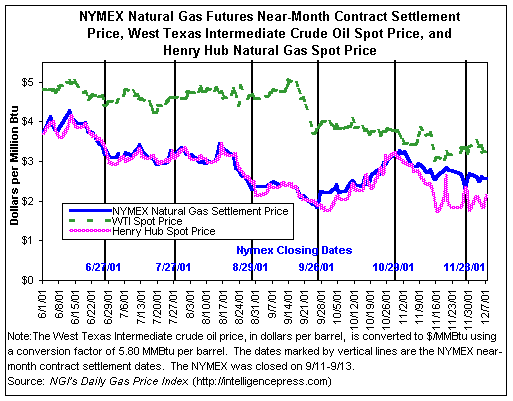 <![endif]>
<![if !supportEmptyParas]> <![endif]>
Prices:
Spot prices rebounded last week on the strength of strong increases on Monday and Friday.   Monday's price surge was the larger of the two, with increases in average spot prices ranging from 15 to over 80 cents per MMBtu at virtually every price point tracked by Natural Gas Intelligence.  Increases were greatest in the Rockies in anticipation of Tuesday's maintenance outage affecting supply into the Opal (WY) hub. At the Henry Hub, the average spot price climbed 35 cents per MMBtu to $2.10.  With the lack of weather-related swing demand, some market observers attributed the increases to various participants coming out of bid week and into the new month with short supply portfolios that needed to be covered.  Indeed, November's spring-like temperatures experienced by most of the nation persisted through the first week of December.  The resulting weak demand reasserted itself in markets on Tuesday through Thursday, sending cash prices steadily downward and more than offsetting Monday's gains at some locations.  However, National Weather Service forecasts for cooler, near-normal temperatures over the weekend for the Northeast and Midwest reversed the downward trend, sending prices up in a 20-40 cent range at most locations.  California was the major exception, where somewhat warmer temperatures and a PG&E high inventory operational flow order (OFO) for the weekend had prices declining by a few cents to over a dime.  By Friday, prices in most markets had climbed back above $2 per MMBtu.  For the week, the spot prices for gas for delivery to New York and Chicago citygates were $2.53 and $2.15, up $0.46 and $0.29 per MMBtu, respectively.  The PG&E citygate price had dropped 2 cents to $2.42, while the average price for gas at the Southern California border rose 17 cents to $2.36.  Trading was also characterized by somewhat reduced within-day volatility compared with the previous two weeks.  At the Henry Hub, the spread between the low and high values for daily spot prices ranged from $0.10 to $0.21 per MMBtu.  Last week this spread ranged from $0.13 to $0.40, and the week before, from $0.27 to $0.38. 
<![if !supportEmptyParas]> <![endif]>
Prices on the NYMEX futures market also were affected early in the week by the continuing warm weather. The futures contract settlement prices for January through March began the week with 3 consecutive days of declines in the range of about 4 to 8 cents per MMBtu.  Out-month contracts followed suit for the most part, with somewhat smaller declines.  However, on Thursday, settlement prices got a slight boost, with increases of about a nickel for contracts over the ensuing 12 months. From Friday-to-Friday, the near-month contract declined $0.133 per MMBtu to end the week at $2.568.  On its first day of trading as the near-month contract, the January contract fell $0.171 to $2.561 per MMBtu. In 6 days of trading since then, its cumulative price change has been almost nil–as of Friday, its settlement price was a scant $0.007 higher than its first settlement price as the near-month contract.
<![if !supportEmptyParas]> <![endif]>
Spot Prices ($ per MMBTU)-Selected Trading Centers

Mon.  12/03

Tue. 12/04

Wed. 12/05

Thur. 12/06

Fri.  12/07

Henry Hub

2.10

1.99

1.89

1.83

2.11

New York citygates

2.50

2.30

2.16

2.13

2.53

Chicago citygates

2.18

2.08

1.97

1.88

2.15

PG&E Citygates

2.87

2.74

2.55

2.50

2.42

Southern California Bdr. Average

2.55

2.45

2.36

2.31

2.36

Futures (Daily Settlement, $MMBTU)

January Delivery

2.634

2.563

2.491

2.565

2.568

February Delivery

2.746

2.703

2.624

2.675

2.681

Source: NGI's Daily Gas Price Index (http://intelligencepress.com)
<![if !supportEmptyParas]> <![endif]>
Storage:
Net withdrawals from storage totaled 16 Bcf for the week ended November 30 according to the American Gas Association (AGA).  This snapped an unprecedented run of more than 3 weeks in a row of net storage additions this heating season.  Net withdrawals in the West were 19 Bcf compared with the 6-year average for the week of 5 Bcf.   This unusually high drawdown equals a reduction of nearly 4 percent of the region's total working gas in storage and is attributable to the colder than normal temperatures that prevailed in the region during most of the week.  Working gas inventories in the East were unchanged, while the Producing region recorded net injections of 3 Bcf.  At 3,140 Bcf, working gas in storage is nearly 14 percent greater than the 6-year average and nearly as large as the 6-year high of 3,155 Bcf for the report week.
<![if !supportEmptyParas]> <![endif]>
All Volumes in BCF

Current Stocks (Fri,11/30)

Estimated 6-Year (1995-2000) Average

Percent Difference from 6 Year Average

Net Change from Last Week

One-Week Prior Stocks (Fri,11/23)

<![if !supportMisalignedRows]>
<![endif]>

East Region

1,851

1,699

9.0%

0

1,851

<![if !supportMisalignedRows]>
<![endif]>

West Region

382

352

8.4%

-19

401

<![if !supportMisalignedRows]>
<![endif]>

Producing Region

907

710

27.7%

3

904

<![if !supportMisalignedRows]>
<![endif]>

Total Lower 48

3,140

2,761

13.7%

-16

3,156

<![if !supportMisalignedRows]>
<![endif]>

Note:  net change data are estimates published by AGA on Wednesday of each week.  All stock-level Figures are EIA estimates based on EIA monthly survey data and weekly AGA net-change estimates.  Column sums may differ from Totals because of independent rounding.

<![if !supportMisalignedRows]>
<![endif]> <![if !supportMisalignedRows]>
<![endif]> <![if !supportMisalignedRows]>
<![endif]> <![if !supportMisalignedRows]>
<![endif]>
<![if !supportEmptyParas]> <![endif]>
Until the final week of November, overall storage stocks increased each week this heating season. This pattern contrasts greatly with storage activity typical for this time of year, and especially with the high drawdowns during November 2000.  The atypical storage activity in November 2001 was largely the result of warmer than normal temperatures across the United States, which contrasts sharply with last year when colder than normal temperatures drove large withdrawals from storage.  In November 2001, heating degree-days were almost 25 percent below normal in the United States, while heating degree-days were 16 percent above normal in November 2000.  The difference in monthly storage activity between 2000 and 2001 reflects this large differential in heating degree-days.  In November 2000, withdrawals from storage totaled 256 Bcf, 47 percent larger than the 6-year average, while in November 2001, the net change in storage was a net addition of 32 Bcf.
<![if !supportEmptyParas]> <![endif]>
During the past 6 years, net withdrawals from storage averaged roughly 123 Bcf in November in the East; this year net additions to storage in the East were roughly 4 Bcf.  This difference was even stronger in the Producing region. In contrast with the 6-year average net withdrawal of 40 Bcf during November, the Producing region, which did not record a net withdrawal in the AGA reports during November 2001, injected 39 Bcf into storage.  Net withdrawals in the West region were slightly higher than the 6-year average: 11 Bcf in 2001 compared with 10 Bcf.  However, extraordinarily large net withdrawals in the final week of the month accounted for all of the net weekly withdrawals from storage.  Up until the final week of November, the West did not record a week with a net withdrawal from storage, injecting 8 Bcf into storage.
<![if !vml]>

<![endif]>
<![if !supportEmptyParas]> <![endif]>
Other Market Trends:
In its latest Short-Term Energy Outlook, released on Thursday, December 6, the Energy Information Administration (EIA) projects that natural gas wellhead prices will average $1.96 per thousand cubic feet  (or about $1.91 per MMBtu, using an average heat content of 1,027 Btu per cubic foot of dry natural gas) in 2002.  Price weakness is attributed to warm weather, the continued weakness in U.S. industrial production, and the atypical build in natural gas storage levels in November.  Barring some very cold weather in the near term, EIA projects that natural gas demand for the fourth quarter of 2001 and first quarter of 2002 will decline by 5.0 percent compared with growth of 6.7 percent last winter.  Moreover, EIA concludes that, "…under base case (normal weather) assumptions, spot wellhead prices, which averaged $6.49 per thousand cubic feet last winter, are expected to be two-thirds lower this winter at about $2.15 per thousand cubic feet." 
<![if !supportEmptyParas]> <![endif]>
Summary:
Spot gas trading began and ended the week with price surges that were only partially offset by midweek declines, as intra-day price volatility moderated.  Futures prices trended down for a second consecutive week, but with significantly smaller cumulative declines.  NWS near-term weather forecasts call for a continuation of the warmer-than-normal weather pattern in the eastern two-thirds of the nation at least through the middle of December.
<![if !supportEmptyParas]> <![endif]>