Overview:  Monday, November 19, 2001
Last week, the NYMEX futures contract price for December delivery at the Henry Hub continued the generally downward trend that began in late October. The contract ended last week's trading at $2.637 per MMBtu-nearly 55 cents lower than the $3.183 recorded when it began as the near-month contract on October 30.  Spot prices also experienced a similar pattern and reportedly declined well over $1.00 per MMBtu at most major market locations. The spot price at the Henry Hub on Friday hit its lowest level in more than two and a half years. The continued warmer-than-normal weather in most parts of the country appears to be a major contributing factor in the almost 3-week decline in natural gas prices. (Temperature Map) (Temperature Deviation Map) Another factor is the relatively high stocks that continued to increase in the second week of November. Working gas in storage now stands at its highest level since November 1998. The spot price for West Texas Intermediate (WTI) crude oil dropped by more than $2.00 per barrel on Thursday and ended the week at $18.05, or $3.11 per MMBtu-its lowest level in over 2 years.
<![if !supportEmptyParas]> <![endif]>
<![if !vml]>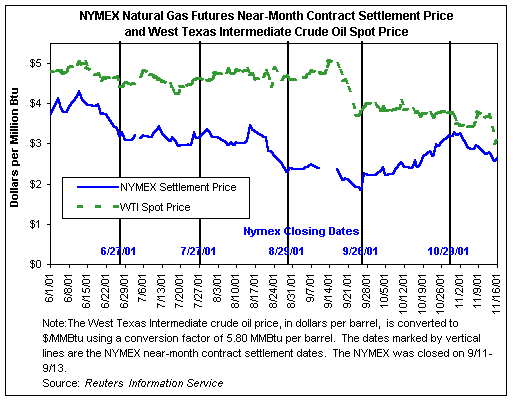 <![endif]>
<![if !supportEmptyParas]> <![endif]>
Prices:
The Henry Hub spot price on Friday was $1.69 per MMBtu according to Reuters News Service, which is the lowest price since March 1999. The daily settlement price for the December NYMEX contract and each of the contracts covering the remaining months of the heating season (December to March) ended trading last week below $3.00 per MMBtu. In addition to December's $2.637 and January's $2.850 per MMBtu, February and March settled on Friday at $2.903 and $2.898. Last year at this time these contracts were trading at more than double the price for some months–December $5.798, January $5.788, February $5.511 and March $5.051 per MMBtu.
<![if !supportEmptyParas]> <![endif]>
Spot Prices ($ per MMBTU)-Selected Trading Centers

Mon. 11/12

Tues. 11/13

Wed. 11/14

Thur. 11/15

Fri.  11/16

Futures (Daily Settlement, $MMBTU)

December Delivery

2.730

2.798

2.676

2.551

2.637

January Delivery

2.925

2.992

2.884

2.767

2.850

Source: Reuters Information Service
<![if !supportEmptyParas]> <![endif]>
Storage:
Net injections of natural gas into working gas storage were 7 billion cubic feet (Bcf) during the week ended Friday, November 9, according to the most recent American Gas Association estimates.  This marks the fifth time in the past 8 years that storage operators posted net injections of natural gas during the report week.  At 9 Bcf, net injections in the Producing region were the second highest recorded in the past 8 years and were significantly larger than the 1 Bcf average withdrawal over the past 6 years.  The West consuming region also recorded net injections (1 Bcf), while the net withdrawals of 3 Bcf in the East were one-third the 6-year average for this week.  At 3,111 Bcf, the level of total working gas in storage was the second highest reported since 1994 and only 20 Bcf less than the level of gas in storage for the same week in 1998.  (Storage Figure) Temperatures at the start of this heating season are much more moderate than those of last November, and they are expected to continue as the National Weather Service is calling for warmer-than-normal temperatures through most of November.  With the price of the futures contract for December delivery at the Henry Hub exceeding the spot price of natural gas at the Henry Hub by a significant margin, incentives for continued additions to storage will persist in the absence of cooler temperatures. 
<![if !supportEmptyParas]> <![endif]>
All Volumes in BCF

Current Stocks (Fri,11/9)

Estimated 6-Year (1995-2000) Average

Percent Difference from 6 Year Average

Net Change from Last Week

One-Week Prior Stocks (Fri,11/2)

<![if !supportMisalignedRows]>
<![endif]>

East Region

1,847

1,786

3.4%

-3

1,850

<![if !supportMisalignedRows]>
<![endif]>

West Region

394

359

9.8%

1

393

<![if !supportMisalignedRows]>
<![endif]>

Producing Region

870

738

17.9%

9

861

<![if !supportMisalignedRows]>
<![endif]>

Total Lower 48

3,111

2,883

7.9%

7

3,104

<![if !supportMisalignedRows]>
<![endif]>

Note:  net change data are estimates published by AGA on Wednesday of each week.  All stock-level Figures are EIA estimates based on EIA monthly survey data and weekly AGA net-change estimates.  Column sums may differ from Totals because of independent rounding.

<![if !supportMisalignedRows]>
<![endif]> <![if !supportMisalignedRows]>
<![endif]> <![if !supportMisalignedRows]>
<![endif]> <![if !supportMisalignedRows]>
<![endif]>
<![if !supportEmptyParas]> <![endif]>
EIA's Natural Gas Annual 2000 to be released
According to the EIA report, Natural Gas Annual 2000, which is to be released early this week, all sources of gas supply increased during 2000 to satisfy a record level of demand. Marketed production increased to 20.0 trillion cubic feet (Tcf), which is the highest level since 1980, however it remained below levels reached in the 1970s. Net imports were at a record high 3.5 Tcf, approximately 16 percent of total U.S. consumption. Net withdrawals from storage were the highest level of inventory change ever measured, reflecting the response to colder-than-normal winter temperatures, particularly the record cold temperatures experienced in November and December. Increased prices accompanied the strong demand and supply activity. Natural gas prices received at the wellhead as well as those paid by the four end-use sectors reached nominal-dollar highs in 2000, although after adjustment for inflation, prices remained below levels seen in the early to mid 1980s.
Preliminary EIA Long-term Energy Forecast to 2020 released
EIA issued its early release of the Annual Energy Outlook 2002 (AEO2002) on Wednesday, November 14.  The report projects natural gas consumption to increase by a little under 1 percent per year through 2020.  The AEO also projects that the use of natural gas in electricity generation will grow approximately 4.5 percent per year through 2020. As demand for natural gas increases in the forecast, production is expected to increase from 19.1 to 28.5 Tcf between 2000 and 2020, an average annual rate of 2.0 percent. The average wellhead price of natural gas is projected to increase from $3.60 per thousand cubic feet (Mcf) in 2000 to nearly $4 per Mcf in 2001, then decline sharply in 2002. The price is expected to reach $3.26 per Mcf in 2020, slightly higher than the projection of $3.20 per Mcf in AEO2001. Although projected natural gas demand in 2020 is 1.0 Tcf lower than was projected in AEO2001, the price is expected to be higher due to a less optimistic assessment of natural gas reserves discovered by exploratory drilling. The complete report will be available on December 21, 2001.
<![if !supportEmptyParas]> <![endif]>
Summary:
Prices on the futures market continued to decline for the third consecutive week as most of the United States continues to record unseasonably warm temperatures. The natural gas stock build continued into the second week of November. Final EIA natural gas data for 2000 and the early findings for AEO2002 were released. 
<![if !supportEmptyParas]> <![endif]>
<![if !supportEmptyParas]> <![endif]>