Due to the observance of Veterans Day on Monday, November 12, the next Natural Gas Weekly Update, will be published on Tuesday, November 13, 2001.
<![if !supportEmptyParas]> <![endif]>
Overview:
Spot prices at the Henry Hub began the week up then trended down to end the week 10 cents below the previous Friday at $2.96 per MMBtu. This represents a reversal from the pattern of a week earlier when the Henry Hub price gained more than $0.70 per MMBtu on a Friday-to-Friday basis. Warmer-than-normal temperatures in most parts of the country last week along with forecasts calling for the moderate weather to continue into the weekend contributed to the decline in prices. (See Temperature Map) (See Deviation Map) Estimates of weekly net additions to storage again were below normal levels for this time of year but the total working gas in storage remained above average and well above volumes at this time last year. The price of West Texas Intermediate (WTI) crude oil moved down $1.95 per barrel for the week to end trading on Friday at $20.20 or $3.48 per MMBtu.
<![if !supportEmptyParas]> <![endif]>
<![if !vml]>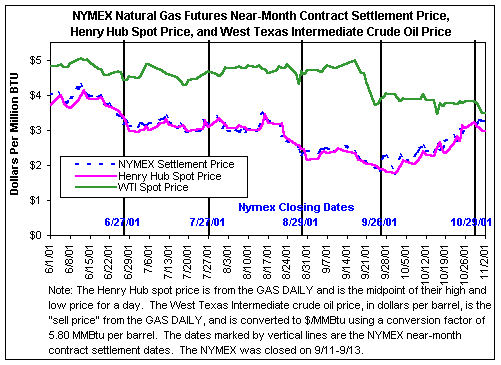 <![endif]>
<![if !supportEmptyParas]> <![endif]>
Prices:
After beginning the week up, spot prices at major market locations declined last week as unseasonably mild weather prevailed in most of the country. After Monday, prices dropped by 25 cents to $2.42 per MMBtu in New Mexico and by 30 cents to $2.96 on the Gulf Coast at the end of the week. At major citygates in the West, especially in California, high-linepack operational flow orders (OFOs) contributed to price drops of $0.35 per MMBtu at the end of the week. In the Rockies, the spot price at the Opal Hub in Wyoming declined $0.33 per MMBtu on Friday to close out the week at $2.12 per MMBtu.
<![if !supportEmptyParas]> <![endif]>
Much of last week's drop in prices occurred during the first two days of November-the traditional start of the natural gas heating season. Current price levels differ sharply with prices at this time last year when cool temperatures arrived early and spot prices at major markets traded between $4.25 and $4.65 per MMBtu during the first days of the heating season. Prices in early November 2000 were almost 70 percent higher than this year.
<![if !supportEmptyParas]> <![endif]>
The NYMEX futures contract for November delivery at the Henry Hub closed on Monday (10/29/01) at $3.202 per MMBtu--$1.34 lower than last year's November contract. The December contract began trading as the near-month contract at $3.183 per MMBtu and moved up to end the week at $3.290. For the first time in several weeks, all open futures contracts covering this heating season ended the week well above $3.00 per MMBtu with NYMEX settlement prices on Friday between December's $3.248 and January's $3.392.
<![if !supportEmptyParas]> <![endif]>
Spot Prices ($ per MMBTU)-Selected Trading Centers

Mon. 10/29

Tues. 10/30

Wed. 10/31

Thur. 11/01

Fri. 11/02

Henry Hub

3.21

3.11

3.07

3.01

2.96

New York citygates

3.82

3.66

3.53

3.37

3.38

Chicago citygates

3.23

3.14

3.14

3.02

2.97

Northern CA PG&E

2.98

2.92

3.04

2.86

2.51

Southern CA (SOCAL)

3.08

3.01

3.09

2.96

2.61

Futures (Daily Settlement, $MMBTU)

November Delivery

3.202

Expired

Expired

Expired

Expired

December Delivery

3.339

3.183

3.291

3.290

3.248

January Delivery

3.464

3.330

3.428

3.434

3.392

Source: Financial Times Energy, Gas Daily.
<![if !supportEmptyParas]> <![endif]>
Storage:
Total net injections into storage for the week ended Friday, October 26 were 23 Bcf according to the American Gas Association (AGA). This stock build figure is roughly 34 percent below the 6-year (1995-2000) average of AGA estimates for the week, while the stock build of 25 Bcf for the previous week was about 52 percent below its average. Although net injections were below average for the second consecutive week, total working gas in storage remains 6.6 percent above the average for the previous 6 years. All the net additions placed in storage occurred in the East region and there was a net withdrawal of 2 Bcf in the Producing region. The net injection of 25 Bcf in the East is about 21 percent more than the 6-year average for this week. With 5 days of storage activity to be accounted for before the traditional beginning of the heating season on November 1, total stocks stand at an EIA-estimated 3,094 Bcf. The 6-year high for working gas as of November 1 is 3,191 Bcf, in 1998. (See Storage Figure)
<![if !supportEmptyParas]> <![endif]>
All Volumes in BCF

Current Stocks (Fri,10/26)

Estimated 6-Year (1995-2000) Average

Percent Difference from 6 Year Average

Net Change from Last Week

One-Week Prior Stocks (Fri,10/19)*

<![if !supportMisalignedRows]>
<![endif]>

East Region

1,846

1,802

2.4%

25

1,821

<![if !supportMisalignedRows]>
<![endif]>

West Region

389

360

8.1%

0

389

<![if !supportMisalignedRows]>
<![endif]>

Producing Region

859

739

16.2%

-2

861

<![if !supportMisalignedRows]>
<![endif]>

Total Lower 48

3,094

2,901

6.6%

23

3,071

<![if !supportMisalignedRows]>
<![endif]>

Note: net change data are estimates published by AGA on Wednesday of each week. All stock-level Figures are EIA estimates based on EIA monthly survey data and weekly AGA net-change estimates. Column sums may differ from Totals because of independent rounding.

<![if !supportMisalignedRows]>
<![endif]> <![if !supportMisalignedRows]>
<![endif]> <![if !supportMisalignedRows]>
<![endif]> <![if !supportMisalignedRows]>
<![endif]>
<![if !supportEmptyParas]> <![endif]>
Other Market Trends:
According to the just released EIA report, Advance Summary, U.S. Crude Oil, Natural Gas, and Natural Gas Liquids Reserves, 2000 Annual Report, proved reserves of dry natural gas increased 6 percent in 2000. At 177.4 trillion cubic feet (as of Dec. 31, 2000), proved dry gas reserves were the equivalent of 9.2 years of production. Reserve additions replaced 152 percent of U.S. dry natural gas production. Most of the increases were in Texas, New Mexico, Colorado, Wyoming, and Utah. Oklahoma and the Gulf of Mexico, which had significant reserve declines in 1999, also experienced reserve increases. The relatively high levels of reserve additions were influenced greatly by increased drilling. Exploratory gas well completions rose 34 percent and developmental well drilling increased 45 percent in 2000. (This report is available on the EIA web-site at:
http://www.eia.doe.gov/oil_gas/natural_gas/data_publications/nat_data_publications.html )
<![if !supportEmptyParas]> <![endif]>
Summary:
Spot prices began the week higher than the previous Friday, then declined as warmer-than-normal temperatures prevailed in the heavily populated eastern region of the country. On the NYMEX, the contract for November delivery closed 30 percent lower than last year. Estimated weekly net additions to storage were again below average in the 4th week of October but stock levels are expected to have begun the heating season more than 400 Bcf higher than last year. EIA's latest natural gas reserves study reported a 6 percent increase in U.S. proved reserves in the year 2000.
<![if !supportEmptyParas]> <![endif]>
<![if !supportEmptyParas]> <![endif]>