Overview:  Monday, October 22, 2001
The spot price at the Henry Hub finished the week at $2.34 per MMBtu, or just 3 cents above its level the previous Friday.  On the NYMEX, the futures contract for November delivery ended the week over a quarter of a dollar higher than the previous Friday, at $2.681 per MMBtu. Despite a brief 2-day cold snap, temperatures across the Lower 48 States were relatively mild. Although some unseasonably cooler temperatures were seen from the Gulf Coast into the Mid-continent, even there average temperatures for the week generally were 50 degrees or more. (See Temperature Map) (See Deviation Map) On October 12 the Coast Guard lifted the ban on liquefied natural gas (LNG) tankers' use of Boston harbor to reach Distrigas of Massachusetts' import facility, helping to alleviate concerns about winter supply in New England.  The spot price for West Texas Intermediate (WTI) crude oil fell by 10 percent on Tuesday, October 16, dropping to $20.05 per barrel. By Friday, WTI had recovered two thirds of the decrease, ending the week at $21.85 per barrel, or $3.77 per MMBtu.
<![if !supportEmptyParas]> <![endif]>
<![if !vml]>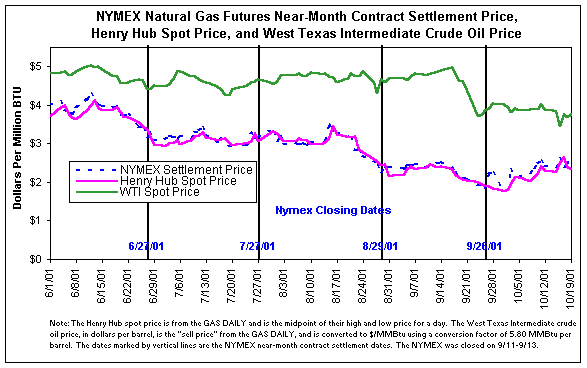 <![endif]>
<![if !supportEmptyParas]> <![endif]>
Prices:
In a week of accentuated volatility, spot prices fluctuated within a 40-cent range, however Friday-to-Friday price gains were limited to just a few cents in most markets. Losses of a few pennies to 16 cents were recorded primarily in the Permian and San Juan basins, the Rockies, and California.  At the Henry Hub, cumulative increases of $0.39 per MMBtu from Monday to Wednesday lifted the spot price to $2.65 per MMBtu–its highest level in 7 weeks. Likewise, some market locations serving the Northeast saw spot prices climb past the $3.00 mark for the first time since late August 2001, while the average price in the Rockies jumped to $2.24 per MMBtu, up 28 cents from the previous Friday.  Major factors that helped bolster prices at mid week were a cold front that moved into the Midwest on Tuesday bringing cooler temperatures all the way down into Texas, Tuesday's release of the Salomon Smith Barney (SSB) forecast for a colder-than-normal winter, and rumors that the federal government might shut down nuclear-powered electricity generating plants that do not meet security requirements.  However, the rally was all but undone by the relatively large American Gas Association (AGA) injection estimate announced on Wednesday, the lack of strong demand owing to continuing weakness in the economy, the return of mild temperatures on Friday, and forecasts for further warming on the weekend.  By week's end, Friday-to-Friday changes in average spot prices ranged from minus to plus 11 cents, with average prices of $1.86 per MMBtu in the Rockies, $2.24 in Louisiana-Onshore South, and $2.54 in Appalachia.
For the week, the slump in futures prices on Wednesday, brought on by a higher-than-expected stock build report from AGA, was just a temporary setback in a rising trend fueled primarily by colder-than-normal winter outlooks from both SSB and the National Weather Service (NWS).  NWS's Thursday release of its latest 6-10 day outlook for colder-than-normal temperatures in the Midwest and Northeast added to the impact of its winter outlook. Thus, despite Wednesday's over 17-cent drop after the AGA data release, on Friday the futures contract for November delivery settled at $2.681 per MMBtu, a gain of $0.251 for the week.  This was the first time in nearly 2 months that a near-month contract settled above $2.60.  Likewise, settlement prices for all out-month contracts through November 2002 showed weekly gains of around 25 cents, as the January through October contracts climbed back above $3 per MMBtu.  The futures contract for December delivery just missed this threshold, settling on Friday at $2.990.
<![if !supportEmptyParas]> <![endif]>
Spot Prices ($ per MMBTU)-Selected Trading Centers

Mon. 10/15

Tues. 10/16

Wed. 10/17

Thur. 10/18

Fri.  10/19

Henry Hub

2.26

2.51

2.65

2.40

2.34

New York citygates

2.48

2.85

3.05

2.69

2.57

Chicago citygates

2.29

2.51

2.68

2.42

2.35

Northern CA PG&E

2.12

2.38

2.60

2.35

2.02

Southern CA (SOCAL)

2.24

2.41

2.60

2.34

2.17

Futures (Daily Settlement, $MMBTU)

November Delivery

2.378

2.592

2.418

2.486

2.681

December Delivery

2.660

2.852

2.703

2.800

2.990

Source: Financial Times Energy, Gas Daily. 
<![if !supportEmptyParas]> <![endif]>
Storage:
Net additions to working gas inventories were 63 Bcf for the week ended Friday, October 12, according to the latest AGA storage report.  With this estimate, total gas stocks surpassed 3,000 Bcf for the first time since October 1999.  The total net injection of 63 Bcf is about 27 percent greater than the 6-year average of AGA injection estimates for this week. The net injection of 36 Bcf in the East region is very close to the 6-year average of 34 Bcf, while the 15 Bcf injected in the Producing region exceeds the 6-year average by 36 percent.  The net stock build of 12 Bcf in the West region is the largest for this week in the 8-year AGA data series and is more than double the 6-year average.  It also caused the West region's storage surplus compared to the 6-year average level to surge into double digits, as it increased 2.5 percentage points from last week's measure.  The AGA has announced that it will terminate its weekly gas storage survey with the final release scheduled for January 2, 2002. (See Storage Figure)
<![if !supportEmptyParas]> <![endif]>
All Volumes in BCF

Current Stocks (Fri,10/12)

Estimated 6-Year (1995-2000) Average

Percent Difference from 6 Year Average

Net Change from Last Week

One-Week Prior Stocks (Fri,10/5)

<![if !supportMisalignedRows]>
<![endif]>

East Region

1,807

1,746

3.5%

36

1,771

<![if !supportMisalignedRows]>
<![endif]>

West Region

390

353

10.6%

12

378

<![if !supportMisalignedRows]>
<![endif]>

Producing Region

857

708

21.0%

15

842

<![if !supportMisalignedRows]>
<![endif]>

Total Lower 48

3,054

2,807

8.8%

63

2,991

<![if !supportMisalignedRows]>
<![endif]>

Note:  net change data are estimates published by AGA on Wednesday of each week.  All stock-level Figures are EIA estimates based on EIA monthly survey data and weekly AGA net-change estimates.  Column sums may differ from Totals because of independent rounding.

<![if !supportMisalignedRows]>
<![endif]> <![if !supportMisalignedRows]>
<![endif]> <![if !supportMisalignedRows]>
<![endif]> <![if !supportMisalignedRows]>
<![endif]>
<![if !supportEmptyParas]> <![endif]>
Other Market Trends:
National Weather Service Winter Outlook
In its October 18 release of its outlook for the coming winter, the National Weather Service advised the nation to be prepared for another winter more like last winter than the warmer-than-normal winters of the late 1990s.  The NWS points out that in the absence of a strong El Nino or La Nina climate pattern, the likelihood of highly variable winter conditions is increased, with "…sharp swings in temperature and precipitation, including heavy lake-effect snows in the Northeast and Midwest, cold air outbreaks in the South, and the potential for Nor'easters along the East Coast."  The outlook notes that colder-than-normal temperatures are expected in three regions with significant winter natural gas consumption–the Northeast, the upper Midwest and Great Lakes, and the northern Great Plains and Rockies.
<![if !supportEmptyParas]> <![endif]>
According to the latest release by the Bureau of Labor Statistics, the Consumer Price Index for All Urban Consumers (CPI-U) increased by 0.4 percent at a seasonally-adjusted annual rate (SAAR) in the month of September, following a 0.1 percent increase in August.  While the BLS's special index for petroleum-based energy rose 8.0 percent in September, the index's cumulative change for the 9 months through September 2001 was a decline of 1.7 percent.  For the category of "Gas (piped) and electricity," the September change (SAAR) was a 2.2 percent decline, and the 6-month change through September 2001 was a decline of 7.6 percent.
<![if !supportEmptyParas]> <![endif]>
<![if !supportEmptyParas]> <![endif]>
Summary:
Spot and futures prices, marked by increased volatility, ended the week moving in opposite directions.  Spot prices moved lower in light of ample inventories, secure supply, and a lack of demand strength.  Futures prices increased on the strength of both near- and long-term outlooks for colder-than-normal temperatures.
<![if !supportEmptyParas]> <![endif]>
<![if !supportEmptyParas]> <![endif]>
<![if !supportEmptyParas]> <![endif]>