After beginning last week down on Monday (10/1), spot prices at the Henry Hub moved up and peaked on Thursday before declining slightly to end trading last week at $2.12 per MMBtu-almost $0.30 higher than the previous Friday. At the NYMEX futures market, the settlement price for November delivery of natural gas moved up most days before dropping by almost $0.19 per MMBtu on Friday to end the week down from the previous Friday. Both the spot and futures markets were open on Columbus Day (10/8) and the downward trend at the Henry Hub continued as spot prices were reported to be $2.04 per MMBtu, while on the NYMEX the November contract gained over 4 cents. A key influence on prices last week seems to have been the weather.Cool weather moved into the Midwest on Wednesday affecting most markets in the eastern two-thirds of the country, and warm temperatures were a prime contributor in California (See Temperature Map) (See Deviation Map)Net additions to storage slowed to an estimated daily average of9.4 Bcf per day. This rate remains close to the average 10 Bcf per day for that week during the previous 6 years. The price of West Texas Intermediate (WTI) crude oil continued to trend down most days and ended trading on Friday at $22.40 per barrel, or $3.86 per MMBtu.
<![if !supportEmptyParas]><![endif]>
<![if !vml]>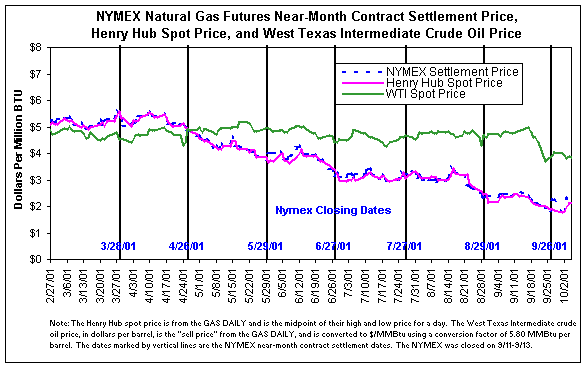 <![endif]>
<![if !supportEmptyParas]><![endif]>
Prices:
<![if !supportEmptyParas]><![endif]>
Spot prices at most major market locations trended up most days last week similar to price movement at the Henry Hub. Prices moved down on both Friday (10/5) and Monday (10/8) as weather forecasts for this week were calling for a return to normal seasonal temperatures in most parts of the country.Several of the regional markets recorded price increases from Friday to Friday that were between $0.20 and $0.30 per MMBtu. In the Rockies, where prices were below $1.00 per MMBtu two weeks earlier, spot gas traded on Friday at $1.65. In southern California, prices at the citygate moved above $2.00 per MMBtu for the first time in 2 weeks, while prices in Chicago and New York City also moved up $0.30 and $0.35, respectively, from the previous Friday.
<![if !supportEmptyParas]><![endif]>
The NYMEX futures contract for November delivery ended trading last week at $2.227 per MMBtu—down about 2 cents from a week earlier. On Monday, the November price rose to $2.270, yet all contracts covering the upcoming heating season (November to March) continued to trade well below $3.00 per MMBtu. These contracts settled on Monday with December at $2.647,March at $2.808,and January recording the highest price for the period at $2.855 per MMBtu. Last year at this time these contracts were trading at $5.008 for November 2000 and $4.658 for March 2001 with the December contract topping the period at $5.113 per MMBtu.
<![if !supportEmptyParas]><![endif]>
Spot Prices ($ per MMBTU)-Selected Trading Centers

Mon. 10/01

Tues. 10/02

Wed. 10/03

Thur. 10/04

Fri.10/05

Mon10/08

Henry Hub

1.77

1.82

1.98

2.13

2.12

2.04

New York citygates

2.02

2.05

2.26

2.42

2.47

2.41

Chicago citygates

1.77

1.82

2.05

2.18

2.17

2.02

Northern CA PG&E

1.70

1.81

1.93

2.03

1.79

1.82

Southern CA (SOCAL)

1.87

1.80

1.96

2.13

2.02

1.92

Futures (Daily Settlement, $MMBTU)

<![if !supportEmptyParas]><![endif]>

November Delivery

2.208

2.268

2.320

2.414

2.227

2.27

December Delivery

2.602

2.660

2.688

2.770

2.617

2.65
<![if !supportEmptyParas]><![endif]>
Storage:
Net injections of natural gas into storage were 66 billion cubic feet (Bcf) for the week ended September 28, 2001 according to the American Gas Association (AGA).At 9.4 Bcf per day, the rate at which working gas was injected into storage declined just over 27 percent from the previous week and just over 15 percent compared with the same week last year.Working gas in storage remains well ahead of historical levels (See Storage Figure).If the rate of injections through the remainder of the refill season matches the 6-year average, working gas in storage will be 3,153 Bcf.The slowdown of injections into storage was most apparent in the Producing Region where the 13 Bcf injected last week is the third lowest figure reported for the report week in the 8-year history of AGA data, and is 48 percent less than the fill reported last year.The West Region on the other hand matched the highest weekly injection for the report week in the AGA data series, and doubled last year's injections.Injections in the East region seemed fairly typical for the report week:47 Bcf injected into storage last week compared with a 6-year average of 46 Bcf for the same week.
<![if !supportEmptyParas]><![endif]>
All Volumes in BCF

Current Stocks (Fri,9/21)

Estimated 6-Year (1995-2000) Average

Percent Difference from 6 Year Average

Net Change from Last Week

One-Week Prior Stocks (Fri,9/14)

<![if !supportMisalignedRows]>
<![endif]>

East Region

1,725

1,684

2.4%

47

1,678

<![if !supportMisalignedRows]>
<![endif]>

West Region

378

346

9.3%

6

372

<![if !supportMisalignedRows]>
<![endif]>

Producing Region

823

678

21.3%

13

810

<![if !supportMisalignedRows]>
<![endif]>

Total Lower 48

2,926

2,708

8.1%

66

2,860

<![if !supportMisalignedRows]>
<![endif]>

Note:net change data are estimates published by AGA on Wednesday of each week.All stock-level Figures are EIA estimates based on EIA monthly survey data and weekly AGA net-change estimates.Column sums may differ from Totals because of independent rounding.
Other Market Trends:
The U.S. Coast Guard as a result of the heightened state of national security following last month's attacks has suspended liquefied natural gas (LNG) shipments into Boston harbor. Last year the Boston facility received 45 shipments totaling 99 Bcf.

In the EIA article, Winter Fuels Outlook: 2001/2002 (October 2001) a significant decline in natural gas prices is projected for the upcoming winter compared to last year. Wellhead prices are expected to average $2.21 per MMBtu for this winter—almost 62 percent less than last year's average of $5.78. Several factors account for this sharp drop including the assumed return to normal winter temperatures, above-average working gas stock levels, and reduced demand from a slowdown in the U.S. economy. (The complete report is available on the EIA Web Site at:
http://www.eia.doe.gov/emeu/steo/pub/special/win2001/winfuel.html

<![if !supportEmptyParas]><![endif]><![if !supportEmptyParas]><![endif]>
Summary:
Cool temperatures in the Midwest and warm weather in California contributed to price increases last week. The stock build slowed but the working gas level continues to be 9 percent above average. Projected wellhead prices during the upcoming winter are forecasted to be more than 60 percent below last year.
<![if !supportEmptyParas]><![endif]>
<![if !supportEmptyParas]><![endif]>