Overview:  Monday, September 17, 2001
Last week was a week like no other, as both financial and energy markets were disrupted Tuesday morning by the attacks on the World Trade Center (WTC) and the Pentagon.  The New York Mercantile Exchange (NYMEX), located within four blocks of the WTC, closed almost immediately after the first attack; spot markets throughout the country closed soon after news of the attacks reached them.  Futures trading did not resume until Friday, and then only in an abbreviated session using the NYMEX ACCESS system.  Regular, open-outcry trading resumed at around 11:30 AM today (Monday, September 17). Cash markets did re-open last Wednesday, and continued to operate, albeit at reduced activity levels, through the rest of the week.  Temperatures in most parts of the country were seasonable early in the week, but by week's end were falling in the Northeast and the Midwest as a cold front moved down from the north. (See Temperature Map) (See Deviation from Normal Temperatures Map)  At the Henry Hub, spot prices gained 6 cents from the preceding week, ending trading on Friday at $2.41 per MMBtu.  In its one day of open-outcry trading, the futures contract for October delivery fell $0.108 per MMBtu to settle at $2.392.  The spot price for West Texas Intermediate crude oil slipped slightly on Monday to $27.65 per barrel, or $4.77 per MMBtu.
<![if !supportEmptyParas]> <![endif]>
<![if !vml]>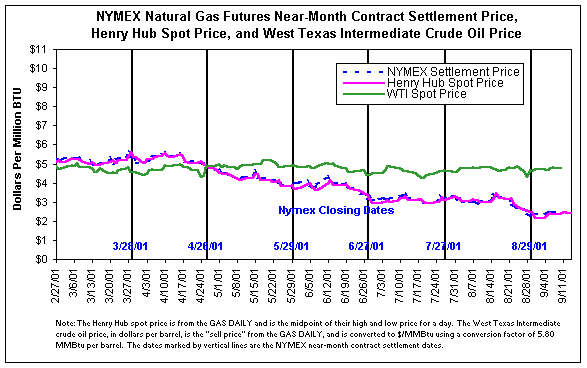 <![endif]>
<![if !supportEmptyParas]> <![endif]>
<![if !supportEmptyParas]> <![endif]>
Prices:
Tuesday's events caused all natural gas trading to come to a halt. The industry was able to resume trading of spot gas on Wednesday, as most of the larger energy trading firms such as ENRON, Dynegy, Duke Energy, El Paso, and others re-opened their respective on-line and telephone-based trading operations. While trading continued throughout the week, nearly all participants were trading only to cover essential positions and balancing requirements.  Daily volumes traded, according to Gas Daily, were off 34 percent on Wednesday from Monday's levels.  By Friday, volumes had recovered to about 86 percent of the previous Friday's reported volumes.  Despite minimal temperature-driven demand and a large storage injection estimate, spot prices at most locations increased slightly on a Friday-to-Friday basis, with gains primarily in the range of a nickel to a dime. Price increases were a few pennies more in the Appalachian region and into Northeast citygates.   Notable exceptions to the slight upward trend were in the West and in Florida.  Spot prices at the PG&E citygate were down about 16 cents to $2.21 per MMBtu, as cooler temperatures and the tapering of agricultural processing activities eased demand.  In Florida, generally moderate temperatures beginning midweek and Tropical Storm Gabrielle's cooling rains and cloud cover dampened demand, sending prices on Florida Gas Transmission down 18 cents to $3.32 per MMBtu. 
<![if !supportEmptyParas]> <![endif]>
On Friday the NYMEX reopened for trading from 4:00-6:00 PM using its on-line ACCESS system. During this session, amid light trading volumes, the October contract opened at $2.720 per MMBtu, then declined steadily to $2.670.  Because of Tuesday's interruption, NYMEX has decided that all transactions made in last Monday's overnight ACCESS session, and any trades made last Tuesday, will be cleared against last Monday's settlement price, which was $2.392 per MMBtu.  On Monday, September 17, in the first open-outcry trading session since last Tuesday, the near-month contract opened trading at $2.552 per MMBtu.
<![if !supportEmptyParas]> <![endif]>
Spot Prices ($ per MMBTU)-Selected Trading Centers

Mon. 9/10

Tues. 9/11

Wed. 9/12

Thur. 9/13

Fri.  914

Henry Hub

2.39

2.47

2.45

2.39

2.41

New York citygates

2.69

2.81

2.84

2.69

2.66

Chicago citygates

2.37

2.51

2.49

2.39

2.39

Northern CA PG&E

2.24

2.03

2.19

2.13

2.11

Southern CA (SOCAL)

2.33

2.29

2.33

2.27

2.22

Futures (Daily Settlement, $MMBTU)

October  Delivery

2.392

Closed

Closed

Closed

2.670*

November Delivery

2.674

Closed

Closed

Closed

NA

Source: Financial Times Energy, Gas Daily.  *Final price reported during on-line ACCESS trading session.  NA=not available
<![if !supportEmptyParas]> <![endif]>
Storage:
Storage stocks increased by 95 Bcf during the week ended September 7, 2001, according to American Gas Association (AGA) estimates.  The average daily rate of net injections for the week was 13.6 Bcf per day, which is over 37 percent greater than the 6-year average rate for September. Although robust relative to historical levels, injections for the week fell slightly below the 100 Bcf level expected by some market participants.  The estimated 2,703 Bcf in total working gas with almost 2 months remaining in the refill season already exceeds the 2,699 Bcf in storage at the beginning of last heating season (See Storage Figure).  Assuming the refill rate equals the 6-year average for the remainder of the refill season, working gas stocks will reach 3,135 Bcf by the end of October 2001.      
<![if !supportEmptyParas]> <![endif]>
All Volumes in BCF

Current Stocks (Fri,9/07)

Estimated 6-Year (1995-2000) Average

Percent Difference from 6 Year Average

Net Change from Last Week

One-Week Prior Stocks (Fri,8/31)

<![if !supportMisalignedRows]>
<![endif]>

East Region

1,572

1,543

1.9%

60

1,512

<![if !supportMisalignedRows]>
<![endif]>

West Region

371

330

12.5%

10

361

<![if !supportMisalignedRows]>
<![endif]>

Producing Region

760

628

21.0%

25

735

<![if !supportMisalignedRows]>
<![endif]>

Total Lower 48

2,703

2,501

8.1%

95

2,608

<![if !supportMisalignedRows]>
<![endif]>

Note:  net change data are estimates published by AGA on Wednesday of each week.  All stock-level Figures are EIA estimates based on EIA monthly survey data and weekly AGA net-change estimates.  Column sums may differ from Totals because of independent rounding.

<![if !supportMisalignedRows]>
<![endif]> <![if !supportMisalignedRows]>
<![endif]> <![if !supportMisalignedRows]>
<![endif]> <![if !supportMisalignedRows]>
<![endif]>
<![if !supportEmptyParas]> <![endif]>
Other Market Trends:
I According to Baker-Hughes, there were 993 rigs drilling gas prospects during the week ended September 7.  This is the first time that the gas rig count has fallen below 1,000 since May 18 of this year.  For the week of September 14, the count fell by another 12 rigs to 981.  Although this is down from the peak of 1,068 recorded for the week of July 13, 2001, it is still 36 percent above the average of 720 for all of 2000. By comparison, the average rig count for 1990-1999 was only 441.
<![if !supportEmptyParas]> <![endif]>
Summary:
Natural gas markets were completely, but only temporarily, disrupted by the attacks of Tuesday, September 11. Beginning Wednesday, spot markets were back in operation, with most locations gaining slightly from the previous week.  Futures trading was halted for nearly the entire remainder of the week. Working gas stocks continue to grow at significantly greater-than-average rates.
<![if !supportEmptyParas]> <![endif]>