Spot market prices at the Henry Hub trended upward most days last week reaching a high of $2.40 per MMBtu on Thursday before ending the week at $2.35-20 cents higher than the previous Friday. This increase occurred as market fundamentals were generally unchanged last week with continued weakness in weather-related demand along with persistent strong natural gas supplies and above average stock levels. On the weather front moderate temperatures prevailed in most parts of the country again last week. (See Temperature Map) (See Deviation from Normal Temperatures Map) At the NYMEX futures market, the near-month October contract also moved up last week to the end the week at $2.50 per MMBtu. The price of West Texas Intermediate (WTI) crude gained $0.80 per barrel last week and finished at $28.05 or $4.84 per MMBtu.
<![if !supportEmptyParas]> <![endif]>
<![if !vml]>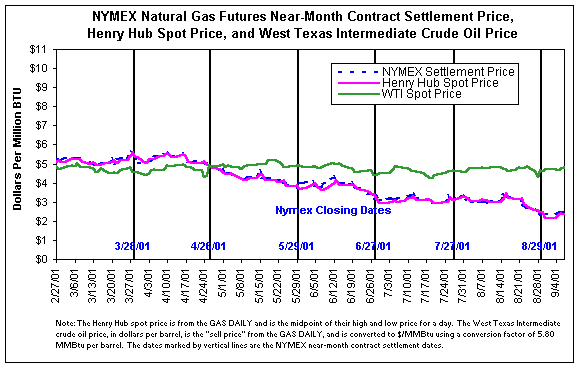 <![endif]>
<![if !supportEmptyParas]> <![endif]>
<![if !supportEmptyParas]> <![endif]>
Prices:
At most major upstream market hub locations last week, the spot price increased within a rough range of between 10 and 20 cents per MMBtu, with the main exceptions being markets in the Rockies and the San Juan Basin. Prices at most of these markets began the holiday--shortened week trading in a range between $2.06 and $2.20 per MMBtu but moved up steadily over the next few days. Prices reached their highs for the week on Thursday despite the lack of any warm weather to stimulate cooling demand; indications of reduced industrial consumption due to the overall slowing in the US economy, and recent growth in domestic production. Prices varied by region but the trend was similar. At Katy in East Texas, spot prices reached $2.32 before ending the week at $2.22; at Waha in West Texas, the high was $2.22 before dropping to $2.13; and at Midcontinent in Oklahoma a high of $2.25 dropped to $2.17. The lowest prices were reported in the Rockies at the Opal Hub in Wyoming where prices reached a high of $1.93 before ending the week at $1.81. At Blanco, located in the San Juan Basin in New Mexico, prices reached $2.09 then ended the week at $1.93 per MMBtu. Prices at major citygate markets were reported to have followed a similar pattern at Chicago and New York City as prices gained 16 to 18 cents per MMBtu early in the week before moving down on Friday.
Prices on the NYMEX, which have been generally trending down for several months, moved up each day last week as the settlement price for the October contract ended the week at $2.50 per MMBtu. The key winter heating months of December, January, and February settled on Friday at $3.095 per MMBtu $3.240, $3.207, respectively. Although high relative to current prices, this is a decline of more than 30 percent compared with the end of the first week in September last year, when these winter month future contracts traded for $5.187, $5.140, and $4.865, respectively.
<![if !supportEmptyParas]> <![endif]>
<![if !supportEmptyParas]> <![endif]>
Spot Prices ($ per MMBTU)-Selected Trading Centers

Mon. 9/03*

Tues. 9/04

Wed. 9/05

Thur. 9/06

Fri. 9/07

Henry Hub

2.15

2.20

2.34

2.40

2.35

New York citygates

2.35

2.48

2.63

2.66

2.56

Chicago citygates

2.16

2.22

2.31

2.37

2.30

Northern CA PG&E

2.12

2.12

2.29

2.32

2.18

Southern CA (SOCAL)

2.16

2.22

2.33

2.39

2.20

Futures (Daily Settlement, $MMBTU)

October Delivery

2.380

2.359

2.420

2.440

2.500

November Delivery

2.710

2.670

2.724

2.740

2.780

Source: Financial Times Energy, Gas Daily. Sept. 3 was a Holiday.
<![if !supportEmptyParas]> <![endif]>
Storage:
The storage injection rate held steady for a second consecutive week at an average of 11 Bcf per day, as the American Gas Association (AGA) estimated that a net 77 Bcf of natural gas was injected for the week ended August 31, following estimated inventory additions of 76 Bcf during the preceding week.(See Storage Figure) According to EIA estimates based on AGA data, total net injections for the month of August were 323 Bcf, an average of 10.4 Bcf per day. This is 24 percent greater than the EIA 6-year (1995-2000) average of 261 Bcf for the month (8.4 Bcf per day). Net injections for the week in the East region matched the average over the previous 6 years. Net injections in both the Producing and West regions and for the nation as a whole exceeded their respective 6-year averages, with the West region more than doubling its 6-year average of 3 Bcf. At an estimated 2,608 Bcf, total working gas in storage is just 90 Bcf less than the highest EIA end-of-August level since 1992, which was recorded in 1998. If net injections in September and October equal the EIA 6-year averages for these months, total working gas in storage will be 3,109 Bcf as of November 1—6 percent higher than the 6-year average of 2,935 Bcf.
<![if !supportEmptyParas]> <![endif]>
All Volumes in BCF

Current Stocks (Fri,8/31)

Estimated 6-Year (1995-2000) Average

Percent Difference from 6 Year Average

Net Change from Last Week

One-Week Prior Stocks (Fri,8/24)

<![if !supportMisalignedRows]>
<![endif]>

East Region

1,512

1,497

1.0%

49

1,463

<![if !supportMisalignedRows]>
<![endif]>

West Region

361

324

11.5%

7

354

<![if !supportMisalignedRows]>
<![endif]>

Producing Region

735

612

20.1%

21

714

<![if !supportMisalignedRows]>
<![endif]>

Total Lower 48

2,608

2,433

7.2%

77

2,531

<![if !supportMisalignedRows]>
<![endif]>

Note: net change data are estimates published by AGA on Wednesday of each week. All stock-level Figures are EIA estimates based on EIA monthly survey data and weekly AGA net-change estimates. Column sums may differ from Totals because of independent rounding. *Revised to incorporate EIA survey data for June 2001.

<![if !supportMisalignedRows]>
<![endif]> <![if !supportMisalignedRows]>
<![endif]> <![if !supportMisalignedRows]>
<![endif]> <![if !supportMisalignedRows]>
<![endif]>
<![if !supportEmptyParas]> <![endif]>
Other Market Trends:
In the September issue of the Short Term Energy Outlook (STEO), EIA again lowered its forecast for natural gas prices covering the upcoming winter. The latest STEO projects wellhead prices of $2.83 per MMBtu in the fourth quarter of 2001 and $2.79 in the first quarter of 2002. The lower prices are forecasted to continue throughout 2002 as the annual average wellhead price for next year is projected to be $2.57 per MMBtu. This compares with an annual average of $3.50 in 2000 and a projected level of $4.11 per MMBtu for 2001Continued declines in industrial consumption in 2001 coupled with elevated stock levels and increases in domestic production have been key factors in the steady decline in projected prices. (The complete STEO report is available on the EIA Web Site at the "Forecasts" section.) ection.)
<![if !supportEmptyParas]> <![endif]>
Summary:
Spot prices moved up early last week then retreated, as the relatively abundant supplies could not support this upward trend. EIA's latest STEO forecast calls for a decline in natural gas prices during the last quarter of this year and continuing into 2002.
<![if !supportEmptyParas]> <![endif]>