Prices in both spot and futures markets rose last week. For the week, spot prices at the Henry Hub increased by 25 cents from the previous Friday to $3.23 per MMBtu—an increase of 8 percent. The settlement price of the NYMEX futures contract for September delivery gained 37-plus cents on Wednesday in response to the AGA storage report, then declined to settle at $3.303 on Friday—still up $0.263 from the previous Friday's ending price. Pressure for sustained high prices was limited as temperatures across most of the nation moderated significantly from the heat wave conditions experienced for much of the preceding week. (See Temperature Map) (See Deviation from Normal Temperatures Map). The spot price for West Texas Intermediate crude oil oscillated in a fairly narrow range between $26.70 and $27.85 per barrel, and for the week was down $1.40 at $26.70 per barrel, or about $4.60 per MMBtu.
<![if !vml]>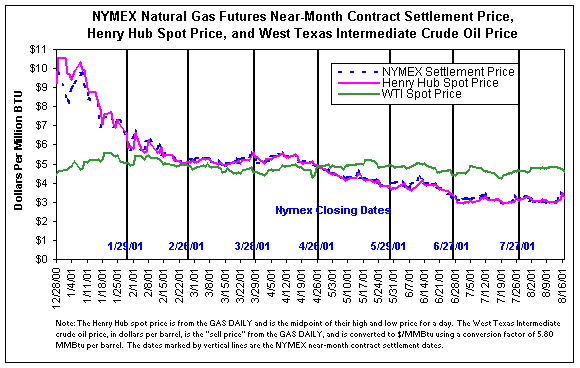 <![endif]>
<![if !supportEmptyParas]> <![endif]>
Prices:
Cash prices exhibited a slight rise early last week, with upward price pressure being added by anticipation of a lower net injection figure than in the preceding 3 weeks, and the development of tropical disturbances in the eastern Caribbean Sea. Most spot trading had been completed before Wednesday's release of AGA's unexpectedly low net injection estimate of 3 Bcf, but its impact on spot markets was sizable on Thursday. Prices at the Henry Hub gained 29 cents at $3.44 per MMBtu on Thursday. However, cash prices lost their momentum on Friday, as the price declined to $3.23. Still, for the week, spot prices at most locations had gains in the 12 to 30-cent range, with increases somewhat higher in the Rockies and in the San Juan Basin. Prices into New York and Chicago citygates were up 20 and 23 cents, to $3.48 and $3.20 per MMBtu, respectively. Similar Friday-to-Friday increases occurred in California, where spot gas on SOCAL was up 18 cents to $3.28 per MMBtu, and up 26 cents on PG&E to $3.22.
<![if !supportEmptyParas]> <![endif]>
The September futures contract's Tuesday increase of $0.095 to $3.094 per MMBtu was the first time in 8 trading days that its price had been outside of a 5-cent range around $3. However, after AGA's 3 Bcf injection estimate on Wednesday, the September contract price ended trading up $0.374 at $3.468 per MMBtu. This is the September contract's highest settlement price since becoming the near-month contract on July 30. Further, the prices for January and February delivery rose above $4 per MMBtu for the first time since the second week of July. However, futures prices fell on Thursday and Friday. The September contract dropped $0.101, then $0.047, to end the week at $3.303 per MMBtu. Nonetheless, this is a gain of more than 26 cents from the previous Friday's level.
<![if !supportEmptyParas]> <![endif]>
Spot Prices ($ per MMBTU)-Selected Trading Centers

Mon. 8/13

Tues. 8/14

Wed. 8/15

Thur. 8/16

Fri. 8/17

Henry Hub

3.00

3.03

3.15

3.44

3.23

New York citygates

3.28

3.31

3.45

3.78

3.48

Chicago citygates

3.01

3.02

3.12

3.46

3.20

Northern CA PG&E

3.03

3.15

3.22

3.59

3.22

Southern CA (SOCAL)

3.24

3.08

3.20

3.55

3.28

Futures (Daily Settlement, $MMBTU)

September Delivery

2.999

3.094

3.468

3.367

3.303

October Delivery

3.043

3.142

3.508

3.415

3.334

Source: Financial Times Energy, Gas Daily
<![if !supportEmptyParas]> <![endif]>
Storage:
Only 3 Bcf was added to stocks for the week ended Friday August 10, according to AGA estimates. This injection estimate is far below the 80 Bcf reported in the previous week and well below the previous low for any full week in August, which was reported in 1995 when 37 Bcf was added during the week ended August 18. This is the lowest injection estimate for any week of the refill-season months of May through September in the AGA's 8-year database (See Storage Figure). A key factor contributing to the sharp decline in the stock build was the record-high summer gas consumption reported by several large utilities in the Northeast in response to the region's first extended period of high temperatures during the second week of August. ConEd in New York reported a new summer daily gas delivery record of over 1 Bcf on August 9, 2001. On a regional basis, only the West reported an increase in stocks, while the Producing region reported no change. Even after this somewhat dramatic shift in weekly storage activity, EIA's stock estimate of 2,345 Bcf as of August 10 remains above the previous 6-year average by almost 4 percent, although the net withdrawals in the East dropped that region's stocks below the 6-year regional average.
<![if !supportEmptyParas]> <![endif]>
All Volumes in BCF

Current Stocks (Fri,8/10)

Estimated 6-Year (1995-2000) Average

Percent Difference from 6 Year Average

Net Change from Last Week

One-Week Prior Stocks (Fri,8/3)

<![if !supportMisalignedRows]>
<![endif]>

East Region

1,331

1,354

-1.7%

-12

1,343

<![if !supportMisalignedRows]>
<![endif]>

West Region

340

316

7.6%

15

325

<![if !supportMisalignedRows]>
<![endif]>

Producing Region

674

586

14.9%

0

674

<![if !supportMisalignedRows]>
<![endif]>

Total Lower 48

2,345

2,256

3.9%

3

2,342

<![if !supportMisalignedRows]>
<![endif]>

Note: net change data are estimates published by AGA on Wednesday of each week. All stock-level Figures are EIA estimates based on EIA monthly survey data and weekly AGA net-change estimates. Column sums may differ from Totals because of independent rounding. *Revised to incorporate EIA survey data for April 2001.

<![if !supportMisalignedRows]>
<![endif]> <![if !supportMisalignedRows]>
<![endif]> <![if !supportMisalignedRows]>
<![endif]> <![if !supportMisalignedRows]>
<![endif]>

<![if !supportMisalignedRows]>
<![endif]> <![if !supportMisalignedRows]>
<![endif]> <![if !supportMisalignedRows]>
<![endif]>
Other Market Trends:
The Bureau of Labor Statistics, in its Consumer Price Index (CPI) and Producer Price Index (PPI) reports recently released for the month of July 2001, documents the general decline in energy prices, and specifically that for natural gas. The (unadjusted) PPI for natural gas as a "crude material" dropped 19 percent in July, following a 19.1 percent drop in June. As of July, the index stands at 133.2 (1982=100); in March 2001, it was 215.8. While the CPI for all urban consumers declined 0.3 percent in July, the overall energy index fell 5.6 percent in July—its largest drop since April 1986—and the natural gas index fell by 4.1 percent.
Summary:
Although anticipating a low storage injection estimate, cash and futures markets alike were surprised by the historically low mid-summer net injection estimate. This resulted in temporary surges in cash and futures prices, which began to decline somewhat by the end of the week.
<![if !supportEmptyParas]> <![endif]>