Overview:  Monday, August 6, 2001
After opening the week up at $3.353 per MMBtu, prices on the NYMEX futures market moved down 3 of the remaining 4 days of the week to settle at the end of the week at $2.971-more than 22 cents lower than the previous Friday.  Despite unseasonably high temperatures in much of the Midwest and parts of the Southwest last week and the threat of a tropical storm in the Gulf of Mexico,  (See Temperature Map)<![if !supportNestedAnchors]><![endif]> (See Deviation from Normal Temperatures Map) prices at the Henry Hub spot market moved down late in the week, falling to $3.06 per MMBtu on Friday. Net injections to storage declined for the second consecutive week but still averaged 11 Bcf per day, bringing the estimated stock level to 2,262 Bcf as of July 27 with more than 3 months remaining in the refill season. The price of West Texas Intermediate (WTI) crude oil ended the week up $0.60 per barrel from the previous Friday at $27.65 or $4.77 per MMBtu.
<![if !supportEmptyParas]> <![endif]>
<![if !vml]>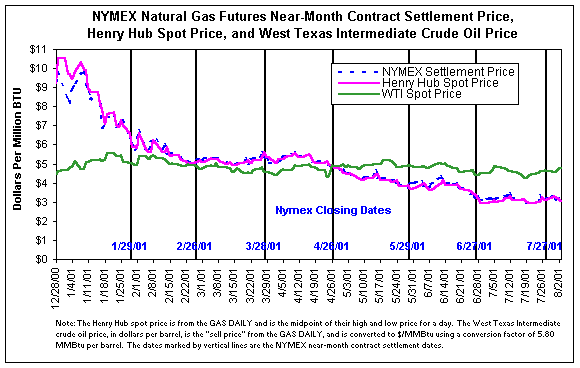 <![endif]>
<![if !supportEmptyParas]> <![endif]>
Prices: 
Despite the presence of Tropical Storm Barry, which formed off the West coast of Florida on Thursday and had the potential to become the season's first hurricane, prices on both the spot and futures markets did not rise, as one would expect given the potential threat to supplies. For the week, spot prices at the Henry Hub were down  $0.26 per MMBtu from Tuesday's high of $3.32. Settlement prices on the NYMEX also ended the week down for the near-month September contract and for several months thereafter. In trading on Friday, prices for contracts covering the period September to January 2002 dropped between 18 and 22 cents per MMBtu.  Settlement prices on Friday (8/03/01) for contracts for future delivery months through the winter peak month of January 2002 ranged from September at $2.971 to January at $3.650 per MMBtu. Last year at this time, the NYMEX contracts for the comparable period ranged between $4.25 and $4.432 per MMBtu. Spot prices at the Henry Hub and at most other major market locations in early August 2000 ranged between $4.05 and $4.25 per MMBtu.  The improved stock level and generally moderate summer temperatures thus far in much of the Northeast, which has reduced the usual or expected electric utility demand, appear to be fundamental reasons for this general decline in natural gas prices.
<![if !supportEmptyParas]> <![endif]>
The second week of hot weather in the Midwest saw high temperatures in the mid 90s most days last week in much of the region. Chicago citygate prices moved up at midweek but ended the week virtually unchanged from the previous Friday. Prices at major citygates in the Northeast followed a similar pattern last week. The Northeast has yet to experience an extended period of high temperatures this summer but the latest National Weather Service 6 to 10 day forecast is calling for a period of very warm and humid weather for the second week of August. In California, where warm temperatures saw prices move up at midweek, prices decreased on Friday but ended the week in southern and northern California up $0.48 and $0.39 per MMBtu from the previous Friday.
<![if !supportEmptyParas]> <![endif]>
<![if !supportEmptyParas]> <![endif]>
Spot Prices ($ per MMBTU)-Selected Trading Centers

Mon.  7/30

Tues. 7/31

Wed. 8/01

Thur. 8/02

Fri.   8/03

Henry Hub

3.27

3.32

3.26

3.15

3.06

New York citygates

3.55

3.62

3.61

3.52

3.32

Chicago citygates

3.31

3.39

3.29

3.17

3.05

Northern CA PG&E

3.38

3.31

3.53

3.61

3.30

Southern CA (SOCAL)

3.77

3.69

3.74

3.85

3.56

Futures (Daily Settlement, $MMBTU)

August Delivery

3.353

3.296

3.081

3.192

2.971

September Delivery

3.388

3.341

3.125

3.232

3.014

Source: Financial Times Energy, Gas Daily
<![if !supportEmptyParas]> <![endif]>
Storage:
Net injections into storage were 77 Bcf during the week ended Friday, July 20, according to American Gas Association (AGA) estimates, marking the second straight week in which net injections into storage declined relative to the previous week.  Although lower than the record-breaking additions to storage posted throughout most of the current refill season, net injections were the highest since 1996 and were almost 31 percent higher than the average of the previous six years for the report week.   At this point in the refill season, stocks are over 7 percent greater than the average for the last 6 years (See Storage Figure).  Although net injections in the Western and Producing regions exceeded the volumes reported in the same report week last year, in the Eastern region, net additions to storage were 1 Bcf or 2 percent lower than last year as warm weather may have increased cooling demand in the region.
<![if !supportEmptyParas]> <![endif]>
<![if !supportEmptyParas]> <![endif]>
All Volumes in BCF

Current Stocks (Fri,7/27)

Estimated 6-Year (1995-2000) Average

Percent Difference from 6 Year Average

Net Change from Last Week

One-Week Prior Stocks (Fri,7/20)

<![if !supportMisalignedRows]>
<![endif]>

East Region

1,288

1,256

2.6%

48

1,240

<![if !supportMisalignedRows]>
<![endif]>

West Region

316

308

2.6%

10

306

<![if !supportMisalignedRows]>
<![endif]>

Producing Region

658

569

15.6%

19

639

<![if !supportMisalignedRows]>
<![endif]>

Total Lower 48

2,262

2,133

6.0%

77

2,185

<![if !supportMisalignedRows]>
<![endif]>

Note:  net change data are estimates published by AGA on Wednesday of each week.  All stock-level Figures are EIA estimates based on EIA monthly survey data and weekly AGA net-change estimates.  Column sums may differ from Totals because of independent rounding. *Revised to incorporate EIA survey data for April 2001.

<![if !supportMisalignedRows]>
<![endif]> <![if !supportMisalignedRows]>
<![endif]> <![if !supportMisalignedRows]>
<![endif]> <![if !supportMisalignedRows]>
<![endif]>
<![if !supportEmptyParas]> <![endif]>
Other Market Trends:
According to industry sources, the natural gas rig count in the U.S. declined to its lowest level in two months during the first week of August.  Baker Hughes Inc.'s latest report indicates that a total 1,266 drilling rigs were in operation during the week ended August 3, 2001 and of that total 1,047 were primarily drilling for natural gas. This is the lowest weekly natural gas total reported since June 1, 2001 when Baker Hughes reported that 1,037 natural gas rigs were active. Despite the recent decline, the number of rigs drilling for natural gas is 275, or almost 36 percent, greater than the number of rigs during the same week last year and more than two and one-half times the average number of gas rigs active during the first half of 1999.     
<![if !supportEmptyParas]> <![endif]>
<![if !supportEmptyParas]> <![endif]>
Summary: 
Prices generally trended down last week even though high temperatures dominated much of the Midwest and the Southwest. This downward trend occurred despite the threat of the season's first hurricane in the Gulf of Mexico.  Prices ended the week 30 to 40 percent below levels prevailing last year at the same time.
<![if !supportEmptyParas]> <![endif]>
<![if !supportEmptyParas]> <![endif]>