Overview:  Monday, July 30, 2001
Prices rose slightly mid-week with the return of summer weather and a reported slowing of net injections to storage for the prior week.  Temperatures for the week reverted close to normal in the Northeast and as much as 3 degrees above normal in the Midwest. (See Temperature Map)<![if !supportNestedAnchors]><![endif]> (See Deviation from Normal Temperatures Map) In a pattern typical for this summer, spot prices declined toward the end of the week as a cool front pervaded the eastern half of the country.   However, the spot price at the Henry Hub was able to hold onto a 12-cent gain over the week to close at $3.07 per MMBtu on Friday.  The August contract finished as the near-month contract on a slightly higher note on the last day of trade to close at $3.167 per MMBtu due to short-covering and a forecast for warmer weather in the upcoming week.  The August contract ended less than 2 cents lower than the July contract for the lowest closure since May of last year.  On the West Coast, the cancellation of high-linepack operational flow orders allowed prices to buoy upward by about $1 per MMBtu early in the week. As coastal areas remained cool though, price declines offset much of the gain. For only the third week in the last 2 months, the American Gas Association (AGA) estimated net injections to storage at less than 100 Bcf as they reported 84 Bcf for the week ended Friday, July 20.  An OPEC agreement to reduce production quotas by 1 million barrels per day helped prop-up crude oil prices.  As of Friday, the spot price for West Texas Intermediate was $27.05 per barrel, or $4.66 per MMBtu, $1.45 per barrel more than a week earlier.
<![if !supportEmptyParas]> <![endif]>
<![if !vml]>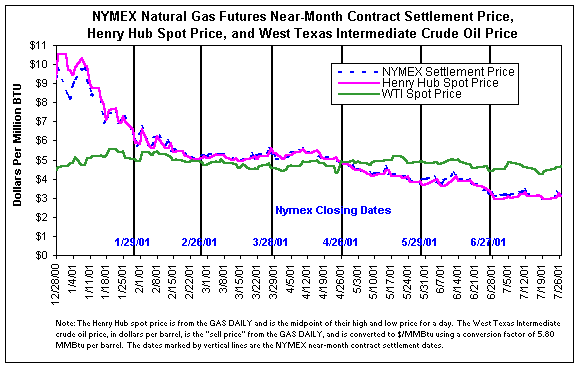 <![endif]>
<![if !supportEmptyParas]> <![endif]>
Prices: 
Cash prices in many major markets opened the week roughly 5 cents to 20 cents per MMBtu higher in reaction to hot weather on the East Coast and presumably more demand from gas-fired electricity generation for space cooling purposes. After languishing at fairly stable levels, prices were propelled higher at mid-week by the report of slowed storage injections and a prediction of warmer temperatures starting August 1. Spot prices rose on Thursday in the 13- to 26-cent range but lost 15 to 30 cents on Friday. At Waha, Texas, the price reached $3.26 per MMBtu before declining back to $2.96 on the last day of the week; at Katy, Texas, comparable figures were $3.30 and $3.09, and at Midcon, Oklahoma, $3.14 and $2.92. Citygate prices were $3.32 and $3.03 per MMBtu in New York and Chicago after rising to as much as $3.56 and $3.29, respectively, during the week. The largest price surges to start the week were recorded in California, where spot prices at the border and to large package customers were higher by at least $1 through Wednesday, but then lost ground when the desert heat failed to reach the coast.  By Friday, large package sales on the PG&E system were down to $2.91, only 54 cents more than a week ago and on SoCal were $3.08-18 cents more than a week ago.
<![if !supportEmptyParas]> <![endif]>
The August futures contract price on Monday settled 2.3 cents higher than where the previous week left off.  The price stalled in advance of the report citing a slower stock build, which then caused almost a 31-cent gain over the course of the trading day on Wednesday. After a 14.8-cent correction the following day, short covering and a forecast of warmer weather contributed to a 3.9 cent gain on Friday for a closing price of $3.167 per MMBtu for the August contract.  Cash and the near-month prices have gotten high enough for some traders to speculate that it may be more cost-effective to sell rather than store gas.  However, on Friday, the September price differential was in the 2 to 3 cent range needed to justify storage for short-term purposes.  Additionally, the December and January futures contracts were more than 59 cents above the current near-month price, providing an incentive to stock-up for the peak winter months.
<![if !supportEmptyParas]> <![endif]>
Spot Prices ($ per MMBTU)-Selected Trading Centers

Mon.  7/23

Tues. 7/24

Wed. 7/25

Thur. 7/26

Fri.   7/27

Henry Hub

3.01

3.01

3.06

3.27

3.07

New York citygates

3.49

3.50

3.44

3.56

3.32

Chicago citygates

3.01

2.98

3.03

3.29

3.03

Northern CA PG&E

3.39

3.65

3.53

3.11

2.91

Southern CA (SOCAL)

4.09

4.44

4.00

3.63

3.08

Futures (Daily Settlement, $MMBTU)

August Delivery

2.978

2.970

3.276

3.128

3.167

September Delivery

3.015

2.997

3.295

3.155

3.194

Source: Financial Times Energy, Gas Daily
<![if !supportEmptyParas]> <![endif]>
Storage:
Net injections into storage were 84 Bcf for the week ended Friday, July 20, according to AGA estimates, marking the second week in a row that the industry added a net volume of working gas below 100 Bcf after 6 consecutive weeks in which the net additions exceeded that threshold (See Storage Figure).  (For the prior week, AGA's net-change estimate of 110 Bcf consisted of an estimated 96 Bcf of net injections, plus an additional 14 Bcf attributed to corrected data from prior weeks.) It is also the first time in at least 6 weeks that estimated net injections were below what several industry publications reported as prevailing market expectations for net injections for the week, namely 90-100 Bcf.  Although below expectations, the 84 Bcf stock build is the largest in 5 years for the report week, and is 33 percent greater than the 6-year (1995-2000) average.  Nevertheless, upon release of the AGA report, futures prices on the NYMEX leapt upward, with the August contract gaining around 15 cents per MMBtu in the first few minutes after the 2 PM release.  Through July 20, net injections for the month of July have been an estimated 289 Bcf<![if !supportAnnotations]>[jt11]<![endif]> , equivalent to an average daily rate of almost 14.5 Bcf, 51 percent above the 6-year average for the month.  If net storage additions for the balance of the refill season were to match EIA 6-year average daily rates, inventories will reach 3,090 Bcf by November 1.
<![if !supportEmptyParas]> <![endif]>
All Volumes in BCF

Current Stocks (Fri,7/20)

Estimated 6-Year (1995-2000) Average

Percent Difference from 6 Year Average

Net Change from Last Week

One-Week Prior Stocks (Fri,7/13)

<![if !supportMisalignedRows]>
<![endif]>

East Region

1,249

1,204

3.8%

60

1,189

<![if !supportMisalignedRows]>
<![endif]>

West Region

318

302

5.3%

11

307

<![if !supportMisalignedRows]>
<![endif]>

Producing Region

655

561

16.7%

13

642

<![if !supportMisalignedRows]>
<![endif]>

Total Lower 48

2,222

2,067

7.5%

84

2,138

<![if !supportMisalignedRows]>
<![endif]>

Note:  net change data are estimates published by AGA on Wednesday of each week.  All stock-level Figures are EIA estimates based on EIA monthly survey data and weekly AGA net-change estimates.  Column sums may differ from Totals because of independent rounding. *Revised to incorporate EIA survey data for April 2001.

<![if !supportMisalignedRows]>
<![endif]> <![if !supportMisalignedRows]>
<![endif]> <![if !supportMisalignedRows]>
<![endif]> <![if !supportMisalignedRows]>
<![endif]>
<![if !supportEmptyParas]> <![endif]>
Other Market Trends:
Additions to gas-fired electricity generation capability are continuing at a brisk pace with the opening of such facilities as the 537 megawatt plant in Cordova, Illinois and the 2,000 megawatt plant in Phoenix, Arizona. Assuming standard heat rates, these plants would consume 130 MMcf and 484 MMcf per day of natural gas, respectively, at peak summer output. In California, the first major power plant since 1988 commenced operations on June 27, 2001. The 320 megawatt gas-fired facility, known as the Sunrise Power Project, is a located in Kern County.  A week later, the 500 megawatt gas-fired Sutter power plant near Yuba City came on line. Conservation, cooler temperatures, and distributed power generation along with production from new facilities have helped ease tightness in the State's electricity supplies.
<![if !supportEmptyParas]> <![endif]>
According to EIA, in the first 3 months of this year, the nation has added 1,100 gigawatts of gas-fired generating capacity, compared with 1,900 gigawatts added in 2000 and 500 gigawatts in the prior year. (These data do not include cogeneration capability.)  Of the total capacity additions in the first quarter of 2001, natural gas capacity represented 75 percent.
<![if !supportEmptyParas]> <![endif]>
<![if !supportEmptyParas]> <![endif]>
Summary: 
A slowing in the rate of storage injections and warmer weather contributed to higher prices by the middle of last week, but the easing of temperatures allowed prices to retreat going into the weekend. Additional natural gas-fired electricity generating capacity could support even higher demand over the next month if temperatures cause the need for increased space cooling.
<![if !supportEmptyParas]> <![endif]>