Another mid-summer week of relatively mild temperatures in many of the nation's major gas consuming market regions and a large estimate of net injections of working gas into storage put downward pressure on spot and futures prices.Some parts of New England saw high temperatures only in the 70s for several days last week, while highs in the 80s stretched down the mid-Atlantic region as far as northern Georgia and well into the Midwest.On the West Coast, highs rarely exceeded 80 degrees, with a number of locations reporting highs in the 60s. (See Temperature Map)<![if !supportNestedAnchors]><![endif]> (See Deviation from Normal Temperatures Map). Spot prices declined for the week in nearly all markets, with spot gas at the Henry Hub trading at $2.95 per MMBtu on Friday, down $0.21 from the previous Friday.The NYMEX futures contract for August delivery fell even more, ending the week down $0.295 per MMBtu at $2.955—the first sub-$3 settlement for a near-month contract since April 11 of last year.The spot price for West Texas Intermediate (WTI) crude oil fell four days in a row and traded on Wednesday and Thursday below $25 per barrel before recovering Friday to $25.60 per barrel, or $4.41 per MMBtu. This, too, is the first time since last April that WTI has fallen below $25 per barrel, and is the second week in a row of losses of $1 or more per barrel.
<![if !supportEmptyParas]> <![endif]>
<![if !vml]>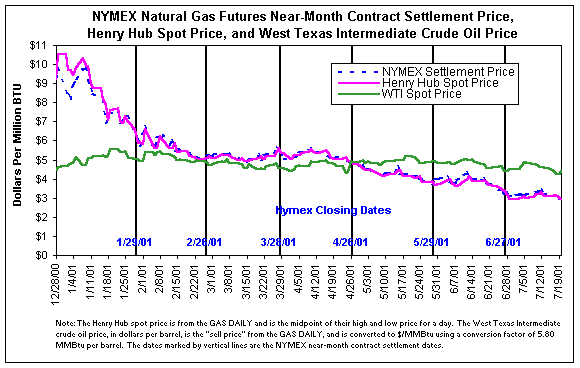 <![endif]>
<![if !supportEmptyParas]> <![endif]>
Prices:
Last week's trading opened with cash prices continuing their slide from the previous Friday's session, with spot gas at the Henry Hub slipping 8 cents to $3.08 per MMBtu on Monday.After falling to $2.93 per MMBtu on Monday, July 2, the Henry Hub spot price has fluctuated within a relatively tight range between $3.00-$3.30.Although spot prices rallied slightly on Tuesday and Wednesday, they ultimately could not withstand the pervasive lack of weather-related swing demand in many areas of the country.Even the sweltering heat covering a huge portion of the Midcontinent, from as far north as the Dakotas and Montana, down into Texas and encompassing much of the Southwest, did little more than lend a bit of support to Wednesday's prices.Spot prices fell on Thursday, mostly in the 10-15 cent range, as markets digested the American Gas Association (AGA) estimate of a 110 Bcf net increase in working gas.The fall continued in a similar range at many locations on Friday, so that by the end of the week, sub-$3 prices prevailed in nearly all markets, with prices below $2 per MMBtu at some Rockies locations.Citygate prices in New York and Chicago were down 14 and 22 cents, respectively, from the previous Friday, at $3.27 and $2.93 per MMBtu.In California, one-day price drops of $0.88 and $1.03 per MMBtu occurred on Friday on SOCAL and PG&E, respectively, in response to weekend high-inventory operational flow orders. Prices on these systems ended the week at $2.90 and $2.37, down 25 and 30 cents, respectively, from the previous Friday.
<![if !supportEmptyParas]> <![endif]>
After trading within 6 cents of the $3 per MMBtu level on 5 separate days since becoming the near-month contract on June 28, the NYMEX contract for August delivery finally fell below this benchmark on Thursday, settling at $2.939 per MMBtu.The September contract followed suit, settling at $2.985.Just one week ago, the August contract settled at $3.428 per MMBtu, a considerable rebound from its previous low of $3.096 on June 29. The large AGA storage additions estimate contributed to the near-15-cent one-day drop in the August contract, which was accompanied by drops of 10-16 cents in all out-month contracts through August 2002.This is the first time since April 11, 2000 that a near-month contract has settled below $3 per MMBtu.Futures prices ended the week with a slight upturn, with gains of 5 cents or less for contracts for delivery through February 2002. As of the end of trading Friday, gas for delivery in December 2001 and January 2002 was priced at $3.595 and $3.710 per MMBtu, respectively.
<![if !supportEmptyParas]> <![endif]>
Spot Prices ($ per MMBTU)-Selected Trading Centers

Mon. 7/16

Tues. 7/17

Wed. 7/18

Thur. 7/19

Fri.7/20

Henry Hub

3.08

3.12

3.15

3.03

2.95

New York citygates

3.37

3.41

3.47

3.33

3.27

Chicago citygates

3.07

3.13

3.16

3.02

2.93

Northern CA PG&E

3.04

3.21

3.32

3.40

2.37

Southern CA (SOCAL)

3.74

3.81

4.03

3.78

2.90

Futures (Daily Settlement, $MMBTU)

August Delivery

3.068

3.165

3.087

2.939

2.955

September Delivery

3.14

3.232

3.146

2.985

2.997

Source: Financial Times Energy, Gas Daily
<![if !supportEmptyParas]> <![endif]>
Storage:
EIA estimates working gas in storage at 2,138 Bcf as of July 13, just 149 Bcf below the high end of the average range (See Storage Figure). The change in working gas in storage according to the American Gas Association was 110 Bcf, which consisted of net injections of 96 Bcf during the week with an additional 14 Bcf because of a correction in the West Region. The net injection of 96 Bcf for the week ended July 13 surpassed the 6-year average (1995-2000) by 16.8 percent. While net injections in the East and Producing regions fell short of record levels, the net injection of 12 Bcf in the West (net of the correction) broke a benchmark that stood since 1998.The record cumulative injections during this refill season have restored stocks in each region to levels exceeding the 6-year average. In order to achieve 3 Tcf by November 1, 2001, 7.8 Bcf per day needs to be added to stocks through the remainder of the refill season, which is well below the 6-year average for the period from July 14 through October 31 of 8.6 Bcf per day.
<![if !supportEmptyParas]> <![endif]>
All Volumes in BCF

Current Stocks (Fri,7/13)

Estimated 6-Year (1995-2000) Average

Percent Difference from 6 Year Average

Net Change from Last Week

One-Week Prior Stocks (Fri,7/6)

<![if !supportMisalignedRows]>
<![endif]>

East Region

1,189

1,151

3.3%

62

1,127

<![if !supportMisalignedRows]>
<![endif]>

West Region

307

296

3.7%

26

281

<![if !supportMisalignedRows]>
<![endif]>

Producing Region

642

552

16.2%

22

620

<![if !supportMisalignedRows]>
<![endif]>

Total Lower 48

2,138

1,999

6.9%

110

2,028

<![if !supportMisalignedRows]>
<![endif]>

Note:net change data are estimates published by AGA on Wednesday of each week.All stock-level Figures are EIA estimates based on EIA monthly survey data and weekly AGA net-change estimates.Column sums may differ from Totals because of independent rounding.

<![if !supportMisalignedRows]>
<![endif]> <![if !supportMisalignedRows]>
<![endif]> <![if !supportMisalignedRows]>
<![endif]> <![if !supportMisalignedRows]>
<![endif]>
<![if !supportEmptyParas]> <![endif]>
Other Market Trends:
Imports of natural gas into the United States continue to grow steadily.Pipeline imports of natural gas from Canada increased by slightly more than 5 percent in 2000 to 3.54 Tcf, following a 10-plus percent growth in 1999.EIA data through April indicate that pipeline imports from Canada have increased an additional 9 percent year-to-date, to about 1.27 Tcf.The opening of the Alliance Pipeline has undoubtedly facilitated some of this increase. This pipeline has a current capacity to transport about 1.3 Bcf per day from producing areas in British Columbia and Alberta to Chicago and other Midwest markets.
<![if !supportEmptyParas]> <![endif]>
Summary:
The apparent expansion of supplies this year has resulted in reduced price volatility in recent weeks. Spot and futures prices both drifted lower as summer heat has yet to materialize in heavy gas-consuming markets, and storage injections continue at unusually large levels.The latest National Weather Service 6-10 day forecast shows the possibility of above-average temperatures reaching into the Midwest, but the markets reacted only slightly by Friday.
<![if !supportEmptyParas]> <![endif]>
<![if !supportEmptyParas]> <![endif]>