Overview:  Monday, July 16, 2001
After trending up during the first four days of last week, spot prices at the Henry Hub moved down $0.14 on Friday to end trading for the week at $3.16 per MMBtu. Daily settlement prices on the NYMEX  also moved up most of the week before dropping almost $0.18 per MMBtu on Friday as the near-month August contract ended the week  at $3.250. Spot and near-month futures prices last year at this time were 32 and 28 percent higher and would go even higher during the end of the year.  Contributing to the generally lower prices is the generally moderate temperatures thus far this summer in most parts of the country. The National Weather Service reports that during the first three weeks of this summer season, cooling degree-days were almost 5 percent below normal.  Much of the country continued to experience moderate summer temperatures, but forecasts for this week are calling for higher temperatures to move into many of the southern states.(See Temperature Map)<![if !supportNestedAnchors]><![endif]> (See Deviation from Normal Temperatures Map). The price of West Texas Intermediate (WTI) crude oil traded in a relatively tight $1.00  range and ended the week  on Friday at $26.60 per barrel or $4.59 per MMBtu.
<![if !supportEmptyParas]> <![endif]>
<![if !vml]>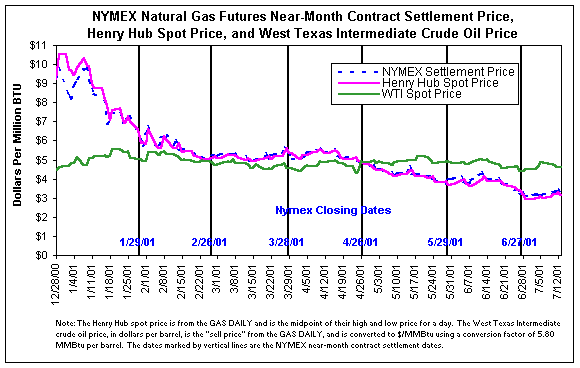 <![endif]>
<![if !supportEmptyParas]> <![endif]>
Prices: 
In a pattern similar to that of the previous week, the spot price at the Henry Hub gained over $0.20 per MMBtu between Monday and Thursday before dropping $0.14 per MMBtu but still ended trading $0.16 higher than on the previous Friday. Prices at most major regional markets also exhibited  a similar price pattern last week. One exception occurred in  the Southern California market, which had it highest prices of the week on Monday at $5.84 then dropped sharply as a high linepack OFO was announced on Friday for the weekend. Prices decreased to $3.15 per MMBtu at the end of the week -their lowest level in over a year. Prices in Northern California also began the week up as warm weather increased the electric utility air-conditioning load, but dropped over a dollar by Friday.  Prices at other major western markets also trended up most days last week but remained well below $3.00 per MMBtu. Selected examples of these relatively low prices reported for Friday were: Blanco in northwest New Mexico at $2.41 per MMBtu, Opal in Wyoming at $2.36, and   Sumas, Washington,  on the Canadian border  at $2.37.
<![if !supportEmptyParas]> <![endif]>
Prices on the NYMEX moved down an average of almost $0.17 per MMBtu during Friday's trading for deliveries in each of the five remaining months of this year. Prices ranged from a low of $3.250 for the August contract to a high of $3.905 for the December contract. Last year at this time the August contract, which closes at the end of next week, was trading for $4.150 per MMBtu.
<![if !supportEmptyParas]> <![endif]>
Spot Prices ($ per MMBTU)-Selected Trading Centers

Mon. 7/9

Tues. 7/10

Wed. 7/11

Thur. 7/12

Fri.   7/13

Henry Hub

3.10

3.18

3.21

3.30

3.16

New York citygates

3.46

3.50

3.54

3.59

3.41

Chicago citygates

3.06

3.18

3.20

3.30

3.15

Northern CA PG&E

3.53

3.71

3.76

3.82

2.67

Southern CA (SOCAL)

5.84

5.65

4.71

4.51

3.15

Futures (Daily Settlement, $MMBTU)

August Delivery

3.153

3.282

3.342

3.428

3.250

September Delivery

3.229

3.350

3.410

3.502

3.330

Source: Financial Times Energy, Gas Daily
<![if !supportEmptyParas]> <![endif]>
Storage:
The industry logged yet another 3-digit weekly inventory build–the tenth in the past 11 weeks–as the American Gas Association (AGA) estimated that net injections were 110 Bcf during the week ended Friday, July 6.  According to EIA estimates, this brings total working gas in storage just past the 2 Tcf level and 5 percent above the 6-year (1995-2000) average. For the week ended July 6, net injections in both the East and Producing regions exceeded their respective 6-year averages by significant amounts:  22 percent greater in the East and nearly 60 percent greater in the Producing region.  On the other hand, net injections in the West fell 2 Bcf, or 18 percent, below the 6-year average for the week, and were less than 10 Bcf for the first time in 11 weeks.  Despite the slight falloff in net additions, West Region stocks continue to improve their relative position compared to the 6-year average storage levels.  Over the first 14 weeks of the refill season, total net injections have averaged 93 Bcf per week, and in the last 11 weeks, an unprecedented 108 Bcf. Net injections are likely to decline if temperature-driven demand should surge in the remainder of the summer.  If such seasonal demand fails to appear or is limited, net injections still will decline as the storage facilities near capacity, thereby reducing demand pressure in gas markets with possible implications for prices later in the refill season.(See Storage Figure)
<![if !supportEmptyParas]> <![endif]>
All Volumes in BCF

Current Stocks (Fri,7/6)

Estimated 6-Year (1995-2000) Average

Percent Difference from 6 Year Average

Net Change from Last Week

One-Week Prior Stocks (Fri,6/29)

<![if !supportMisalignedRows]>
<![endif]>

East Region

1,127

1,099

2.6%

71

1,056

<![if !supportMisalignedRows]>
<![endif]>

West Region

281

290

-3.1%

9

272

<![if !supportMisalignedRows]>
<![endif]>

Producing Region

620

543

14.1%

30

590

<![if !supportMisalignedRows]>
<![endif]>

Total Lower 48

2,028

1,932

5.0%

110

1,918

<![if !supportMisalignedRows]>
<![endif]>

Note:  net change data are estimates published by AGA on Wednesday of each week.  All stock-level Figures are EIA estimates based on EIA monthly survey data and weekly AGA net-change estimates.  Column sums may differ from Totals because of independent rounding. *Revised to incorporate EIA survey data for April 2001.

<![if !supportMisalignedRows]>
<![endif]> <![if !supportMisalignedRows]>
<![endif]> <![if !supportMisalignedRows]>
<![endif]> <![if !supportMisalignedRows]>
<![endif]>
<![if !supportEmptyParas]> <![endif]>
Other Market Trends: Infrastructure Additions
The FERC last week approved three expansion projects —one each in the Midwest, the Northeast, and the Southeast. In the Midwest, Horizon pipeline received approval to begin construction of a 70-mile pipeline from Joliet, IL north to McHenry, IL.

 

When completed, the project will add almost 700 million cubic feet per day (MMcf/d) of pipeline capacity along with increased compressor capabilities to assist in the distribution of the additional 1.325 Bcf/d coming into the Chicago market on the Alliance Pipline System. In the Northeast, the Maritimes and Northeast pipeline got approval to install two 8,300 horse power compressors in Maine to increase capacity from 360 MMcf/d to 440 MMcf/d. And in the Southeast, FERC approved an expansion of Southern's Elba Island LNG receiving terminal from a peak vaporization of 540 MMcf/d to 675 MMcf/d.

 

The terminal is expected to begin operation in October 2001 and according to Southern is scheduled to handle 65 cargoes in its first year which are estimated to deliver 160 Bcf for the year.
<![if !supportEmptyParas]> <![endif]>
Summary: 
The robust stock build that began in April continues at a strong pace as net additions again surpassed 100 Bcf during the last week of June. Prices moved up early last week but were unable to sustain these levels and moved down by the week's end at the NYMEX and at most major spot markets.
<![if !supportEmptyParas]> <![endif]>
<![if !supportEmptyParas]> <![endif]>