The overall decline in spot prices accelerated last week, as continued below-normal temperatures in significant portions of the country suppressed electricity demand for air-conditioning use and storage injections once again hit record-setting levels.Temperatures averaged in the 80s for most of the eastern half of the nation, with slightly cooler temperatures prevailing along much of the populous West coast. (See Temperature Map)<![if !supportNestedAnchors]><![endif]> (See Deviation from Normal Temperatures Map).Futures market prices reinforced the general price weakness, with contracts for future deliveries falling 5 days in a row.
<![if !supportEmptyParas]> <![endif]>
<![if !supportEmptyParas]> <![endif]>
<![if !vml]>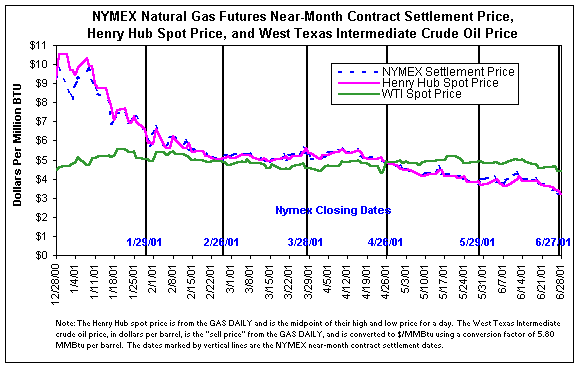 <![endif]>
<![if !supportEmptyParas]> <![endif]>
Prices:
The key factors of increased supply and very little weather-generated swing demand sent prices lower in spot markets throughout the country, with the majority showing declines every day of the week. Average temperatures last week were as much as 7 degrees below normal in the usually high summertime electricity demand areas of the Midwest, Southeast, Gulf Coast, and eastern Texas.In addition, temperatures were normal to slightly below normal in southern California, and cooler still in northern California. By Friday, the low end of the common trading range for spot gas at the Henry Hub fell below $3.00 per MMBtu for the first time since April 2000, and by the end of Friday trading, the Henry Hub midpoint price had dropped $0.69 per MMBtu from the previous Friday to an even $3.Spot prices under $2 per MMBtu were seen at some Rockies trading points on Friday.Only in the Northeast were prices able to buck the downward trend, where hot, muggy weather early in the week had New York citygate prices rising for several days to the week's high point on Wednesday of $4.34 per MMBtu—up 27 cents from the previous Friday.But by Thursday, with temperatures beginning to moderate, Northeast prices joined in the overall downward trend so that by Friday, the price at TRANSCO Zone 6 for New York delivery had fallen to $3.50 per MMBtu.While spot prices jumped on Monday on both SOCAL and PG&E as these systems lifted their respective weekend high-inventory operational flow orders (OFO), the over $2 increase on SOCAL (to around $6.06 per MMBtu) and nearly 25-cent increase on PG&E (to about $4.00) were easily overwhelmed by the week-long demand weakness.By Friday, the spot price on SOCAL had fallen to $3.83 per MMBtu, while on PG&E, spot prices fell nearly a dollar from the previous Friday, dipping below $3 at $2.79 per MMBtu.
<![if !supportEmptyParas]> <![endif]>
With working gas inventories continuing to grow at very high rates, and little to suggest the possibility of significant demand-boosting hot summer temperatures in the near future, futures prices fell significantly last week.The July contract closed out on Friday at $3.182 per MMBtu–the lowest settlement price for a near-month contract since early May of last year, and $1.187 per MMBtu lower than the closing price of the July 2000 contract ($4.369).After Tuesday, June 19, when the July contract briefly rallied to just under $4 ($3.981 per MMBtu), it lost 20 percent of its value.On its first day of trading as the near-month contract, the contract for August delivery benefited from somewhat lighter trading and a narrow trading range, losing just a fraction of a cent from the previous day to settle at $3.280 per MMBtu, as the market took a day to catch its breath and reevaluate.On Friday, however, the downturn resumed, as the August contract fell $0.184 to settle at $3.096 per MMBtu.Also on Friday, the last "holdout" for $4-plus gas for upcoming winter delivery–the December 2000 contract–finally fell below $4, settling at $3.900 per MMBtu.
<![if !supportEmptyParas]> <![endif]>
Spot Prices ($ per MMBTU)-Selected Trading Centers

Mon. 6/25

Tues. 6/26

Wed. 6/27

Thur. 6/28

Fri.6/29

Henry Hub

3.56

3.45

3.39

3.22

3.00

New York citygates

4.12

4.28

4.34

4.03

3.50

Chicago citygates

3.55

3.42

3.39

3.17

3.01

Northern CA PG&E

4.00

3.39

2.96

2.99

2.79

Southern CA (SOCAL)

6.06

4.69

4.68

4.31

3.83

Futures (Daily Settlement, $MMBTU)

July Delivery

3.446

3.397

3.182

August Delivery

3.521

3.479

3.286

3.280

3.096

Source: Financial Times Energy, Gas Daily
<![if !supportEmptyParas]> <![endif]>
Storage:
The unprecedented rate of storage refill continued for yet another week, as the American Gas Association (AGA) estimated that net injections were 108 Bcf for the week ended Friday, June 22 (See Storage Figure).This marks the third consecutive week of record-setting injections at the national level and the eighth week this refill season in which storage injections have topped 100 Bcf.Net injections of 68 Bcf in the East region and 12 Bcf in the West region were also the highest ever for this week.Producing region injections were the second highest, and exceeded the 6-year (1995-2000) average for this week by 40 percent.Estimated net injections since April 1 total 1,090 Bcf, which is 53 percent greater than the 6-year average to this point in the year (712 Bcf).With these record injections, total U.S. stocks are now slightly above the EIA-estimated 6-year average despite beginning the refill season at an all-time low of 742 Bcf (EIA data).However, the West region still lags behind the 6-year average by nearly 5 percent.
<![if !supportEmptyParas]> <![endif]>
All Volumes in BCF

Current Stocks (Fri,6/22)

Estimated 6-Year (1995-2000) Average

Percent Difference from 6 Year Average

Net Change from Last Week

One-Week Prior Stocks (Fri,6/15)*

<![if !supportMisalignedRows]>
<![endif]>

East Region

994

993

0.1%

68

926

<![if !supportMisalignedRows]>
<![endif]>

West Region

261

274

-4.8%

12

249

<![if !supportMisalignedRows]>
<![endif]>

Producing Region

558

519

7.4%

28

530

<![if !supportMisalignedRows]>
<![endif]>

Total Lower 48

1,813

1,786

1.5%

108

1,705

<![if !supportMisalignedRows]>
<![endif]>

Note:net change data are estimates published by AGA on Wednesday of each week.All stock-level Figures are EIA estimates based on EIA monthly survey data and weekly AGA net-change estimates.Column sums may differ from Totals because of independent rounding. *Revised to incorporate EIA survey data for April 2001.

<![if !supportMisalignedRows]>
<![endif]> <![if !supportMisalignedRows]>
<![endif]> <![if !supportMisalignedRows]>
<![endif]> <![if !supportMisalignedRows]>
<![endif]>
<![if !supportEmptyParas]> <![endif]>
Other Market Trends:
According to data collected by Baker Hughes, Inc., the number of drilling rigs exploring for natural gas continued to increase during the month of June, reaching the weekly average level of 1,050.This is 53 higher than the May weekly average of 997, and is 55 percent greater than for June 2000.The historically high natural gas prices of last fall and winter spurred the steady increase in the rig count, but, as spot prices at the Henry Hub settle lower and lower, it is anticipated that at some point the rig count will begin to decrease.
<![if !supportEmptyParas]> <![endif]>
Summary:
The continued lack of significant summer heat coupled with record high injection levels and a vastly improved inventory situation kept up significant downward pressure on both cash and futures prices.Lower prices may eventually lead to fewer rigs exploring for gas, thereby stemming the growth in production.
<![if !supportEmptyParas]> <![endif]>