Overview:   Monday, June 18, 2001
Prices ended the week up slightly from where they started as a brief heat wave in the eastern half of the country caused a rise in prices (See Temperature Map)<![if !supportNestedAnchors]><![endif]> (See Deviation from Normal Temperatures Map) that was somewhat undone by the return of moderate temperatures and the report of another hefty stock build.  On a Friday-to-Friday basis, the spot price at the Henry Hub increased by $0.25 to $3.88 per MMBtu compared with an increase of $0.23 to $0.33 at other major supply points in the eastern half of the country.  In the same time period, the near-month (July delivery) futures contract was up less than 6 cents to $3.979 per MMBtu as of Friday, June 15, 2001. Prices in California rose substantially last Monday after coming off high inventory flow orders (OFOs) but ended the week close to or lower than the previous week due to another round of OFOs.  For the past 7 weeks, weekly storage injections neared or exceeded 100 Bcf, bringing stocks to within less than a 1 percent difference from average levels.  The string of record-breaking stock builds appears attributable to moderate spring temperatures and reduced cooling demand by natural-gas-fired electricity generation.
<![if !supportEmptyParas]> <![endif]>
<![if !vml]>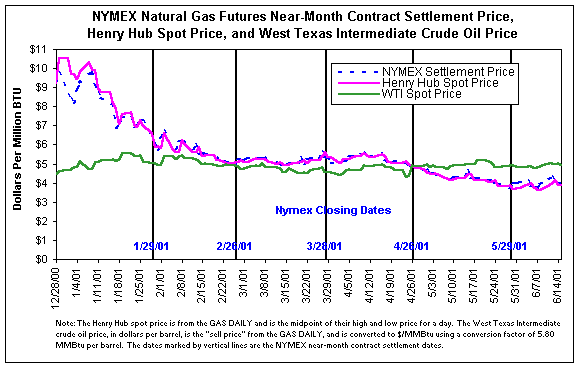 <![endif]>
Prices: 
Prices rose early in the week as traders positioned for midweek temperatures in the 90s in the Northeast and Midwest. Gains began to erode on Thursday following the American Gas Association's (AGA) announcement of storage injections of 105 Bcf.  Spot prices continued to lose ground through Friday but showed small gains for the week that ranged from 23 cents per MMBtu at the Midcon facility in Oklahoma to 33 cents in Waha, Texas.  Citygate prices were $4.24 and $3.81 per MMBtu in New York and Chicago after rising 34 and 17 cents, respectively, during the week.  The lifting of high inventory OFOs in California ushered in price increases early in the week, then mild temperatures brought about another round of OFOs by week's end.  On Friday, the price for large package sales on the SoCal system was up 20 cents to $3.74 per MMBtu, and on the PG&E system, up only 10 cents to $3.02.
<![if !supportEmptyParas]> <![endif]>
The NYMEX contract for July delivery paralleled the movement in the cash market with a strong opening in the beginning of the week as traders anticipated the impact of warm weather, then a drop-off at the end of the week as temperatures and demand receded. On Friday, the near-month contract settled at $3.979 per MMBtu, up 5.7 cents from the previous Friday (June 8). Futures prices are still providing a strong incentive to store gas by growing more than the 2 to 3 cents per MMBtu per month that industry experts believe is required to cover costs.  Of Friday, June 15, 2001, the December and January contracts had prices of $4.545 and $4.608 per MMBtu, roughly 60 cents above current cash prices at the Henry Hub.
<![if !supportEmptyParas]> <![endif]>
Spot Prices ($ per MMBTU)-Selected Trading Centers

Mon. 6/11

Tues. 6/12

Wed. 6/13

Thur. 6/14

Fri.   6/15

Henry Hub

3.86

4.00

4.14

3.94

3.88

New York citygates

4.25

4.46

4.62

4.38

4.24

Chicago citygates

3.90

4.04

4.17

3.91

3.81

Northern CA PG&E

3.39

3.89

3.64

3.52

3.02

Southern CA (SOCAL)

6.74

7.60

8.47

6.90

3.74

Futures (Daily Settlement, $MMBTU)

July Delivery

4.179

4.301

4.112

4.038

3.979

August Delivery

4.271

4.397

4.211

4.123

4.065

Source: Financial Time Energy, Gas Daily
<![if !supportEmptyParas]> <![endif]>
Storage:
Net injections to storage returned to record-breaking levels during the week ended June 8, 2001 as 105 Bcf was added according to AGA estimates. At the high end of industry's expectations, this net addition was 29.6 percent more than the 6-year (1995-2000) average and bested the previous record of 93 Bcf established during the same week of 1994  (See Storage Figure).  Additions in the Producing region were 62.0 percent above average compared with 19.3 percent in the East and 31.3 percent in the West regions.  Although working gas stocks were at a record low at the end of the past heating season, the cumulative net injections of 874 Bcf through June 8 set a new record for the period, being 28.2 percent above the previous high level for this period in 1998. Total stocks are only 0.9 percent below normal and regional stocks are well within the normal range, yet the West remained below the 6-year average by an estimated 4.5 percent.  Even if net injections were to slow to an average pace through the end of the refill season, stocks would open the heating season on November 1 at 2.9 Tcf, just shy of the unofficial industry target of 3 Tcf for that time of year.
<![if !supportEmptyParas]> <![endif]>
All Volumes in BCF

Current Stocks (Fri,6/8)

Estimated 6-Year (1995-2000) Average

Percent Difference from 6 Year Average

Net Change from Last Week

One-Week Prior Stocks (Fri,6/1)

<![if !supportMisalignedRows]>
<![endif]>

East Region

883

885

-0.3%

64

819

<![if !supportMisalignedRows]>
<![endif]>

West Region

244

256

-4.5%

14

230

<![if !supportMisalignedRows]>
<![endif]>

Producing Region

489

489

-0.1%

27

462

<![if !supportMisalignedRows]>
<![endif]>

Total Lower 48

1,616

1,630

-0.9%

105

1,511

<![if !supportMisalignedRows]>
<![endif]>

Note:  net change data are estimates published by AGA on Wednesday of each week.  All stock-level Figures are EIA estimates based on EIA monthly survey data and weekly AGA net-change estimates.  Column sums may differ from Totals because of independent rounding. 

<![if !supportMisalignedRows]>
<![endif]> <![if !supportMisalignedRows]>
<![endif]> <![if !supportMisalignedRows]>
<![endif]> <![if !supportMisalignedRows]>
<![endif]>
<![if !supportEmptyParas]> <![endif]>
Other Market Trends: 
On a Btu-basis, natural gas continues to have a cost advantage over other fuels, such as distillate oil.  For example, the New York citygate price of natural gas was $4.24 per MMBtu on Friday, showing at least a $1.00 differential that has persisted since mid-May. On Friday, June 15, 2001, the price of spot heating oil in the New York Harbor was 80.10 cents per gallon or $5.78 per MMBtu after reaching 83.05 cents per gallon the previous day, the highest level since the middle of April according to Reuters News Service.  The cost advantage should attract dual-fired users to consume natural gas, though this week's short-lived price rise in advance of warm temperatures caused some traders to speculate that the cost advantage may erode if cooling demand is brisk.
<![if !supportEmptyParas]> <![endif]>
Summary: 
Prices continued the previous week's pattern by rising early in the week then falling based on a report of another large stock build.  The potential for additional demand from the industrial sector along with warm weather and cooling demand from gas-fired electricity generation could cause the prices of natural gas to rise and discourage net injections into storage. However, this effect on net injections could be offset if prices on contracts for future delivery remain well above current prices plus monthly carrying costs.