Stock builds slowed from their recent pace, even though spot prices continued their downward trend to end the week at the Henry Hub at $3.71 per MMBtu, which is a Friday—to—Friday decline of $0.14 per MMBtu. The NYMEX contract price for June delivery at the Henry Hub settled Tuesday at $3.738, the lowest close-out of a near month contract since the May 2000 contract. The July contract price was $3.930 per MMBtu on Friday, $0.103 lower than a week earlier. Mild weather in the Northeast and Midwest continued to suppress prices on the Eastern Seaboard, while a short burst of warm temperatures in southern California early in the week had the opposite effect on prices in that region. (See Temperature Map)<![if !supportNestedAnchors]><![endif]> (See Deviation from Normal Temperatures Map) Net injections to storage for the week ended Friday, May 25 were 99 Bcf, breaking a 4-week string of 100-plus net injections.
<![if !supportEmptyParas]> <![endif]>
<![if !vml]>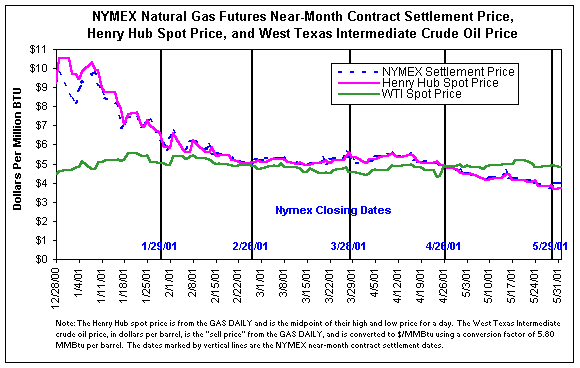 <![endif]>
Prices:
Spot prices at the major supply trading points showed week-to-week declines of about 10 to 20 cents per MMBtu with Katy, TX ending at $3.73; the Henry Hub, LA at $3.71; Midcon, OK at $3.53; and Opal, WY at $2.68. A transportation problem from Waha to Katy, Texas, was said to have caused prices later in the week to be comparatively lower at Waha and higher in Katy. With cooling demand yet to develop, prices at the Chicago and New York citygates declined $0.19 and $0.17 to $3.75 and $4.03 per MMBtu, respectively. The absence of weather-driven demand on the West Coast led to relatively abundant supplies as evidenced by prices on the PG&E system, which on Friday were $3.05 per MMBtu, $1.19 less than a week earlier and $0.66 below the Henry Hub price. In contrast, warm weather in southern California caused SoCal's price to open the week $0.83 higher at $11.13 per MMBtu, but the net change on the week was a negative $2.38, resulting in a value of $7.92 by week's end.
<![if !supportEmptyParas]> <![endif]>
A flurry of liquidation activity caused a $0.337 per MMBtu decline in the last day of trade of the NYMEX June contract on Tuesday, yielding a closing price of $3.738. Apparently influenced by an expectation for a higher stock build, futures prices for July delivery experienced a late-day surge on Wednesday, gaining 17 cents to just under $4.00 per MMBtu ($3.981) on its first day as the near-month contract. By the closing bell on Friday though, the July price stood at $3.930, $0.103 less than a week ago. At the same time, the price for January deliveries, the highest-priced contract through the end of the next heating season (Nov. through Mar.), was $4.477 per MMBtu, which also was down from mid-week levels.
<![if !supportEmptyParas]> <![endif]>
Spot Prices ($ per MMBTU)-Selected Trading Centers

Mon. 5/28

Tues. 5/29

Wed. 5/30

Thur. 5/31

Fri.
6/01

Henry Hub

3.84

3.86

3.67

3.73

3.71

New York citygates

4.19

4.21

4.03

4.06

4.03

Chicago citygates

3.94

3.90

3.74

3.79

3.75

Southern CA (SOCAL)

10.30

11.13

10.20

9.92

7.92

Futures (Daily Settlement, $MMBTU)

June Delivery

Holiday

3.738

July Delivery

Holiday

3.810

3.981

3.914

3.930

August Delivery

Holiday

3.893

4.055

3.990

4.009

Source:Financial Time Energy, Gas Daily
<![if !supportEmptyParas]> <![endif]>
Storage:
For the week ended Friday, May 25, storage operators just missed a fifth consecutive week of record total net injections, as the American Gas Association's (AGA) estimate of 99 Bcf is second only to the 101 Bcf for the corresponding week in 1994. The same is true for the East region, where 66 Bcf of net injections was only 1 Bcf less than this week's record level in 1994, and 34 percent greater than the 6-year average (1995-2000) of 49 Bcf. With these injections, total stocks are at roughly the mid-point of the historical range for 1995-2000 (See Storage Figure).East region inventories stood at an EIA-estimated 746 Bcf, less than 5 percent below the 6-year average. Net injections in the other two regions also exceeded their respective 6-year averages, albeit by lesser amounts, resulting in total inventory additions that were 26 percent above the 6-year average of 79 Bcf. While these weekly storage injection estimates are large compared with previous years, trade press reports indicated that many expected net injections to be even larger.
All Volumes in BCF

Current Stocks (Fri, 5/25)

Estimated 6-Year (1995-2000) Average

Percent Difference from 6 Year Average

Net Change from Last Week

One-Week Prior Stocks (Fri,5/18)

<![if !supportMisalignedRows]>
<![endif]>

East Region

746

783

-4.8%

66

680

<![if !supportMisalignedRows]>
<![endif]>

West Region

213

238

-10.4%

13

200

<![if !supportMisalignedRows]>
<![endif]>

Producing Region

427

458

-6.7%

20

407

<![if !supportMisalignedRows]>
<![endif]>

Total Lower 48

1,386

1,479

-6.3%

99

1,287

<![if !supportMisalignedRows]>
<![endif]>

Note:net change data are estimates published by AGA on Wednesday of each week.All stock-level Figures are EIA estimates based on EIA monthly survey data and weekly AGA net-change estimates.Column sums may differ from Totals because of independent rounding.

<![if !supportMisalignedRows]>
<![endif]> <![if !supportMisalignedRows]>
<![endif]> <![if !supportMisalignedRows]>
<![endif]> <![if !supportMisalignedRows]>
<![endif]>
<![if !supportEmptyParas]> <![endif]>
Other Market Trends:
The lower prices ushered in with spring have not arrested the growth in drilling rig activity. On June 1, a new record was established in the 14-year history of the data with a count of 1,037 rigs actively exploring for or developing natural gas prospects. The addition of 7 rigs during the week brings cumulative expansion to 82 percent over last year.
<![if !supportEmptyParas]> <![endif]>
Summary:
A slowing in the rate of net injections to storage caused prices to rise briefly, however the week-to-week levels were lower in both the cash and futures markets. Although declining recently, prices remain well above levels prevailing until this time last year and appear to be sufficient to motivate continued expansion in drilling activity.
<![if !supportEmptyParas]> <![endif]>