Overview - May 21, 2001
Somewhat warmer temperatures early in the week, especially in the South, provided a lift to natural gas spot and futures prices.
(See Tempe

r

ature Map)
<![if !supportNestedAnchors]>
<![endif]>
(See Deviation from Normal Temperatures Map)
However, a report of another large stock build and a revised forecast for normal to below-normal temperatures over a larger area of the country turned the week's gains into losses. On a week-to-week basis, the spot price of natural gas at the Henry Hub dropped $0.10 to end Friday, May 18 at $4.15 per MMBtu, while the NYMEX price of natural gas for June delivery at the Henry Hub declined $0.013 to $4.291 per MMBtu.

At 119 Bcf, net injections to storage for the week ended May 11, 2001, were
the highest value for the 8-year period of weekly AGA data.
<![if !vml]>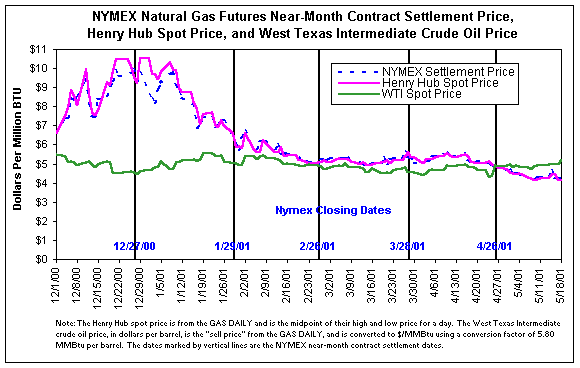 <![endif]>
Prices: After the announcement of yet another robust stock build, some spot prices at major supply hubs dipped below the $3 mark for the first time since last August. The spot price at Katy, TX, was down $0.12 from the previous Friday to $4.12 cents per MMBtu; the Henry Hub, LA, down $0.10 to $4.15; Midcon, OK, down $0.12 to $4.00; and Opal, WY, down $0.84 to $2.47. Prices at the Chicago and New York citygates both declined $0.16 to $4.20 and 4.49 per MMBtu, respectively. After expanding from a customer-specific operational flow order (OFO) to a system-wide OFO on Thursday due to an oversupply situation, the PG&E price for large packages dropped $1.49. By Friday, PG&E customers were paying $3.96 per MMBtu while SoCal's price was $1.94 lower at $9.98 following the previous week's heat wave.
<![if !supportEmptyParas]> <![endif]>
After increasing for 2 days, the NYMEX contract price for June delivery fluctuated widely on Wednesday between $4.285 to $4.700 and ultimately dropped $0.363 per MMBtu by the end of the day with the announcement of the large additions to storage. The June contract ended the week at $4.291 per MMBtu, down $0.013 from the previous Friday. Despite a decline affecting the entire strip of futures prices into the winter, forward prices still surpassed the 2 to 3 cents per MMBtu month-to-month increases estimated by industry analysts as needed to induce more storage injections. The trajectory of prices through the upcoming heating season culminated in January's $4.925 per MMBtu settlement on Friday.
<![if !supportEmptyParas]> <![endif]>
Spot Prices ($ per MMBTU)-Selected Trading Centers

Mon. 5/14

Tues. 5/15

Wed. 5/16

Thur. 5/17

Fri. 5/18

Henry Hub

4.28

4.46

4.47

4.18

4.15

New York citygates

4.64

4.86

4.84

4.57

4.49

Chicago citygates

4.36

4.55

4.56

4.25

4.20

Southern CA (SOCAL)

11.26

10.71

10.58

9.96

9.98

Futures (Daily Settlement, $MMBTU)

Near-Month (June)

4.394

4.653

4.29

4.248

4.291

July

4.465

4.722

4.377

4.327

4.368

Source: Financial Time Energy, Gas Daily
<![if !supportEmptyParas]> <![endif]>
Storage: For the third week in a row, net storage injections exceeded 100 Bcf, as an estimated 119 Bcf was added during the week ended Friday, May 11, according to the American Gas Association (AGA). Weekly storage injection activity continues to set records in the context of the 8-year period of AGA data and stocks are now above minimum observed levels for 1995-2000 (See Storage Figure). The national total, which exceeded the 6-year average by 85 percent, set a record high for the third consecutive week. Regional records were also set as net injections in the East and Producing regions were nearly double, and more than double, respectively, their 6-year (1995-2000) averages for this week. Estimated cumulative net additions to working gas inventories from the beginning of the refill season (April 1) through May 11 were a record 448 Bcf compared with the 6-year average of 195 Bcf to this point in the refill season. The next largest stock build to this point occurred in 1998, when cumulative injections through May 11 were an estimated 380 Bcf. The robust refill rate since April 1 has significantly reduced the deficit of current working gas inventories from the EIA-estimated 6-year average, which just 6 weeks ago stood at 35 percent or more for each of the regions.
<![if !supportEmptyParas]> <![endif]>
All Volumes in BCF

Current Stocks (Fri, 5/11)

Estimated 6-Year (1995-2000) Average

Percent Difference from 6 Year Average

Net Change from Last Week

One-Week Prior Stocks (Fri,5/4)

<![if !supportMisalignedRows]>
<![endif]>

East Region

629

690

-8.9%

75

554

<![if !supportMisalignedRows]>
<![endif]>

West Region

185

221

-16.2%

13

172

<![if !supportMisalignedRows]>
<![endif]>

Producing Region

368

428

-14.0%

31

337

<![if !supportMisalignedRows]>
<![endif]>

Total Lower 48

1,182

1,339

-11.7%

119

1,063

<![if !supportMisalignedRows]>
<![endif]>

Note: net change data are estimates published by AGA on Wednesday of each week. All stock-level Figures are EIA estimates based on EIA monthly survey data and weekly AGA net-change estimates. Column sums may differ from Totals because of independent rounding.

<![if !supportMisalignedRows]>
<![endif]> <![if !supportMisalignedRows]>
<![endif]> <![if !supportMisalignedRows]>
<![endif]> <![if !supportMisalignedRows]>
<![endif]>
<![if !supportEmptyParas]> <![endif]>
<![if !supportEmptyParas]> <![endif]>
<![if !supportEmptyParas]> <![endif]>
Other Market Trends: The U.S. Bureau of Labor Statistics Consumer Price Indexes for April, released last week, showed the average U.S. residential price for natural gas was 2.1 percent lower than in March as natural gas demand followed a seasonal trend downward, but remained 44.5 percent higher than a year ago. Regional prices varied somewhat with Dallas, Chicago, and San Francisco benefiting from a month-to-month decline of over 10 percent. Atlanta and Los Angeles were down by 3 to 4 percent while Boston was unchanged from March.
<![if !supportEmptyParas]> <![endif]>
Summary: For the third consecutive week, net injections to storage have exceeded 100 Bcf as suppliers took advantage of low prices and low current demand to refill inventories. The lower prices are being passed through to consumers, but the average residential price remains over 40 percent higher than a year ago.
<![if !supportEmptyParas]> <![endif]>