U.S. Energy Information Administration - EIA - Independent Statistics and Analysis
Crude Oil
Prices: Front-month futures prices for Brent and West Texas Intermediate (WTI) crude oil in October reached the highest levels in more than a year before falling to $46.35 per barrel (b) and $44.66/b, respectively, on November 3 (Figure 1). Monthly average spot prices for Brent and WTI increased by $3/b and $5/b, respectively, from September to October.
Although the outlook for global consumption of petroleum products remains relatively robust because of generally positive global economic data, the potential for additional crude oil supplies in the global market could push prices lower. Recent production gains from producers outside the Organization of the Petroleum Exporting Countries (OPEC), including Russia, the United Kingdom, and Brazil, and the continued resiliency of onshore U.S. producers are applying downward pressure on crude oil prices. Increased volumes from Nigeria, Libya, Iran, and Iraq are set to enter the market and could complicate efforts of OPEC's members to reach agreement on production quotas at their semi-annual meeting at the end of November.
EIA's November STEO Brent crude oil price forecast is largely unchanged from the October STEO, with prices forecast to average $51/b in 2017. Brent and WTI crude oil prices for the first and second quarters of 2017 are projected to remain near current levels, with prices gradually rising in the second half of 2017. However, if global oil supply levels in the coming months are higher than forecast, contributing to looser global oil balances, prices could be lower than forecast over the coming year.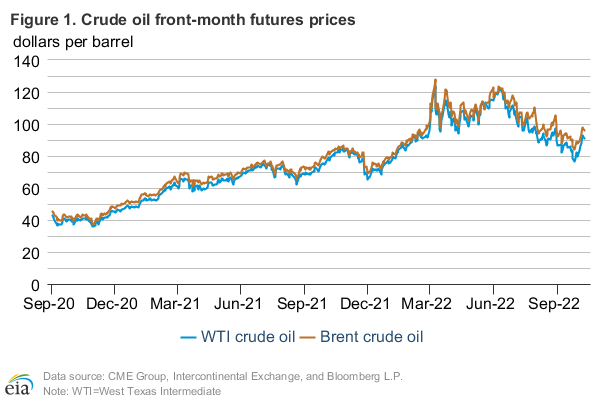 Crude oil supply and inventories: EIA revised the U.S. crude oil production forecast upward from the October STEO, based on slower declines in Lower 48 states production. U.S. crude oil production in 2017 is now expected to average 8.7 million b/d in 2017, more than 0.1 million b/d higher than in last month's forecast, and a decline of 0.1 million b/d from 2016 levels.
Recent increases in drilling activity in the Permian region are expected to lead to an increase in production in that area in 2017, partially offsetting declines in other areas of the Lower 48 states. The Permian region is the only region in EIA's Drilling Productivity Report expected to show increases in oil production in October and November (Figure 2). Companies added 81 active oil rigs to the Permian since the end of May, with the region now holding almost as many active rigs as the rest of the United States, onshore and offshore combined.
Oil rigs in the Williston Basin (Bakken region) and Eagle Ford increased by only 15 rigs and 4 rigs, respectively, over the same period. One company, SM Energy, sold $785 million worth of Williston Basin assets to purchase $1.6 billion in assets in the Permian region, reflecting the recent increase in merger and acquisition spending in West Texas.
Although U.S. crude oil production is forecast to decline in 2017, those declines are expected to be more than offset by increases in hydrocarbon gas liquids production. Overall U.S. liquid fuels production is forecast to increase by 0.2 million b/d next year.
Non-OPEC liquid fuels production outside the United States is forecast to increase by 0.1 million b/d in 2017, following a decline of almost 0.3 million b/d in 2016. Non-OPEC production increases in 2017 are driven by increasing production in Canada, Russia, and Kazakhstan that is partially offset by declining production in the North Sea, China, and Mexico.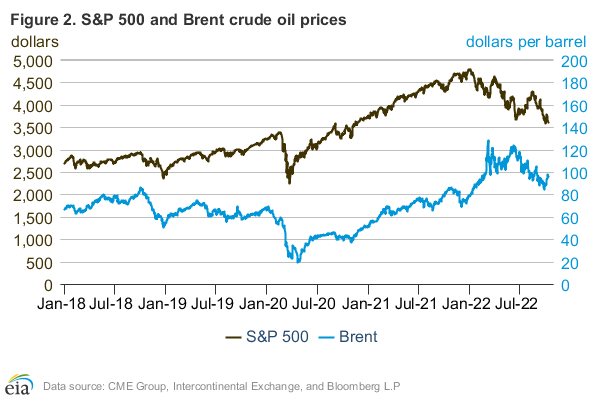 Global petroleum inventories are expected to build through the second quarter of 2017, but there is significant regional variation in that forecast. In the United States, total oil inventories are expected to decline in the fourth quarter of 2016 and first quarter of 2017. However, these U.S. draws are more than offset by inventory builds in other countries in the Organization for Economic Cooperation and Development (OECD) and in the rest of the world, contributing to expected global inventory builds through the first half of 2017.
Sustained opposite movements of domestic and international crude oil and petroleum product inventories are rare, but that divergence is currently supported by differences in the shapes of the Brent and WTI futures curves. The Brent 1st month-13th month futures prices spread, a measure of contango (when near-term futures prices are at a discount to longer-term futures prices), settled at -$5.25/b on November 3 (Figure 3), a $1.44/b increase in the contango since October 3. The return of Nigerian and Libyan barrels, particularly during refinery maintenance season, may have led to some difficulty placing some light crude oil barrels and put additional downward pressure on prompt Brent prices.
The contango in the WTI 1st month-13th month futures price spread also increased in October, but contango in the WTI futures curve remains less than in the Brent futures curve. Higher near-term prices reflected a counter-seasonal decline in total U.S. commercial crude oil inventories and a decline in inventories at the WTI contract delivery point in Cushing, Oklahoma in September and October. October refinery runs were 265,000 b/d higher than the five-year average in the Midwest, contributing to comparatively large inventory draws in the region. In October, Midwest crude oil inventories outside Cushing, Oklahoma, dipped below year-ago levels for the first time since August 2014, likely providing support to near-term WTI prices. There was a large build in U.S. commercial crude oil inventories for the week ending October 28 and crude oil imports into the United States increased from the prior week. These movements could signal a rebalancing between domestic and international markets in the near future.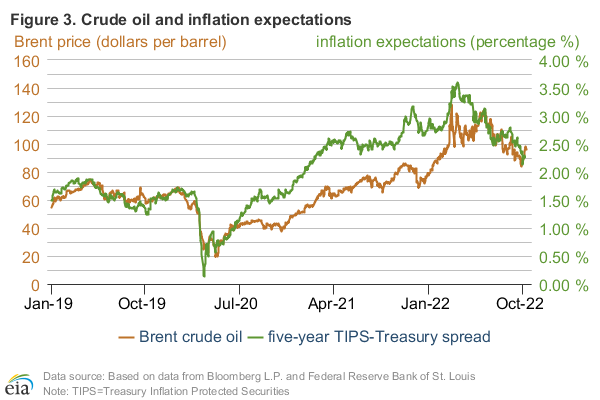 Developments in several OPEC member countries are also contributing to the global oil inventory build outside the United States. Overall OPEC crude oil supply is expected to average 32.5 million b/d in 2016 and to increase to 33.3 million b/d in 2017. Libya's crude oil production rose to almost 0.6 million b/d at the end of October in response to the reopening of the Ras Lanuf and Zueitina ports. In Nigeria, additional cargoes of Forcados and Qua Iboe crude oil were lifted in October following the suspension of force majeures. Iraq and Iran also posted production gains in October, with both countries increasing crude oil exports during the month. Saudi Arabia's crude oil output is estimated to have decreased in October, likely in response to lower direct crude oil burn for electricity generation. Saudi Arabia's October production was 10.5 million b/d, roughly 0.4 mllion b/d higher than year-ago levels.
Crude oil demand and exchange rates: Global crude oil demand growth in the November STEO was revised upward from the October STEO, with global oil demand expected to grow by 1.3 million b/d in 2016 and by 1.5 million b/d in 2017. China is expected to contribute the most to that growth, with its liquid fuels consumption forecast to grow by almost 0.4 million b/d in 2016 and by 0.3 million b/d in 2017. Growth in China's gross domestic product (GDP) growth was 6.7% in the third quarter of 2016, and recent indicators for the manufacturing and services sectors suggest the country will achieve its target of between 6.5%-7.0% GDP growth for the full year.
Recent movements in exchange rates seem to confirm the overall strong economic data in emerging market economies and imply robust oil demand growth. The value of the U.S. dollar (USD), as measured by the spot U.S. Dollar Index (DXY), has appreciated in recent months. Typically, a strengthening USD signifies weaker expectations for the oil demand outlook, as occurred in 2014-15. The DXY, however, is heavily weighted toward developed economy currencies, and the recent USD appreciation is not occurring against emerging market currencies. The DXY has appreciated 1.6% against developed market currencies since July 1, whereas it has depreciated 0.4% against emerging market currencies, as measured by the JP Morgan Emerging Market Currency index. Brent crude oil prices fell 7.9% over this period, but adjusting for different currencies, they are down only 6.5% in developed market currencies compared with a decline of 7.6% in emerging market currencies (Figure 4).
The USD appreciation against developed market currencies mainly reflects a significant decline in the value of the British pound since the United Kingdom voted in June to leave the European Union. The central banks of other developed economies in Europe also announced expansions to monetary easing programs, likely providing downward pressure on the euro. Stronger economic data in emerging markets such as India and Brazil are likely contributing to some appreciation of these currencies against the USD. Because oil demand tends to be more price sensitive in emerging markets than in developed economies, the appreciation of the USD against the pound and the euro is unlikely to strongly affect global oil demand, absent other economic developments.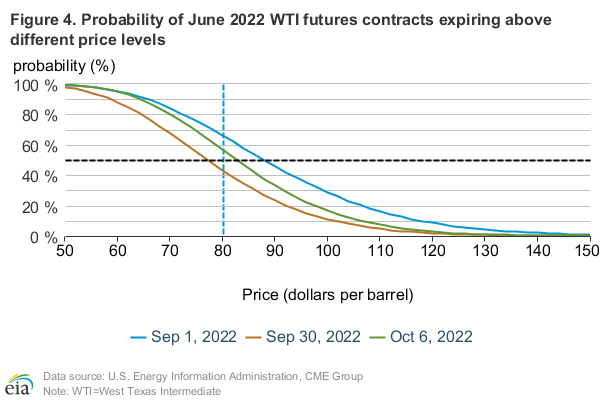 Price Summary
2014
2015
2016

projected

2017

projected

a West Texas Intermediate.

WTI Crude Oila


(dollars per barrel)

93.17
48.67
42.84
49.91
Brent Crude Oil


(dollars per barrel)

98.89
52.32
43.30
50.91
Global Petroleum and Other Liquids
2014
2015
2016

projected

2017

projected

a Weighted by oil consumption.

Supply & Consumption

(million barrels per day)

Non-OPEC Production
55.90
57.49
56.88
57.20
OECD Consumption
45.86
46.41
46.59
46.79
Non-OECD Consumption
46.72
47.66
48.81
50.13
Total World Consumption
92.58
94.07
95.40
96.92
Primary Assumptions

(percent change from prior year)

World Real Gross Domestic Producta
2.8
2.5
2.2
2.6
Real U.S. Dollar Exchange Rateb
3.8
10.9
5.4
2.3