U.S. Energy Information Administration - EIA - Independent Statistics and Analysis
---
What's New
December 18
December 17
December 15
---
Coming Up
Posted December 22, 2014

Today in Energy
For the next two weeks (Dec. 22 - Jan. 2), Today in Energy will feature a selection of our favorite articles from 2014. Today's article was originally published on July 23.
Russia is a major exporter of crude oil, petroleum products, and natural gas. More›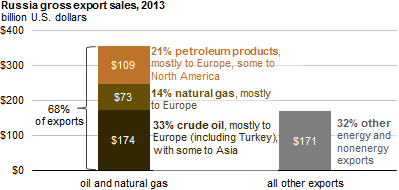 Source: EIA, Russia Federal Customs Service
Features
Contest #3 Open Data by Design winners have been announced. The final contest information will be available soon.
Access EIA's pricing and storage data on propane, heating oil, and natural gas from a single webpage.
Rankings, layers of energy information, and state comparisons
Our Experts Speak
December 11, 2014
November 13, 2014
Data Highlights
12/22/2014: $2.403/gal

down$0.151 from week earlier
down$0.868 from year earlier
12/22/2014: $3.281/gal

down$0.138 from week earlier
down$0.592 from year earlier
12/19/2014: $56.52/bbl

down$1.29 from week earlier
down$42.25 from year earlier
12/19/2014: $3.464/mmBtu

down$0.331 from week earlier
down$0.996 from year earlier
12/13/2014: 19.808 million tons

up0.197 million tons from week earlier
up1.733 million tons from year earlier
Outlooks
Learn About Energy