U.S. Energy Information Administration - EIA - Independent Statistics and Analysis
---
What's New
May 22
May 20
May 20
---
Coming Up
Posted May 22, 2013

Today in Energy
On April 15, the Internal Revenue Service (IRS) released guidance clarifying the eligibility for the recently extended renewable electricity production tax credit (PTC). Congress passed the extension on January 1, 2013 as part of the American Taxpayer Relief Act of 2012 (ATRA). EIA expects this extension could result in significant wind capacity additions over the next three years, leading to higher generation from wind. More›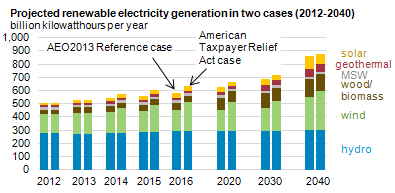 Source: EIA, Annual Energy Outlook 2013.
Features
The 2013 EIA Energy Conference will be held June 17–18 at the JW Marriott in Washington, DC.
Shale gas refers to natural gas that is trapped within shale formations.
It's a worldwide event to increase awareness of the power and impact of statistics.
Our Experts Speak
May 14, 2013
April 11, 2013
Data Highlights
5/21/2013: $96.16/bbl

up$1.95 from week earlier
up$3.59 from year earlier
5/21/2013: $4.192/mmBtu

up$0.168 from week earlier
up$1.583 from year earlier
5/20/2013: $3.673/gal

up$0.070 from week earlier
down$0.042 from year earlier
5/17/2013: 394.6 mmbbl

down0.3 mmbbl from week earlier
up12.0 mmbbl from year earlier
5/11/2013: 18.466 million tons

down0.042 million tons from week earlier
up0.324 million tons from year earlier
Outlooks
Learn About Energy