U.S. Energy Information Administration - EIA - Independent Statistics and Analysis
---
What's New
May 16
May 14
May 13
---
Coming Up
Posted May 17, 2013

Today in Energy
U.S. electricity trade with Mexico represents a small fraction—less than a hundredth of a percent—of total U.S. electricity use. A small amount of electricity trade with Mexico exists in California, New Mexico, and Texas, where transmission lines cross the border. More›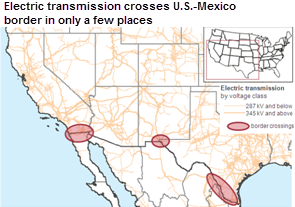 Source: EIA, based on Ventyx Energy Velocity Suite.
Features
The 2013 EIA Energy Conference will be held June 17–18 at the JW Marriott in Washington, DC.
Shale gas refers to natural gas that is trapped within shale formations.
It's a worldwide event to increase awareness of the power and impact of statistics.
Our Experts Speak
May 14, 2013
April 11, 2013
Data Highlights
5/16/2013: $95.16/bbl

down$1.23 from week earlier
up$2.35 from year earlier
5/16/2013: $3.932/mmBtu

down$0.051 from week earlier
up$1.314 from year earlier
5/11/2013: 18.466 million tons

down0.042 million tons from week earlier
up0.324 million tons from year earlier
5/10/2013: 1,964 Bcf

up99 Bcf from week earlier
down694 Bcf from year earlier
5/10/2013: 394.9 mmbbl

down0.6 mmbbl from week earlier
up13.2 mmbbl from year earlier
Outlooks
Learn About Energy