U.S. Energy Information Administration - EIA - Independent Statistics and Analysis
---
What's New
December 18
December 17
December 15
---
Coming Up
Posted December 24, 2014

Today in Energy
For the next two weeks (Dec.22-Jan.2), Today in Energy will feature our favorite articles from 2014. Today's article was originally published on August 28.
The amount of crude oil and refined petroleum products moved by U.S. railroads increased 9% during the first seven months of this year compared with the same period in 2013. More›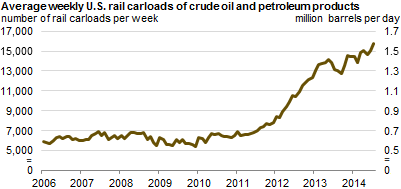 Source: EIA, based on Association of American Railroad
Features
Contest #3 Open Data by Design winners have been announced. The final contest information will be available soon.
Access EIA's pricing and storage data on propane, heating oil, and natural gas from a single webpage.
Rankings, layers of energy information, and state comparisons
Our Experts Speak
December 11, 2014
November 13, 2014
Data Highlights
12/23/2014: $57.12/bbl

up$1.19 from week earlier
down$41.79 from year earlier
12/23/2014: $3.171/mmBtu

down$0.448 from week earlier
down$1.292 from year earlier
12/22/2014: $3.079 /gal

down$0.063 from week earlier
down$0.903 from year earlier
12/19/2014: 387.2 mmbbl

up7.3 mmbbl from week earlier
up19.6 mmbbl from year earlier
12/13/2014: 19.808 million tons

up0.197 million tons from week earlier
up1.733 million tons from year earlier
Outlooks
Learn About Energy