U.S. Energy Information Administration - EIA - Independent Statistics and Analysis
Market Prices and Uncertainty Report
This is a regular monthly supplement to the EIA Short-Term Energy Outlook.
Contact: James Preciado (James.Preciado@eia.gov)
Full Report
Crude Oil
Prices: International crude oil benchmarks moved higher in November, showing their first month-over-month increase since August, while U.S. crude oil prices moved higher during the first week of December. The North Sea Brent front month futures price settled at $110.98 per barrel on December 5, an increase of $5.07 per barrel since its close on November 1 (Figure 1). The West Texas Intermediate (WTI) front month futures contract rose $2.77 per barrel compared to November 1, settling at $97.38 per barrel on December 5.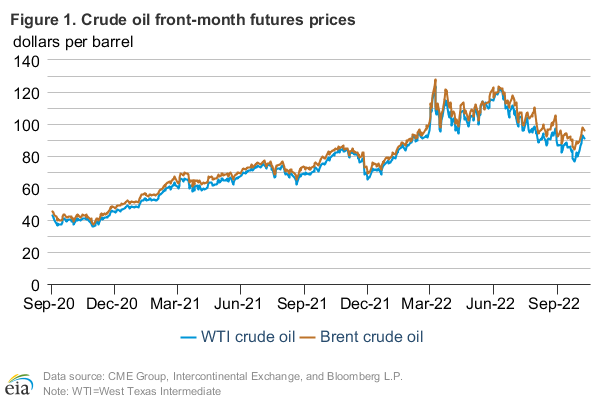 A combination of better-than-expected economic data and a continuation of supply outages buoyed international crude oil prices in November. Recent manufacturing data for the United States and China were above expectations, supporting demand for petroleum products by the world's two largest consumers. On the supply side, the results of the recent OPEC meeting signaled no change in member countries' perspectives or behavior. Production outages in some OPEC countries, particularly Libya and Nigeria, necessitated that other OPEC producers not cut production as much as in previous years coming out of their peak summer demand, resulting in continued low spare production capacity and tightness in the world waterborne crude market.
Crude oils of both medium and light API gravity on the U.S. Gulf Coast reached record discounts to comparable international benchmarks in November. The difference between Brent and Louisiana Light Sweet (LLS) averaged $10.95 per barrel over November and the difference between Dubai and Mars crude averaged $14.36 per barrel (Figure 2). Although not at a record difference, heavy crude oil prices were also lower compared to international prices, with the November Oriente-Maya average differential reaching $3.07 per barrel. Prior to September 2013, none of these differentials had ever exceeded about $6 per barrel over an entire month; however, recent increases in supplies of crude oil on the U.S. Gulf Coast are applying downward pressure to domestic crude oil prices. The unprecedented magnitude and persistence of the price discount for U.S. Gulf Coast crude oil triggered a larger-than-usual increase in PADD 3 (Gulf Coast) refinery runs for this time of year.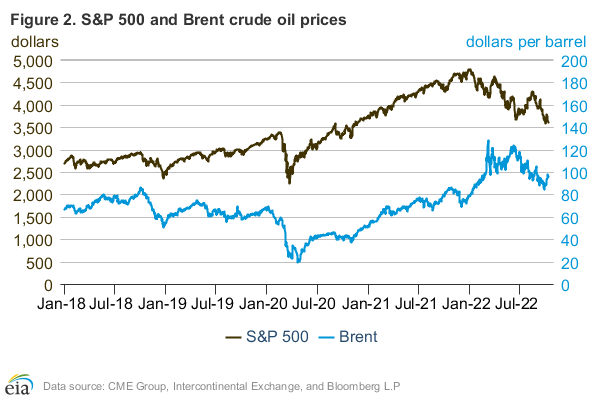 With refinery utilization rates in PADD 2 (Midwest) and 3 each topping 94% in the most recent Weekly Petroleum Status Report, the slope of the WTI futures curve increased dramatically over a relatively short time period. After hovering near its lowest point since April, the WTI 1st-13th spread settled at $5.95 per barrel on December 5, an increase of $3.55 per barrel from the last trading day in November (Figure 3). Levels of backwardation in the WTI futures curve continue to be dictated by the ability of refineries in the U.S. to absorb recent gains in U.S. crude oil production. Meanwhile, the Brent 1st-13th futures price spread increased slightly since November 1 to settle at $4.90 per barrel on December 5, providing further evidence of a tight world waterborne crude market.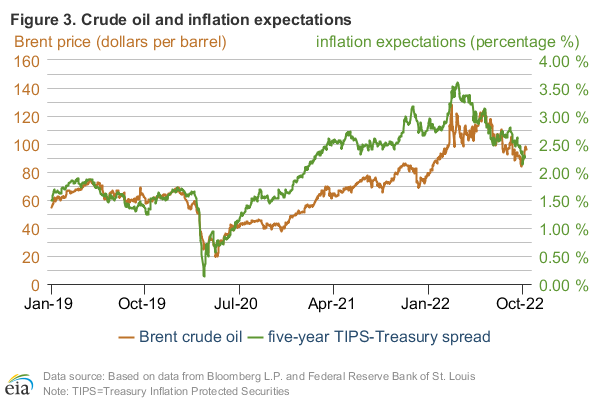 Crude oil and the S&P 500: The recent increase in Brent prices was surpassed by the increase in the value of the S&P 500 in November. The ratio of the average monthly S&P 500 index level to Brent price rose by 5.2 % from October to November to reach its highest point since February 2009 (Figure 4). The November ratio is also 54.8% higher than the most recent low, in September 2011, just before the Federal Reserve announced its open-ended quantitative easing program.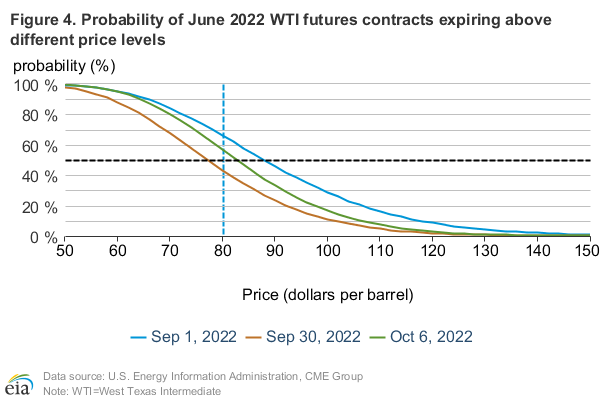 Volatility: Realized price volatility for the Brent front month futures contract surpassed realized volatility for the WTI front month futures contract in November for the first time in 2013. Historical realized 30-trading day volatility for Brent was 19.2% on December 5 while the same measure for WTI was 18.3% (Figure 5). For most of 2013, WTI futures prices showed more volatility compared to Brent prices since variations in the Brent-WTI spread affected WTI prices more so than Brent.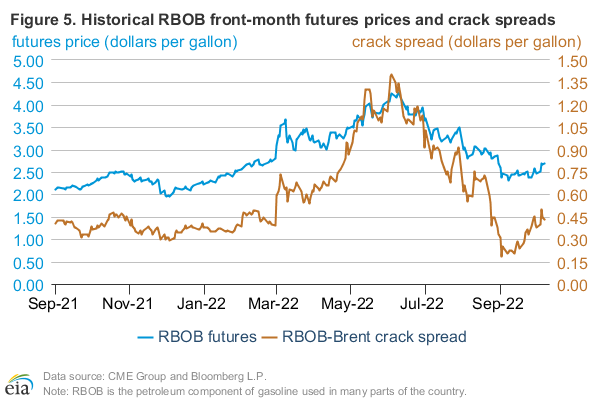 Market-Derived Probabilities: The March 2014 WTI futures contract averaged $95.78 per barrel for the five trading days ending December 5 and has a probability of exceeding $100 per barrel at expiration of approximately 29%. The same contract for the five trading days ending November 1 had a probability of exceeding $100 of 36% (Figure 6). Because Brent prices are higher than WTI prices, the probability of Brent futures contracts expiring above the same dollar thresholds is higher.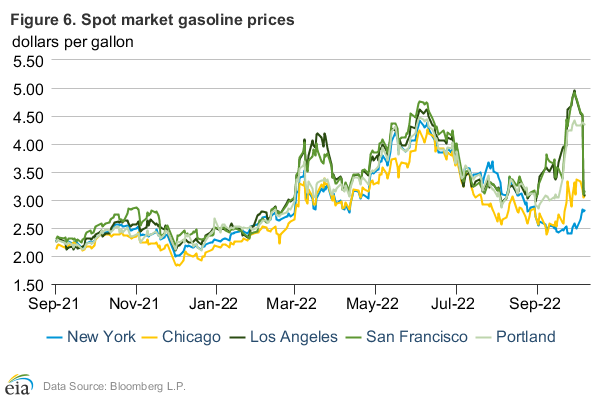 Petroleum Products
Gasoline prices: The reformulated blendstock for oxygenate blending (RBOB) front month futures contract price settled at $2.71 per gallon on December 5, up $0.17 per gallon from November 1 (Figure 7). The RBOB-Brent crack spread increased $0.05 per gallon from the beginning of November to settle at $0.07 per gallon on December 5.
Gasoline prices gained strength with an increase in demand (as measured by U.S. consumption plus exports) occurring at the same time gasoline inventories hit a multiyear low for this time of year. Finished motor gasoline consumption plus exports for the four weeks ending November 29 reached 9.31 million barrels per day, 0.34 million barrels per day higher than last November and the highest for that month since 2007. Gasoline production increased slightly from last November to 9.28 million barrels per day but still reached a record high for the month of November. Inventories of finished motor gasoline and gasoline blending components, as of November 29, are at their lowest point for the month of November since 2008 at 212 million barrels.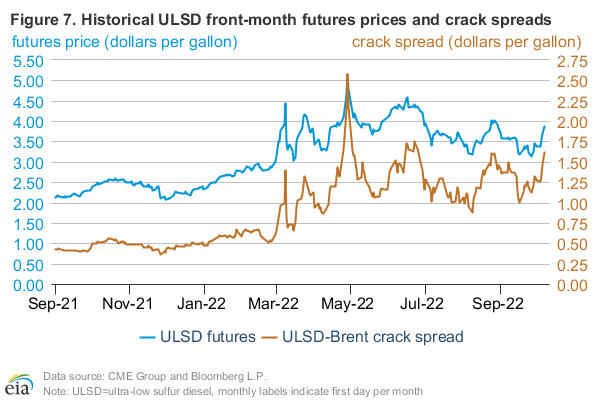 Heating Oil prices: The front month futures price for heating oil also increased by $0.17 per gallon since the beginning of November, settling at $3.05 per gallon on December 5. The heating oil-Brent crack spread rose as well, settling at $0.41 per gallon on December 5, a gain of $0.05 per gallon since November 1 (Figure 8).
Weekly data for distillate show record high demand (measured by U.S. consumption plus exports) and low inventories in November, giving support to distillate prices. The four-week average of distillate consumption plus exports ending November 29 was 5.30 million barrels per day, the highest for any month on record. Distillate stocks as of November 29 stood at 114 million barrels, the lowest since April 2008. The four-week average of distillate production increased 0.33 million barrels per day from last November to 5.00 million barrels per day, reaching the highest number for any month on record.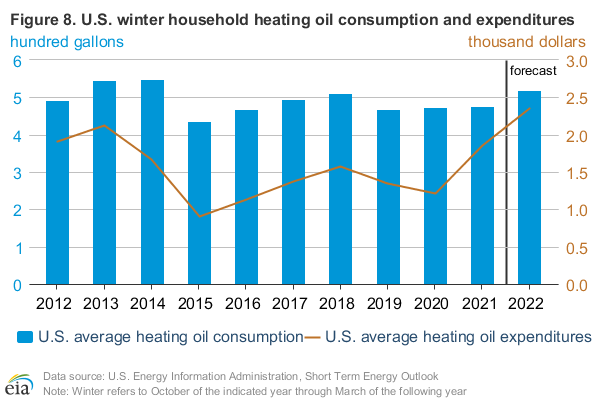 Petroleum Product Price Spreads: The Amsterdam-Rotterdam-Antwerp (ARA) European average spot price for conventional gasoline in November was at a $0.15 per gallon premium to the Gulf Coast conventional gasoline spot price (Figure 9). The ARA-Gulf Coast conventional gasoline premium has been over a monthly average of $0.14 per gallon in each month since September. The same monthly average price spread between ARA and the Gulf Coast for distillate in November was $0.10 per gallon, remaining at a premium of over an average of $0.08 per gallon for the same three consecutive months.
The current discounts of Gulf Coast gasoline and distillate prices to ARA provide a favorable price environment for international consumers who may usually purchase these products from Europe to instead receive exports from the United States. As mentioned previously, preliminary data on the finished motor gasoline consumption plus exports for November showed the highest numbers on record for the month since 2007 and the same metric for distillate reached its highest ever recorded. The high refinery runs in PADD 3 and higher product prices outside the United States suggest exports of petroleum products may have increased, possibly to record levels, in October and November. Exact export volumes for petroleum products in November will not be available until February 2014.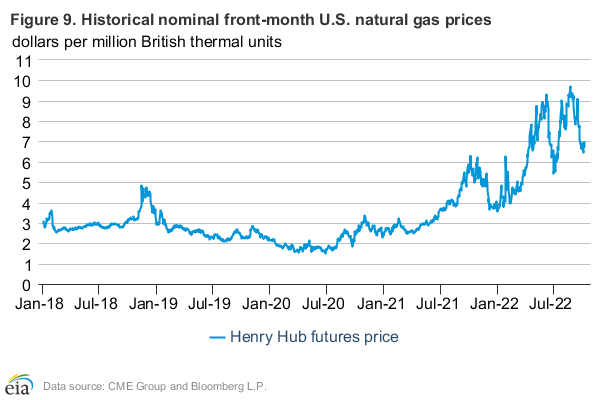 Volatility: The implied volatilities for the front month RBOB contract and the front month heating oil contract both remained declined slightly, decreasing by 2.3 and 1.2 percentage points, respectively, since November 1, and settling at 19.7% and 16.6%, respectively, on December 5 (Figure 10).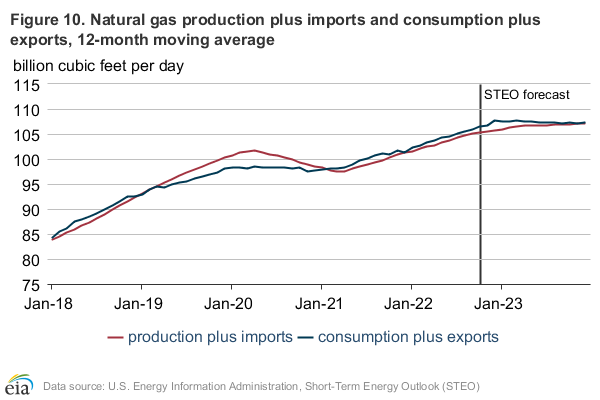 Market-Derived Probabilities: The March 2014 RBOB futures contract averaged $2.73 per gallon for the five trading days ending December 5 and has a probability of exceeding $2.90 per gallon (typically leading to a retail price of $3.50 per gallon) at expiration of approximately 25%. The same contract for the five trading days ending November 1 had a probability of 17% of exceeding $2.90 per gallon (Figure 11).
Natural Gas
Prices: The natural gas front month futures contract price increased since the beginning of the month as colder temperatures led to the first storage withdrawals of the winter (Figure 12). After reaching a recent low of $3.45 per MMBtu on November 4, natural gas climbed to $4.13 per MMBtu on December 5, $0.62 per MMBtu higher than the closing price on November 1.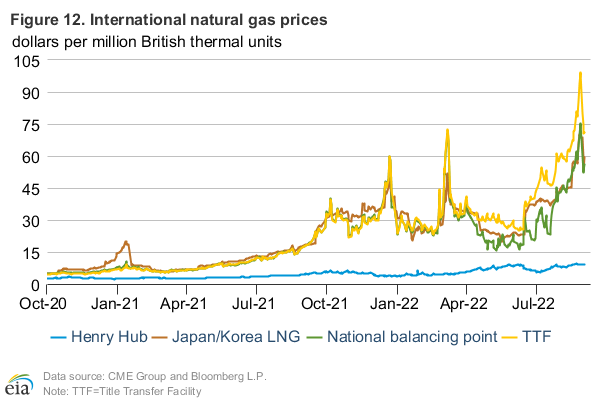 The New England market saw high prices in late November as colder weather raised prospects of higher demand and unexpected maintenance at Canada's Deep Panuke offshore production unit increased concerns about supply (Figure 13). Cold weather in late November increased consumption and helped to raise spot prices. The forward market also responded to the colder weather, where the January 2014 basis swap increased more than 70% from the October low before declining at the end of the month.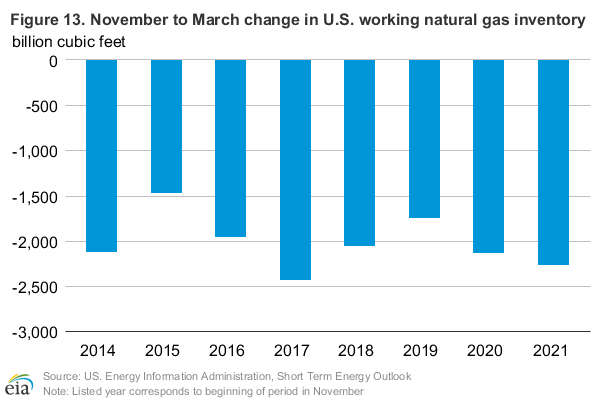 Propane Prices: Propane has two major pricing hubs in the United States—Mont Belvieu, Texas, and Conway, Kansas. The two prices moved in tandem for much of 2013 as propane prices recovered, supported by increased exports. The Mont Belvieu price was at a slight premium to Conway because the location has better access to export markets. In November, however, the price relationship reversed (Figure 14). A large and wet corn harvest increased propane demand for drying the crop, and the Conway hub is the pricing point for Midwest deliveries.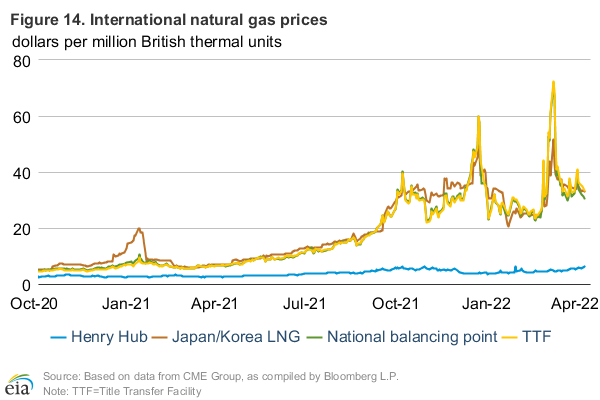 Wet Natural Gas: The significant increase in NGL production, combined with limited takeaway capacity for ethane, contributed to ethane prices falling below natural gas prices since 2012, which made it economic to leave ethane in the natural gas stream. As a result, the percentage of natural gas (methane) in some natural gas pipelines declined. In other words, the delivered natural gas became richer or wetter.
The methane content of the Alliance pipeline, which flows natural gas from Canada to the Chicago area, slowly but steadily decreased over the past two years (Figure 15). Two points in the Texas Eastern Pipeline (Tetco) system also saw declines in the percentage of dry natural gas. Berne, Ohio, is a connection point where two pipeline branches from the Gulf Coast meet and continue to the Northeast. Holbrook, Kentucky, is in a natural gas processing area.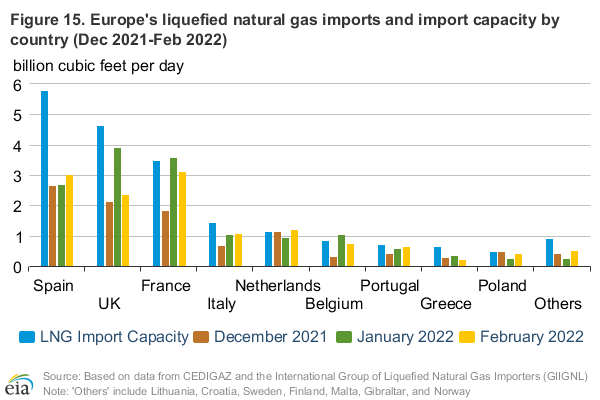 Volatility: Implied volatility continues to hover around the 30% level as it has since September, representing some of the lowest levels in more than two years. Implied volatility settled at 33.3% on December 5, 2.3 percentage points higher than volatility on November 1 (Figure 16).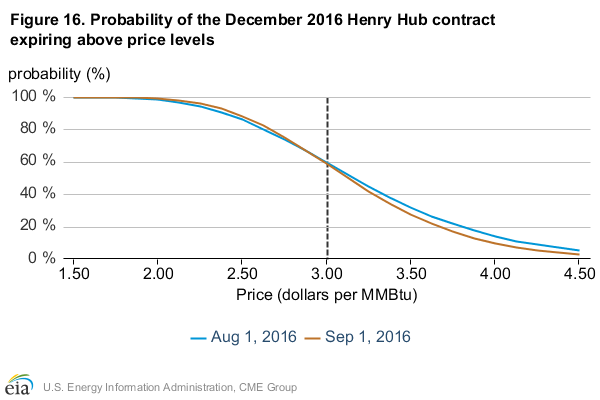 Market-Derived Probabilities: The probability of the March 2014 Henry Hub contract expiring above $4.00 per MMBtu was about 46% on December 5, 17 percentage points higher than the same probability at the beginning of November (Figure 17). This development likely reflects the unusually large withdrawals of natural gas from storage during November, which was colder than previously forecast.